NFL Trade Rumors: Mike Brown Right Not to Trade Carson Palmer
October 15, 2011
Andy Lyons/Getty Images
As a Cincinnati Bengals fan, I'm not happy with the way the Carson Palmer situation has unfolded.
The Bengals drafted Palmer first overall in 2003.  He took over the starting quarterback role in 2004 and inherited two dynamic wide receivers in Chad Johnson and T.J. Houshmandzadeh.
When Johnson and Houshmandzadeh began to fade, the Bengals restocked by spending valuable high draft picks on players like Jerome Simpson, Jordan Shipley, Jermaine Gresham, and A.J. Green. They even spent considerable money on Terrell Owens and Antonio Bryant in free agency. 
They did everything in their power to surround Palmer with the weapons necessary to be successful.
Unfortunately, Palmer never delivered.
The Bengals lost two first round playoff games in Palmer's seven seasons as their starting quarterback. They finished over .500 twice.
This didn't stop the Bengals from giving Palmer a six-year $118 million contract extension with a $15 million signing bonus.
Re-read those last two paragraphs.
Palmer produced two winning seasons and the Bengals gave him $118 million contract with $15 million guaranteed.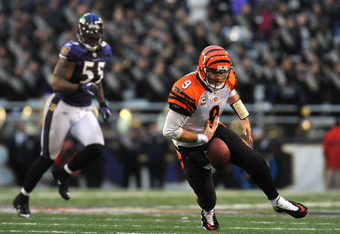 Larry French/Getty Images
This was after they had drafted him first overall and gave him a $10 million signing bonus out of college.
The Cincinnati Bengals have done everything they could possibly do to make Carson Palmer a successful NFL quarterback.
How did he repay them?
After turning in an absolutely dreadful 2010 campaign he decided to give the Bengals an ultimatum—either trade me to a different city or I'm never playing football again.
Palmer did this knowing that the only replacement for him on the Bengals roster was his inexperienced and woefully untalented younger brother.  
He did this knowing that Cincinnati Bengals fans paid abnormally high ticket prices to help pay his oversized contract extension.
Palmer simply didn't care.
We've all heard the quote by now from a Carson Palmer confidant stating "I have $80 million in the bank. I don't have to play football for money.  I'll play it for the love of the game, but that would have to be elsewhere".
Hey Carson—Where did you get that $80 million?
He got it from us.  From the money we paid to the Bengals for the stadium, the overpriced ticket prices, the overpriced beer, the overpriced nachos and the overpriced parking.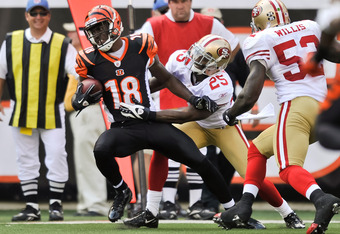 Jamie Sabau/Getty Images
Here's a solution.  Carson—give us back that $80 million, apply it to what the city owes for Paul Brown Stadium and the Bengals will allow you out of your contract to play for the Seahawks.
How does that sound?
I support Mike Brown's stance here.  Brown is the sole person to blame for much of the Bengals troubles, but he's done everything he could do to make Carson Palmer a star.
If Brown gives in to Palmer, then what's going to stop this same thing from happening to Andy Dalton, A.J. Green, or Jermaine Gresham down the road?
It's one thing to holdout when you're being underpaid and under-appreciated by an organization.  
It's a whole other thing to be a mediocre player, get paid like a superstar, treated like a king and still want more.