Texas Football: Why Mack Brown Can't Find the Right Quarterback
October 16, 2011
Erich Schlegel/Getty Images
Things used to be so good down in Austin.
Over the past decade Texas has had quite a lineup of good to otherworldly signal-callers leading the offense: Major Applewhite to Chris Simms to Vince Young to Colt McCoy.  It is no wonder that from 2000 to 2009 Texas only won less than 10 games once (nine in '00) and in that span has two Big 12 championships and a BCS championship to its name.
These days—especially after Saturday's 38-26 loss to Oklahoma State—the road isn't so smooth.  Last year Texas was 50th in passing offense led by quarterback Garrett Gilbert, who himself was 95th in the nation in quarterback efficiency rating. Despite throwing for 2,744 yards, Gilbert threw 17 interceptions to 10 touchdowns as Texas struggled to a 5-7 record and the Longhorns' first finish outside the final polls since 1997.
However, it wasn't supposed to end up like this.  Gilbert paid his dues behind Colt McCoy, and as a freshman Gilbert held down the number two spot—even replacing the injured McCoy in the BCS title game and briefly leading Texas to within three points of eventual champion Alabama.
Gilbert's recruiting profile was one of an eventual star.  He was a 5-star prospect by Rivals.com, and was widely considered one of the top two prep quarterbacks in the country (along with eventual Southern Cal commit, Matt Barkley).  Gilbert won a handful of regional and national awards as a junior and senior in high school, and committed to Texas almost as soon as he received his offer as a junior.
Well, we all know how that worked out.  After an injury and poor performance (15-of-31, 247 yards, two interceptions, one touchdown) relegated him to the bench, both Gilbert and the Texas staff felt it was best for him to continue his career elsewhere.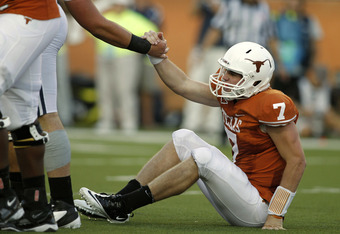 Erich Schlegel/Getty Images
So why can't Texas find a quarterback?  Three possible reasons:
One: If you ask Texas fans about the waning years of the Greg Davis era, you'll be greeted with responses that range from incoherent screams to murderous rampages.  Needless to say, by the time Davis' name was scratched off the door of the offensive coordinator's office, most Texas fans were more interested in who the next guy would be than mourning the loss of Davis.
The problems of Davis' offense were many.  While successful with Vince Young in 2005, Davis' teams became less and less capable of moving the ball on the ground, regressing to the mid-60's nationally in Davis' final two years.  On top of this Davis' teams became too dependent on short passes at the expense of moving the ball down field.
All of this combines to create a situation that can be toxic for a young quarterback.  Gilbert was perhaps a victim of this.  With no run game it was in the hands of the true sophomore to carry the offense, a load that he wasn't able to shoulder.
Is it possible that Davis' ineffectual offense hampered the development of Garrett Gilbert, and that Gilbert is, for lack of a better word, a broken quarterback?  Early returns on Gilbert this year would make that seem like a possibility, but that doesn't answer the struggles of Gilbert's replacements.  Possibility two might.
Two: One mitigating factor in the above theory is the realization that despite any talent and potential that Gilbert may have had, he was thrust into a bad position as a young player.
Gilbert in the final game of his freshman year had to play against Alabama, then as a true sophomore was tasked with leading Texas with no reliable second option.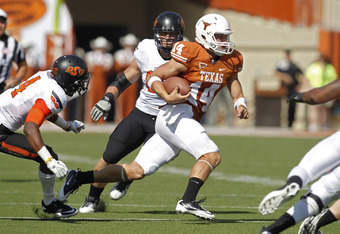 Erich Schlegel/Getty Images
Now that Gilbert is gone the burden has fallen on two three-star recruits, David Ash and Case "you may know me from my brother" McCoy.  Both quarterbacks have shown flashes of potential, but McCoy is a true sophomore and Ash is a true freshman.  It is tough to expect two kids so low on the developmental scale to develop into competent starters so soon.  Colt McCoy, an effective starter as a redshirt freshman, is more the exception than the rule.
However, Colt McCoy also had a great deal of help, which leads us to our last possibility.
Three: The state of Texas is one of the four major recruiting hotbeds in the country, and the Longhorns pretty much have the pick of the state's top recruits.  So much so that by the time most top recruits in Texas get their offers as juniors they commit on the spot.  That is what Garrett Gilbert did, as well as Texas' top rated quarterback recruit for the 2012 class.
So much of Texas' talent commits so early that it naturally inflates the value of Texas recruiting classes that are full before a lot of the final recruiting evaluations are able to be made.  This isn't bad when Texas is able to properly identify talent early, but it closes spaces for late bloomers and locks Texas in on some players that may not develop into blue-chip recruits over their final year of high school.  Most importantly it makes it more costly to miss on early evaluations.  Texas' offensive decline over the past couple years could well be related to players not living up to the high recruiting rankings, and therefore quarterbacks not being surrounded by the kind of talent necessary to compete at the highest level of the Big XII.
It isn't just one thing that has cost the Longhorns in the search for the next great Texas quarterback, but a combination of many smaller mistakes and problems that have grown to the point where Texas is now faced with a full on quarterback crisis.
Unfortunately the only way out now is recruiting, player development, and most importantly: time.
The latter might be running thin for Mack Brown in the eyes of the Texas faithful.