WWE Opinion: The Parallel Legacies of Vince McMahon and Al Davis
October 15, 2011
NFL pioneer Al Davis' death was among the top stories from this past week.  The dissident and controversial owner of the Oakland Raiders passed away 82 years into a tumultuous and rebellious existence. 
Given the magnitude of such a noteworthy passing, it's no surprise that the national sports media has since been scoured with endless articles, editorials and obituaries chronicling the always-interesting life and times of the NFL's original bad boy (This article does Davis' dissenting life a particular amount of justice.)
In remembering Davis' life through the infinite cycle of online and print media, I couldn't help but notice striking similarities between the legacies and personalities of Al Davis and WWE Chairman Vince McMahon for both the right and wrong reasons.  That is, until it hit me. 
Al Davis, for all intents and purposes, was Vince McMahon. 
Davis was praised for his profound influence and revolutionist stench on the sport of football, not to mention the Oakland Raiders organization.  He was just as vilified as he was beloved for reasons ranging from his unprecedented willingness to hire non-white males into high-profile positions (beloved), to a trademark mean streak that mimicked that of the renegade Raiders for whom he lived and died (vilified).
Like Vince, many point to Al Davis as arguably the most influential figure in the rise and eventual prominence of the National Football League.  Davis did things his way, and he never let anybody tell him otherwise. 
Constantly challenging, and in some instances ostracizing, the Oakland soldiers he employed as part of his boisterous battalion, Davis was a workaholic who made sure he brought the best out of every level of talent under his watch.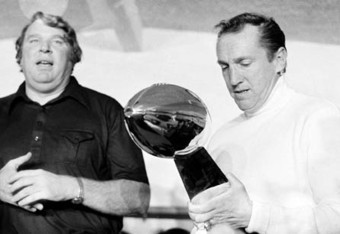 Like Vince, however, Davis was an extremely petty man who perpetually let personal animosity get in the way of better business.  Crossing Davis for any reason, no matter how big, small, or relevant, meant walking the plank of the renegade Raider ship whether you were Lane Kiffin, Mike Shanahan or Marcus Allen.
The older Davis got, the more out of touch he became.  It wasn't too long before Davis' leadership of the Oakland Raiders, a leadership once revered as brilliant in all of its unorthodox glory, figured to undermine the success of the organization as a whole. 
Unfortunately, Davis became a caricature of himself in his final years.  Instead of basking in the nostalgia of a storied history that he built almost single-handedly, Davis spent his twilight years holding on to what was left (and quickly disintegrating) of his legacy. 
Years of poor drafts, playoff droughts, sub-par win-loss records, and downright futility defined the Oakland Raiders Organization following their last Super Bowl appearance in 2002.  All of which was punctuated by a stubborn and now detrimentally reckless owner who had obviously overstayed his welcome. 
Davis' stranglehold on the Oakland Raiders organization effectively suffocated a once-proud franchise as any firm stranglehold would.  Davis' "commitment to excellence" moniker soon became an ironic joke more than a mission statement. 
The same stubborn, angry, pitbull-like mentality that built Al Davis into a genre unto himself quickly vaporized everything within a 100-mile radius of the city of Oakland. 
The similarities to Vince McMahon based on Davis' twilight years need not be explained to wrestling fans.
Like Davis, McMahon, and his own stranglehold on the WWE product despite his best efforts to scale back, seems to be dangerously close to obliviously sabotaging an empire he created in an industry he revolutionized.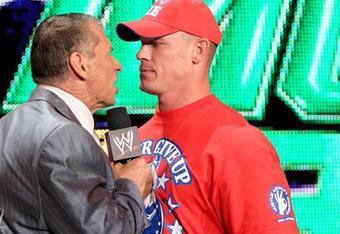 McMahon was admittedly out of touch during the Attitude Era.  His his once-reliable principles of pro wrestling proved to be painfully archaic at the inception of the Monday Night Wars.  In response, McMahon desperately turned to his talent, imploring them to launch their respective brands on their own as extensions of themselves to combat the more effective and very real-life booking of WCW.
Ten years removed from pro wrestling's most successful period, a period dominated by the WWE, the WWE now finds itself back in a recessive period with no end in sight. 
Sadly, McMahon remains more out of touch than ever as the 66-year old workaholic only finds time to take breaks during the two-hour broadcast of WWE's flagship RAW program.  During his breaks, he plays with his favorite toy (Michael Cole) and uses it to bully a Hall of Fame announcer whose loyalty to McMahon's struggling brand is second to none. 
Like Davis, McMahon's (and McMahon's cronies') petty gripes against otherwise talented stars led to the effective burial of said stars despite the money that could be made featuring them in a more positive light. 
An heir of old-school thinking continues to act as a black cloud over the WWE product, and under McMahon's watch, it ironically has no silver lining.  
As the WWE continues its decline in business, ratings and relevance, McMahon, ever so notorious for his competitive spirit, will continue to hold on.  Like Davis, McMahon will likely contribute more to the product's precipitous decline than to a progressive rise that could only come from a fresh perspective on where pro wrestling should be headed. 
Like Davis, an otherwise influential and revolutionary icon, is in danger of having his entire legacy compromised due to a fraction of his life where he slowly slipped away into a mental abyss while still defiantly seated in his throne. 
Big Nasty's WWE Dream Team is here!  Who made the cut?  Find out by tuning into B/R Video, then follow/debate Big Nasty on Twitter @ThisIsNasty.