MMA: The 20 Creepiest Fighters in the Sport's History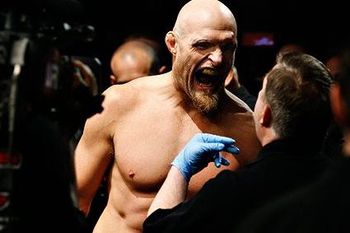 (Door creaks open)
Good eeeeeeeevening once again...
When last we met, we counted down the 15 creepiest fighters in MMA today. And it chilled us to the very marrow! Truly it was "The Human Centipede" of MMA rankings. We left behind the world of "fighter matchups" and "breaking news" and "useful information." We ventured through the looking glass, and found that the threshold, once crossed, could never be uncrossed in our minds.
Today, I have returned with a new list that will take us even further into the nether regions of the soul. One that will make my previous effort appear like a Chael Sonnen postfight interview by comparison. That's right. Whereas before we focused solely on fighters currently active, today we rank the creepiest fighters of ALLLLLLLLLLL time.
Enjoy the list, but beware. To gaze upon it for too long is to go maaaaad. MWAHAHAHAHA!
Honorable Mention: Dennis Hallman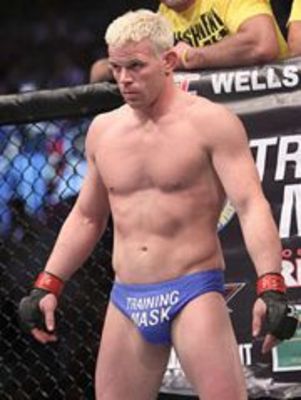 Perhaps one of the creepiest single-fight displays of all time. But on the bright side, this helped me convince the wife—finally—to install that emergency eyewash station near the television set.
20. Ian "Uncle Creepy" McCall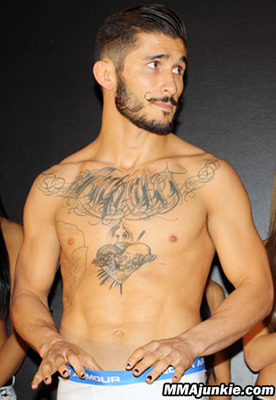 MMA record: 11-2
Current promotion: Tachi Palace Fights
He seems to bring a lot of the creepy perceptions on himself, what with the official nickname and the fingernail painting and the silent-film-villain mustache and all. Nevertheless, I'm not sure I see any elementary schools offering employment to the flyweight champ anytime soon.
19. Kazuhiro Nakamura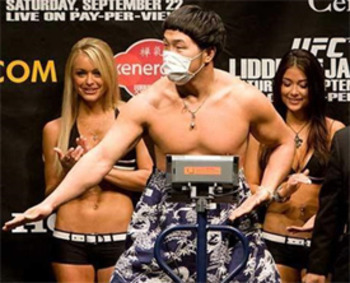 MMA record: 15-11
Current promotion: DREAM
Kazuhiro is known as much for crazy outside-the-ring antics as any actual fighting exploits.
I love the look on Arianny Celeste's face in this picture—"please, please let this end without him touching me."
18. Lyoto Machida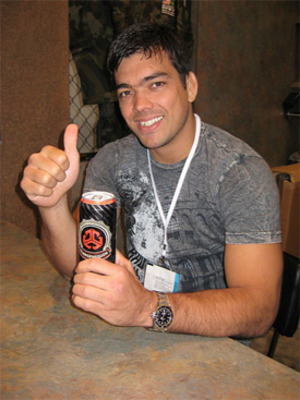 MMA record: 17-2
Current promotion: UFC
He drinks his own urine.

You know what I call that? Creepy.
I also call it disgusting. He'll make that list, too.
17. Brian Ebersole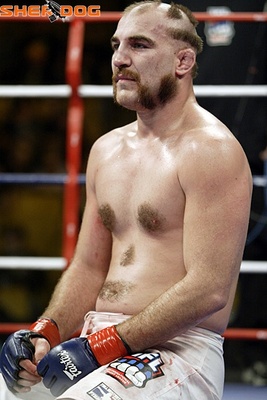 Record: 48-14-1-4
Current promotion: UFC
What's the deal with the hair stylings? My kingdom for the reporter who can get a straight answer out of him.
16. Ryo Chonan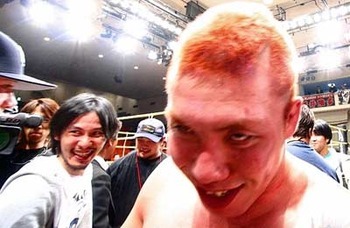 MMA record: 19-12
Current promotion: DEEP

A buddy of Jason "Mayhem" Miller, Chonan appears to be the Japanese version of Mayhem, only a little crazier and a lot creepier.
He seems to have perfected the art of the Looney Tunes stare-and-grin. He's one of those I've-got-a-few-screws-loose-and-I-don't-care-who-knows-it type of guys.
15. Chris Horodecki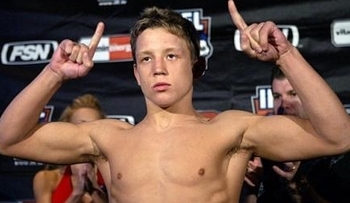 MMA record: 18-3
Current promotion: MMA: The Reckoning
I can't believe this guy is 24.
To get the full effect of his boyish looks, you actually have to watch him fight. It's downright Dickensian.
14. Kimbo Slice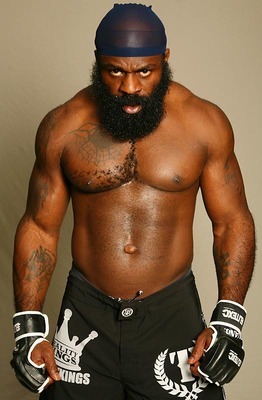 MMA record: 4-2
Current promotion: None

Any slideshow that lists how fighters look has to include Kimbo Slice. It's the law.
But he does qualify here, thanks to the long homeless man's beard, the gold teeth, the spider web tattooed over his chest, the huge "outie" and so on.
13. Dave "Pee Wee" Herman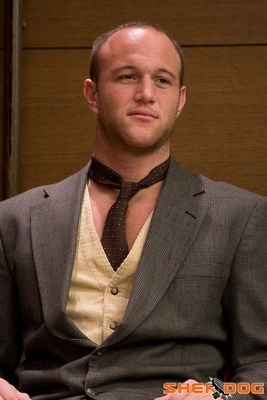 MMA record: 21-2
Current promotion: UFC
This guy is just bizarre.
He has this sort of vacant smile on his face as he fights, even as he's taking punches. It's almost like he kind of likes the pain.
His interviews are strange as well, with answers often clipped and bizarre. Like the time he said jiu-jitsu didn't work before facing BJJ ace Jon Olav Einemo. Of course, he went on to beat Einemo resoundingly, so I guess he's right until proven wrong.
Then there's the fact that he nicknamed himself Pee Wee.
I think he just likes to freak people out, almost in an antisocial way. That's a pretty doggone creepy quality.
12. Gilbert Yvel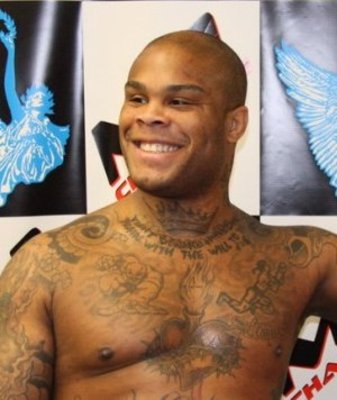 Record: 36-16-1
Most recent promotion: UFC
When you not only have throat tattoos but a sleeve of throat tattoos, you are more than welcome on this list.
Oh, and he also got disqualified for eye gouging and biting. And he also knocked out a ref. And he also has been known to walk out to "YMCA" by The Village People. So...yeah.
11. Keith Jardine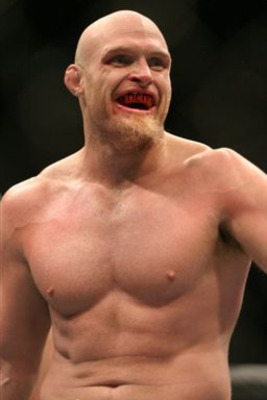 MMA record: 17-9-2
Current promotion: Strikeforce
Jardine is well known for his easygoing manner away from the cage. But once in the arena, his stooped fighting style, jerky movements, gleaming bald head and blond goatee all suggest a villain from a children's television show.
10. Diego Sanchez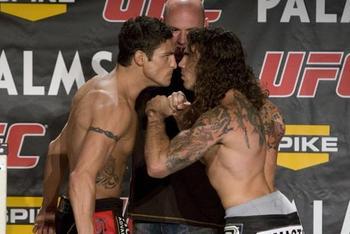 MMA Record: 23-4
Current Promotion: UFC
Just a liiiittle more intense than your average person.
Attending a Diego Sanchez fight is a little like visiting Sea World: If you're sitting in the first three rows, you WILL get wet.
That's to say nothing of his long list of very strange habits and beliefs away from the cage
9. Renato "Babalu" Sobral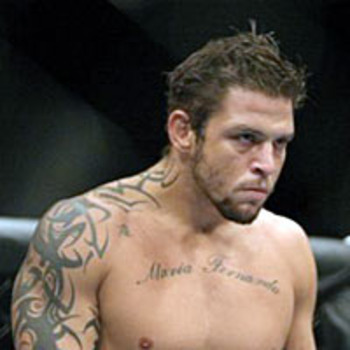 MMA record: 36-9
Current promotion: Strikeforce

Some people are described as having a "smoldering" look about them. Babalu is a towering inferno.
If looks could kill, Sobral would have been locked in a windowless room years ago. Assuming he could have been captured.
8. Kimo Leopoldo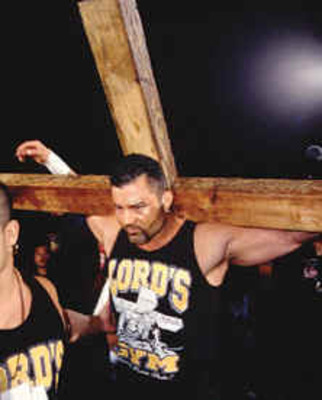 MMA record: 10-7-1
Most recent promotion: Extreme Wars
I'm hoping I don't have to explain this one...
7. Edilberto "Crocota" De Oliveira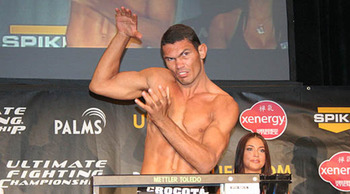 MMA record: 18-7-2
Current promotion: Jungle Fights
If his strange posturing and uber intensity weren't enough, there's this little nugget, which has just enough of that "serial killer" strain to rise above the typical, garden-variety MMA fighter domestic violence arrest, which for better or worse I have generally conditioned myself to ignore.
6. Aleksander Emelianenko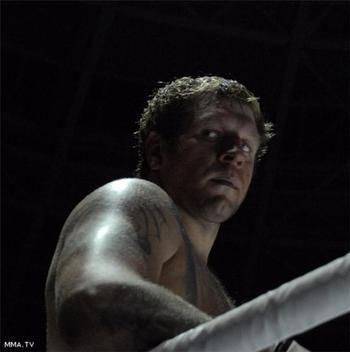 MMA record: 17-4
Current promotion: M-1 Challenge
The younger Emelianenko combines brother Fedor's blank, I-must-do-violence-now gaze with a slew of jailhouse tats and a general air of unkemptitude.
Then there is the incredibly creepy back tattoo. The slogan at the top of the tattoo—"Gott Mit Uns," or "God With Us"—is a historical battle cry used most recently by the Third Reich. Just throwing it out there.
He also killed a bear using only a stick and a knife. But maybe that's just a Russian thing.


5. Joe Son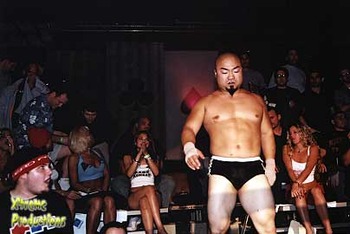 Record: 0-4
Promotion: Prison Fights
The Kimo devotee and fellow cross-carrier is now a convicted rapist and alleged prison cellmate murderer. Looks like the student has surpassed the teacher.
It just goes to show you can't trust everybody you see carrying a huge cross around on their backs.
4. Viacheslav Datsik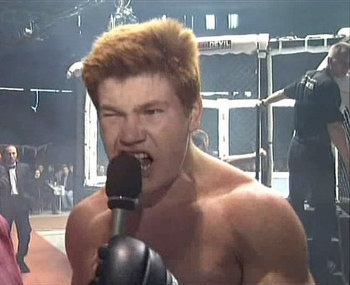 MMA record: 6-9
Current promotion: M-1 Challenge
Hats off to M-1 Challenge for landing this great talent!
If you don't know Datsik, let me make you a brief introduction.
He has lost not once but twice by disqualification.
Oh, and he just got out of prison, where he spent a lot of his time in solitary confinement.
He also may or may not be schizophrenic.
He is also an unabashed neo-Nazi and racist.
But hey, great to see him back in the fight game. It was awesome that M-1 Global decided to give him another chance...I think that was all he really needed. And once that deportation from Norway finally came through, part of me knew it was just a matter of time
3. Hong Man Choi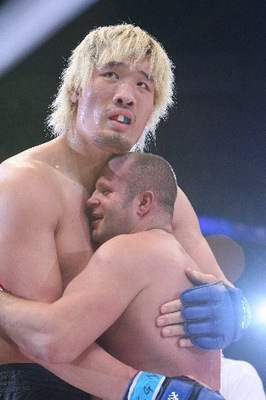 Record: 12-6
Most recent promotion: K-1
Remember that phrase about a picture being worth a thousand words? Yeah.
2. Giant Silva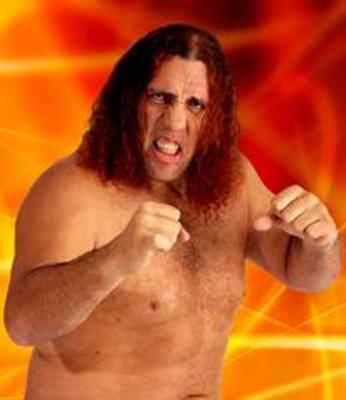 1. Marcelo Rodrigues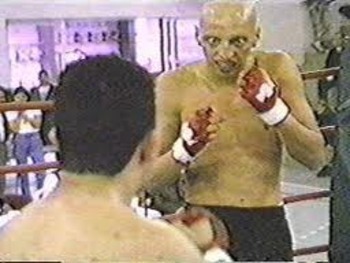 MMA record: 1-3
Current promotion: None

AHHHHHHHHHH!!!!!!!!!!
I didn't realize that the walking undead were eligible for state athletic commission licensing. And yet, here they are. I ask you: what domains will they conquer next? What's their plan? Where can we go to be safe again?
If video for this fight was available, you'd be hearing static in the audio. You'd be turning up your speakers to get through it, but then you'd realize it was really the hissing of Marcelo Rodrigues as he taunted his opponent in parseltongue.
KSSSSSZZSSSKZZSSSSKZZSSSSKZZSSSSKZZZT!!!!!
Keep Reading