WWE: Are Zack Ryder and Dolph Ziggler Creating "True Long Island Perfection"?
October 14, 2011
You cannot really call yourself a member of the Internet Wrestling Community without having some familiarity with Zack Ryder's YouTube series, "Z! True Long Island Story."  And while a greater part of the WWE Universe may not have been aware of it, Zack Ryder and Dolph Ziggler have been engaged in a pretty intense feud.
Starting out as a typical video blog (or vlog), the show eventually took on a life of its own. With characters such as Chiapetta, Big O, and Zack's Dad, it's not really too hard to see why.   Other talents such as Primo, Regal, Ziggler, Hawkins, Cena and Triple H make cameos and even Hugh "Wolverine" Jackman made an intro for him.  
If you haven't been following the show, I suggest you starting at the beginning with Episode 1.  The evolution of the show is fascinating to watch and, in my opinion, is among the best series you will find on YouTube.
Of Wolverines, Heels, and Long Island Iced Z's
It seems that Ziggler and Ryder have manage to make their feud both viral and entertaining at the same time. To start, Ziggler had been making spot segments on Z:TLIS called "Ask The Heel" where he would answer fan's questions directed to him on twitter, ending with "#HEEL" usually.
Fast forward to Episode 32, Hugh Jackman opened it with a brief introductory cameo.  The episode also recaps Ryder's rather epic win over Ziggler (with a little help from Jackman).  Ryder went so far as to take a jab at Ziggler, saying "there would be no 'Ask The Heel' this week.  I guess he's embarrassed the Internet Champion pinned the United States Champion."  Zing!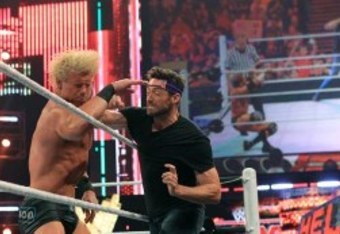 Episode 33 began with Ryder recapping his second victory over Ziggler, with a little help from Air Boom and Mason Ryan.  It seems, however, the Dolph took some exception to Ryder's antics and "hijacked" his show,  Starting like a normal "Ask The Heel" segment, Ziggler proceeds to "shoot" on Ryder, more or less calling him a jobber while putting himself over in a pretty convincing fashion.
The next show, Episode 34, Ziggler hijacks the show again, saying to Ryder:
"Sorry to interrupt, but I know you were wondering when you would get another shot at my United States Championship, and the answer is simpler than Big O and easier than Princess Leia.  Never.  You will never get another chance to be in the ring with me.

It doesn't matter who chants.  It doesn't matter who cheers.  It doesn't matter who guest stars, guest hosts, writes a letter to their Congressman or politics for you backstage in between hitting their three moves in the main event, no offense Cena.

You don't get it, kid.  You don't belong.  Your little show is a joke and I'm as real as it gets. #HEEL"
Then, he pulls a mask over his face and goes off camera.  On a side note, this is one of Ziggler's best promos.  Ever.
At the end of the episode, just as Ryder is about to wrap it up, a clanging sound is heard off camera.  Ryder goes to check it out (grabbing his camera on the way) and finds Chiapetta, his friend since childhood, knocked out and a nasty, bleeding wound on his forehead. 
On his chest is a mask, similar to what Ziggler was seen wearing during his hijack segment, and a "Perfection" T-shirt is laying on Chiapetta's chest and a metal pipe off to the side.
Episode 35 opens up recap of the events of the feud up to now, and Ryder vowing revenge upon Ziggler for his assault on Chiapetta, with Ryder even going so far as to give Chiapetta his "Broski of the Week" award and promising to take Ziggler's United States Championship. 
It included segments with Raw's Chief Physician (sorry, I couldn't hear his name) stating that Chiapetta had suffered blunt force trauma to the cranium and some Woo Woo Woo-ziness, Zack's Dad promising that whomever assaulted him will pay dearly, Big O wanting a piece of Ziggler, Primo asking "What's a Chiapetta?", and Scott Stanford running into Ziggler resulting in a rather humorous segment.  It ends with a rather ominous hijack showing the mask again.
The New Frontier?
Not long ago, the WWE looked upon the Internet as a necessary evil. YouTube was the enemy and the WWE Universe page was something of a joke. Lately, however, the WWE has been taking a new approach to its use of the Internet, urging its talent to make use of Twitter and using Social Media and articles on WWE as an outlets to further their creative storylines.
The WWE has had some successes and failures in dealing with various forays into using the Internet to their means and, overall, is gaining some momentum.  Despite last Monday's rather poor show, they managed to hype the walkout angle thanks in large part to hype generated on twitter with using "#OccupyRaw".
The initiative with broad angles (using multiple outlets for telling stories) and experimenting began to bear fruit.  The decline in ratings experienced over the summer stopped, and last Monday's Raw finished with a 3.2, their best mark in a while. 
Overall, had the show been better, it could have done better in the ratings, but that's another article.
With recent rumors about WWE placing more emphasis on criticisms from the Internet, it could stand to reason that WWE Creative has a hand in creating this rather beautiful angle. It's paid some dividends for all parties concerned, including fans of Ryder's YouTube show.
Whether the WWE goes forward with using outlets like YouTube and Twitter as heavily as they have in the walkout angle and current Ziggler/Ryder feud remains to be seen.  But overall, the results have been promising thus far with such a minimal effort and expense on the part of the WWE.
Vengeance at Vegeance?
As you can see, Ryder owes a beating to Ziggler.  The feud has been very well done with more storytelling than what one would find at the midcard level on Raw or SmackDown.  Going on a solid month, they have been back and forth in the ring on Raw with Ryder owning a 2-1 record against Ziggler and on the Internet, using Ryder's popular show as an outlet for the two to tell their own story.
As any wrestling fan knows, most feuds should have a payoff of some sort.  Well, at this point, Ziggler and Ryder have a grudge against each other, with Ryder wanting to "fistpump" Ziggler's face, while Ziggler would probably like to plant his "#HEEL" in Ryder's arse.   Why not in San Antonio on Oct. 23? 
Currently, neither man has a match that has been booked for the next PPV.  The build seems to be going that way and would be appropriate.  A recap on Raw and the usual video prelude to the match would be an awesome thing to see.
If the WWE were to really push this sort of storyline, Survivor Series might be a better venue for the two to knock out their differences.  With The Rock due back in the ring and taking place in Madison Square Garden, the show should see hype like we haven't seen in a while, being treated like the "Big Four" PPV it should be.
Given the careful nature of the story and execution that Ziggler and Ryder have done, there may not be a better venue for such a unique feud.
If they could resist the immediate payoff and put just a bit of TV time into this while linking Ryder's YouTube channel and WWE.com into the angle, the payoff could be immense and justify all the careful treading in the new frontier.
Overall, this feud has gotten a lot of mileage in a short time and told a ton of story that fans of Ziggler and Ryder should be getting a kick out of, while wrestling fans, and wrestling in general, benefit. 
WWWYKI!