Dominick Cruz Releases Gruesome Post-Surgery Photo of Broken Hand
UFC bantamweight champion Dominick Cruz successfully defended his championship for the fourth consecutive time earlier this month, defeating speedy competitor Demetrious Johnson by unanimous decision.
It was a decisive victory for Cruz, but many fans were left underwhelmed by his performance.
Johnson was thought to be one of the least-threatening men to challenge for Cruz' belt, yet Cruz had a tough time controlling the fight, in particular having difficulty with Johnson's speed and footwork.
However, after the fight it was revealed that Cruz had a pretty viable excuse for his lackluster performance. During the first round of the fight the champion had broken his right hand.
According to Cagepotato.com, Cruz recently had surgery on the broken hand and posted a picture of it online, in order to show the fans how his injury was coming along.
The photo will appear on the following slide. It is fairly gruesome, so if you're the squeamish type, I would recommend you stop reading here.
Fair warning.
Begin Slideshow

»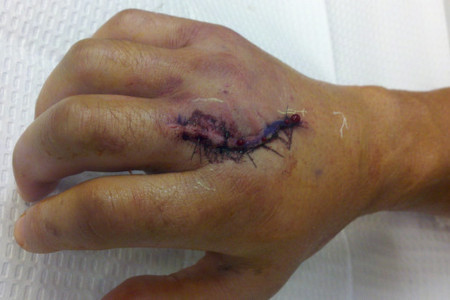 Ouch!
It looks like the surgery Cruz went through was painful—no doubt—but he's probably used to it by now.
As Cruz explained in an ESPN interview, this is not the first time he has suffered a broken hand and not even the first time he's had this specific surgery to remedy it.
"It's basically the exact same injury I had on my left hand. Same knuckle, same everything. The tendon is completely ripped off the bone and my finger is popping out of its socket due to that. And the knuckle just dislocates when I make a fist. I have to get that tendon that ripped reattached with surgery...After I got the surgery on my left hand the doctor said it would be stronger. And it's true. It is stronger. He put an extra piece of tendon over the top of the knuckle so it's braced for impact...He did some voodoo stuff with it that he drilled a hole through the knuckle and tied it so tight that there's no way for that tendon to lift back up off the bone again. I really feel like it's stronger than it was in the first place and I won't have any issues with it anymore."
If you think this photo is brutal, then you might not be ready to see what Cruz' left hand looked like when he had the same surgery on it...

Worse, right?
Cruz broke his right hand back at WEC 50 when he defended his bantamweight belt against Joseph Benavidez, a fight Cruz won by split-decision.
The injury Cruz sustained against Demetrious Johnson will easily keep the champ out of action until 2012.
You can expect him to be making his return fight against the winner of Urijah Faber vs. Brian Bowles, which is set to take place at UFC 139.
Andrew Barr is a Featured Columnist for BleacherReport.com. For updates on what's happening in the world of MMA, follow him on Twitter http://twitter.com/#!/AndrewBarr8