Texas Longhorns Football: Is Coach Mack Brown on the Hot Seat?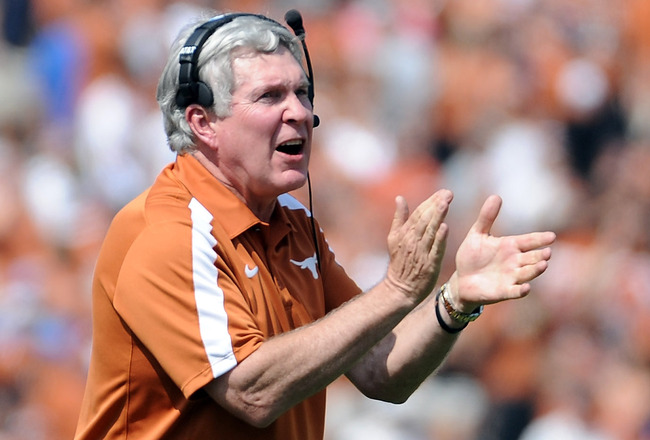 Harry How/Getty Images
Texas's embarrassing 55-17 loss to Oklahoma last weekend conjured up memories of a more-than-disappointing 5-7 season in 2010. Fans are not at all pleased with losing to rivals, especially by more than 30 points.
The Longhorns' 4-0 record to open this season has been virtually forgotten. The success of their new quarterbacks David Ash and Case McCoy is a distant memory.
However, Texas fans need to remember the beginning of the season and forget last week's loss. Mack Brown has done a great job rebuilding a team and is in no danger of losing his job. By the season's end, fans in Austin will be singing his praises yet again.
The 2010 Season Should Be Forgotten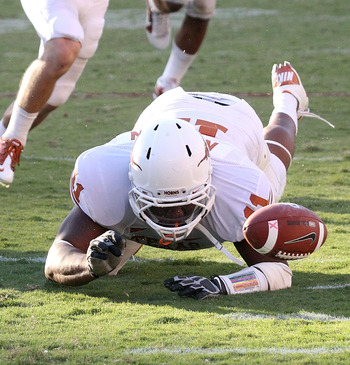 Ronald Martinez/Getty Images
Of course, Texas fans have not forgotten slogging through last season's miserable campaign. A 5-7 record will not convert many fans anywhere, but at a school like Texas, it will result in some pretty fearsome enemies.
That being said, there were a few explainable reasons for last season's utter meltdown and a few inexplicable things that indicated that the entire season was not so much a fluke as it was a one-time disaster.
Brown had never won fewer than nine games in his 13 seasons at Texas. In the beginning of the 2010 season, Texas was rarely blown out of games. They simply just could not pull out a win with many of the Big 12 powers. Losses to UCLA, Iowa State and Baylor robbed Texas of confidence and contributed to their downward spiral to end the year.
The other major problem with the Longhorns in 2010 was their quarterback. Garrett Gilbert performed extremely well in the 2009 Rose Bowl when he filled in for an injured Colt McCoy. However, his tendency to throw interceptions surfaced in that game and continued to plague him for the entire 2010 season. Brown realized early in this year's campaign that Gilbert was simply not the quarterback that could take Texas back to national prominence. To that end, he inserted a tandem of Case McCoy and David Ash that must be granted more than three full games to establish themselves.
The problems of 2010 should be firmly behind the Longhorns at this point. This is a new season, and fans must treat it as such.
Innovation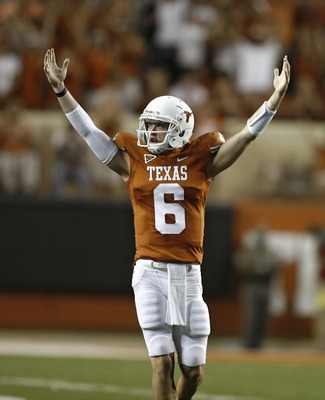 Erich Schlegel/Getty Images
Brown has not lost his drive to win, nor has he lost the ability to be innovative and turn bad situations into good ones. In the past three games, Brown has employed two quarterbacks and two running backs to carry the load. While sharing quarterback duties does not always work well for teams, Ash and McCoy have had success so far this season. McCoy has thrown for 451 yards and has a quarterback rating of 150.0 on the season. Ash has thrown for 320 yards with a rating of 145.0. McCoy arguably makes better decisions, but Ash has a stronger arm. Combining the two could lead to incredible success as long as egos are kept in check.
At the running back position, Fozzy Whittaker has begun having the season most were expecting of him. In his past three games, Whittaker has run for under six yards a carry once (a 5.9 clip against Iowa State). Freshman Malcolm Brown should be soaking up advice from Whittaker every practice. He, too, is having a good season, with the highlight being rushing for 110 yards in a win against UCLA.
Before the 2010 season, Brown fired longtime offensive coordinator Greg Davis and hired Bryan Harsin from Boise State. Harsin employs a number of trick plays and has engaged the offense with successful results so far in his first season.
Youth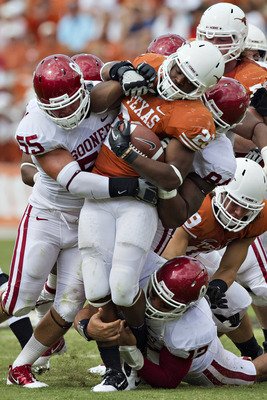 Wesley Hitt/Getty Images
The number one reason Mack Brown's job is not and should be in jeopardy is because of the Longhorns' age. Whittaker is virtually the only senior on the team with a major role and after the running back, it is hard to find a junior on the roster at all.
Against Oklahoma, Texas's youth was on full display. They committed five turnovers in the game, with three of them returned for touchdowns. None of the turnovers were made by anyone older than a sophomore. The quarterbacks were harassed all game and the secondary was humiliated. Most importantly, though, all the players got experience. The team learned what it was like playing against a top three squad in the country. The speed of the game increased tenfold, the hits were harder, and mistakes led to touchdowns.
That being said, the youth on this Texas team is very good. By next year, the parts should have fully come together and fans who may be disgruntled now will see the benefits of the hard work Brown and his team have put in.
Loyalty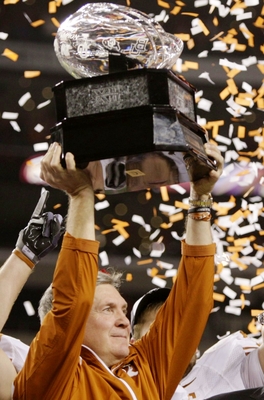 Jamie Squire/Getty Images
Simply put, the Texas football organization should have enough loyalty to Brown and how well he has coached their program to give him some leeway this season. Brown took over a 4-7 squad in 2008 and led them to a 9-3 record and a Cotton Bowl appearance.
The fact that he has maintained not just a winning team but an elite team for 13 seasons is a testament to his coaching skill and his ability to mold players. Brown was revered at Texas until the 2010 season. One down year with a lot of talent waiting in the wings should not lead to fans clamoring for his job.
Favorable Schedule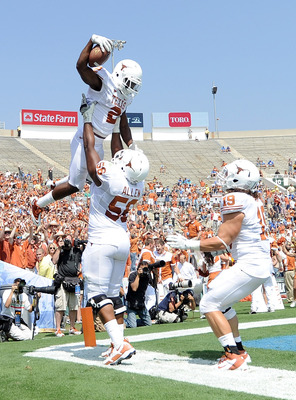 Harry How/Getty Images
After another very tough matchup this weekend with Oklahoma State, Texas's schedule becomes easier. Keep in mind, life in the Big 12 is never easy; but Oklahoma and Oklahoma State are far and away the top two teams in the conference. If Texas can survive the two back-to-back games and keep their heads up, they could finish the season with a very good record.
After Oklahoma State, Texas has a home game against Kansas, a bye week and another home game against Texas Tech. Though Tech's passing offense is very good and could give the Longhorns secondary trouble like Oklahoma's did, with an extra week to prepare, Texas should hold its own.
Texas should have more confidence and, most importantly, more experience, heading into the end of the season. They play three ranked teams (Kansas State, Texas A&M and Baylor) in a row, but none as lethal as their current two week streak. The Longhorns will be able to compete against each of these teams, making the 2011 season an impressive turnaround for Mack Brown.
Keep Reading

Texas Longhorns Football: Like this team?