Theo Epstein to Chicago Cubs: 5 Trades He Can Make to Endear Himself to Fans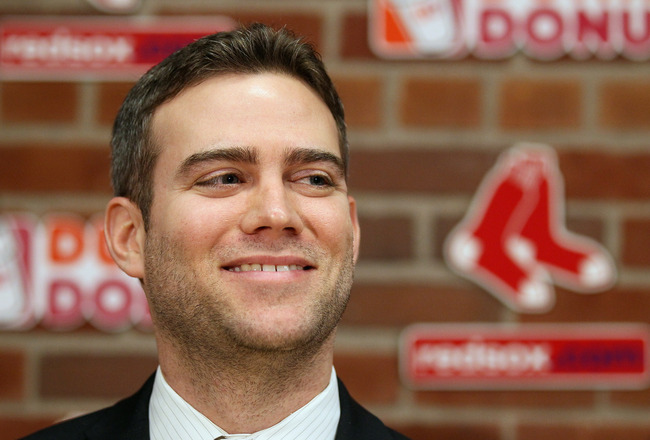 Elsa/Getty Images
Theo Epstein has a very difficult task ahead of him as the general manager of the Chicago Cubs.
He successfully built two World Series champion teams with the Boston Red Sox and ended their 86-year championship drought. Now, he is trying to accomplish a similar task with the Cubs.
The fan base in Chicago has been rooting faithfully for this team through all of their up and down seasons and will set some high expectations for Epstein.
He will need to make some smart decisions with the players currently on the roster, players in the farm system, draft scouting, free agents, and trades.
Speaking of trades specifically, there are some contracts on the Cubs that Epstein most likely look to part ways with. These contracts include Alfonso Soriano, Aramis Ramirez, and Carlos Zambrano. In order to move these players they will have to bring in some serviceable talent in return.
Here is a look at 5 trade options that could give the Cubs fans a good feeling going into next season.
Grant Balfour
Thearon W. Henderson/Getty Images
Grant Balfour can help the Chicago Cubs struggling bullpen. Balfour appeared in 63 games for the Oakland Athletics in 2011 posting a 2.47 ERA.
The Cubs need more quality relievers. Their bullpen gave up the fifth most runs out of any other National League team. The Kansas City Royals were the only bullpen in baseball that gave up more walks than the Cubs pen.
Balfour could come in and provide an instant upgrade to the bullpen.
CC Sabathia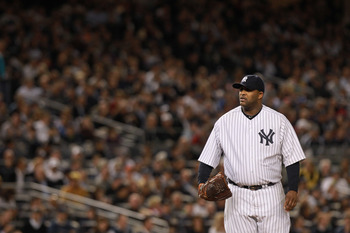 Nick Laham/Getty Images
If Theo Epstein wants to make a big splash, he can attempt to get CC Sabathia from the New York Yankees. There is the possibility that Sabathia may be willing to opt-out of the final four years of his New York Yankees deal.
Perhaps a trade including Carlos Zambrano or Alfonso Soriano can be put together in exchange for Sabathia.
In 2011, Sabathia had a 3.00 ERA while winning 19 games and striking out 230 batters.
The Chicago Cubs could use that type of shut-down ability at the top of their rotation. Ryan Dempster and Matt Garza were tied for the team lead with 10 wins in 2011.
In order for this team to go to the next level and return to the postseason, they will need a dominant ace to lead the rotation.
Carlos Quentin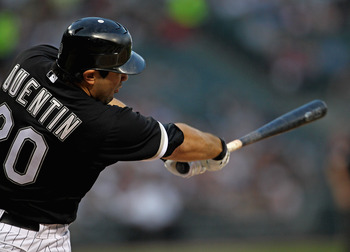 Jonathan Daniel/Getty Images
Carlos Quentin could make the cross-town move and be a great addition for the Chicago Cubs. The 29-year-old outfielder still has plenty of years left in him to be productive. Even if the team isn't able to move Alfonso Soriano Quentin would still upgrade their options in the outfield.
In 2011, he had a .254 batting average with 24 home runs and 77 RBI. That level of productivity would put him among the leaders on the current Cubs roster. He only played in 118 games before his season was ended with a shoulder injury.
In 2008 he won the Silver Slugger award and he wouldn't be too expensive to bring over to add to the roster.
If Epstein could get him in a trade it would be a great transaction.
Joey Votto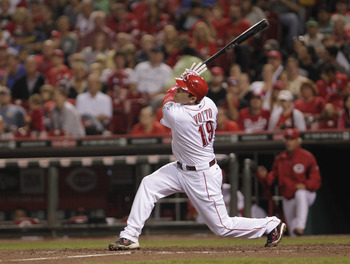 John Sommers II/Getty Images
Even though the Cincinnati Reds say Joey Votto is not available for trade, he is still worth inquiring about if the Chicago Cubs are unable to sign Albert Pujols or Prince Fielder. The team needs a power-hitting first baseman that can anchor the offense as they are working on their rebuilding efforts.
Votto had a good 2011 with a .309 batting average, 29 home runs, and 103 RBI. He's a two-time all-star and the 2010 NL MVP.
In the event Epstein could magically pull off a deal that would bring Votto from the Reds to the Cubs it would be the type of move that would build up a lot of excitement among fans in Chicago.
Carlos Zambrano for Logan Morrison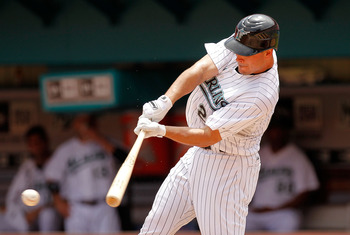 Mike Ehrmann/Getty Images
The best trade Theo Epstein could make is any trade that gets an impact player in exchange for Carlos Zambrano.
Perhaps sending Zambrano to Miami to be with Ozzie Guillen is the best option. Logan Morrison would be a good player to receive as a part of the deal.
After a meltdown in August, the team put Zambrano on the disqualified list and suspended him without pay for 30 days. After his suspension they paid him but kept him off the field for the remainder of the season.
He has had a long list of incidents, including fighting teammates, arguing with teammates, throwing a ball into left field and destroying a Gatorade cooler.
Morrison has had his issues within the Marlins organization. In August they demoted the promising young outfielder to the minor leagues for about 10 days.
A potential trade could be a win-win for both teams to move a player out of the clubhouse that isn't agreeing with the organization.
Keep Reading

Chicago Cubs: Like this team?