The 15 Craziest Trash-Talk Moments in Wrestling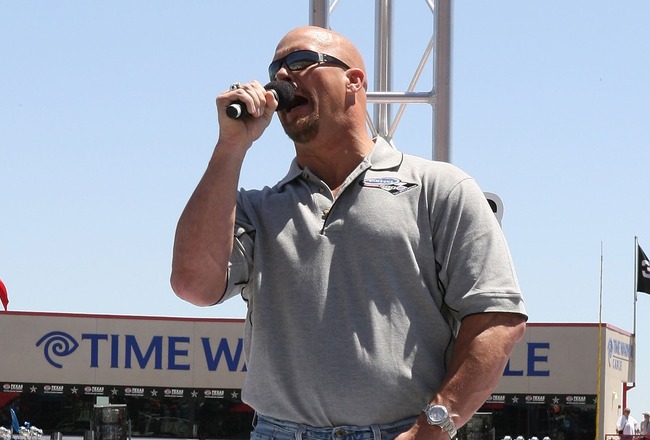 One of the greatest trash talkers to ever pick up a microphone
Chris Graythen/Getty Images
Professional wrestling would be nothing without the art of drama. Personalities have to clash, characters have flaws, and everyone is gunning for that top-tier title.
Within the rivalries of professional wrestling, people have to interact with one another in order to heighten the drama, and hence increase the interest in the product. Aside from quality matches, this may very well be the most important component to keep the fans interested.
When two rivals shoot barbs back and forth, it can certainly make for some choice moments. Read on to see 15 of these choice trash-talking and drama-infused moments.
Note that some of these segments are uncensored and thus I will be accompanying each slide with a language intensity rating of 1 to 5. 1 being the mildest and 5 being the strongest.
Mickie James Slams LayCool
Language intensity - 1
Due to the deplorable "Piggie James" comments being made by LayCool, this moment on Smackdown! was not only empowering to women who didn't look like the tall and lean Michelle McCool or the petite Layla, but also showed that Mickie James has some chops on the mic.
Wade Barrett Verbally Pummels John Cena
Language intensity - 1
Very few people have slammed John Cena in a shocking way.
This moment on RAW was crazy due to the fact that Cena could not do anything to Barrett because of the stipulation in place that he would be fired if he did, but also was a credit to Barrett's mic ability and the hopelessness of all of the Cenation felt to see their hero being verbally massacred and not be able to do anything about it.
Triple H Makes Fun of RAW's New Sheriff
Language intensity - 2 (vulgar gesture)
Triple H is one of the best promo men who has ever picked up a mic, but it's rare that Triple H is this comical when he isn't with Shawn Michaels as a part of Degeneration X.
Jim Ross Cuts a Worked Shoot on Vince and the WWF
Language intensity - 2
It's no secret that Vince McMahon doesn't really care for Good 'ol JR, and as this early RAW clip shows, Ross doesn't necessarily have much loved gained for the Chairman.
Coming off of one of his 112 firings, Ross cut a scathing worked shoot that was one of the best ever.
Paul Heyman Shoots at (WW)ECW's One Night Stand
Language intensity - 3
Paul Heyman is one of the most respected promoters of one of the most beloved wrestling organizations to ever exist. The man knows his way around the mic, and with a packed house of True ECW fans, he got a chance to shoot on some of WWE's greats (and Eric Bischoff) in attendance that night.
The Rock and Chris Jericho Make Fun of Daddy's Little Girl
Language intensity - 2
What do you get when you mesh two of the sharpest tongues in wrestling history and offer them an opportunity to make fun of the boss' daughter?
Pure trash-talk gold.
Matt Hardy and Edge Air Dirty Laundry on Byte This
Language intensity - 1
The animosity between Edge and Matt Hardy was no secret after news broke that Hardy's long time girlfriend Amy "Lita" Dumas had been carrying on an affair with Hardy's friend and co-worker Edge.
This verbal display of dirty laundry being aired was so crazy because all the emotion you were seeing from all parties involved was real. It's very seldom that emotion this real makes it in front of the cameras.
John Cena Lays a Diss Track Down on The Rock
Language intensity 2 (mild suggestive language)
It's very hard to tell how much of the malice between The Rock and John Cena is true, but one thing is for sure that when these two trade barbs, you're in for an entertaining evening.
Cena gave the fans in attendance of RAW a small sample of the "Doctor of Thuganomics" gimmick he used oh those many years ago.
Shawn Michaels Cuts a Heel Promo on Costing the Undertaker His Title
Language intensity - 3
In one of the most intense promos Shawn Michaels has ever cut, Shawn displayed his anger at being blamed for costing The Undertaker the WWF Title in a match against Bret Hart due to a chair shot by Michaels.
He had aimed for Hart, but hit Undertaker. This promo ensued the following night on RAW.
Bret Hart Goes Crazy on National Television
Language intensity 4 (harsh uncensored language)
During this edition of RAW, Bret Hart cut a worked shoot promo on how the WWF had been unjustly treating him and how he got "screwed" out of the WWF Championship.
It was a sight to behold since Bret was considered quite the fan favorite and was a guy who was built in the vein of a Hulk Hogan. The guy who kisses babies and what have you.
CM Punk's Shoot Heard 'Round the World
Language intensity - 2
Everyone who is reading this is likely to know what transpired here, but for those that don't CM Punk had been misused for the better part of a year in crappy storylines and a string of pay-per-view losses.
With his contract being fiercely negotiated, it was decided that Punk would "shoot" on the WWE since he had no cause to care what Vince thought. He was leaving, so why not vent on the flagship show?
Steve Austin Shoots in ECW
Language intensity - 3
Once upon a time in WCW, a man named Eric Bischoff fired one Steve Austin because he had been on the injured list for far too long. Mr. Bischoff thought Mr. Austin would not be a "marketable" asset (hindsight is 20/20, eh?).
So, Mr. Austin headed to the land of the extreme and vented his frustration on everything he felt about WCW, its management, and even the company he went to work for.
Vince Russo's Shoot on Hulk Hogan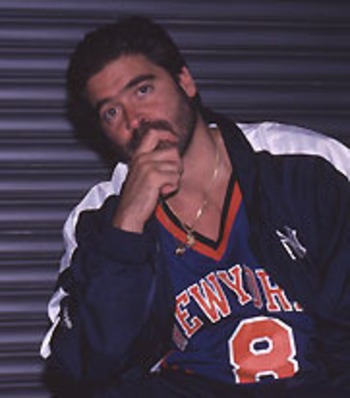 Source - wwe.com
Language intensity - 5 (very harsh uncensored language)
The Bash at the Beach WCW pay-per-view in the year 2000 has gone down in history with quite a bit of infamy.
After Hulk Hogan called out Russo for having him beat Jeff Jarrett in a farce match, Russo came down to the ring on Hogan's departure and cut a shoot promo (that some still believe to be worked) on Hulk Hogan being a politician backstage and his love of the wrestling business.
My apologies for the lack of video. Since Bleacher Report will not accept dailymotion uploads here is the link to watch - http://www.dailymotion.com/video/x15pt0_russo-shoots-on-hogan_sport
Jim Cornette's Opinions
Language intensity - 2
Jim Cornette has been around the wrestling business forever, and the man knows his stuff. He was given a live mic on WWF TV quite a few times to voice his opinions on happenings in the wrestling world.
He may or may not have...uh...we'll say "inspired" my sign off.
Almost Anything Said by Rowdy Roddy Piper
Language intensity - 1
Rowdy Roddy Piper is probably the best trash talker to ever exist. If it weren't for Piper, half the guys on this list wouldn't even be in the business. Simple as that.
Conclusion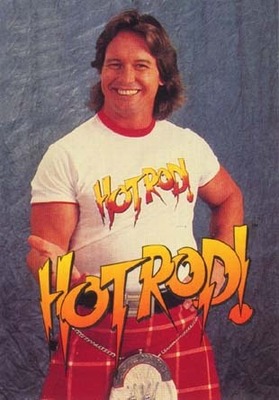 Source - oddfilms.com
So what do you think, guys? Did I leave anything out? Let me know in the comments section and I'll put your good suggestions here!
Until next time, I'm Jim Co...er...Merlot Williams, and that's my opinion.
Keep Reading