Pittsburgh Penguins: Is Time Running out for Eric Tangradi?
October 13, 2011
Jim McIsaac/Getty Images
Eric Tangradi is arguably considered one of the top prospects in the Pittsburgh Penguins organization. He came to the Penguins from the Anaheim Ducks in a 2009 trade that also gave the Pens Chris Kunitz and sent defenseman Ryan Whitney to Anaheim.
Tangradi was in his final junior season when the trade was made, but his season was cut short due to a hand injury. However, he recovered in time for the 2009-10 season and joined the Wilkes-Barre/Scranton Penguins. Although he had 39 points in 65 games, he missed time due to a shoulder injury that he sustained early in the year.
Last year, his AHL production dropped slightly to 33 points in 42 games. He was called up to Pittsburgh, where he had three points in 15 games, but his season was again cut short in February when he received a concussion; he was injured during the infamous Penguins-New York Islanders brawl.
Tangradi came into this year's training camp with high expectations to make the Penguins for opening night, but he was a surprising part of a group of about seven players who were sent down to Wilkes-Barre near the end of camp.
This is Tangradi's third season with the Penguins and he still has his spot as a top-10 prospect, though, he was bumped out of the No. 1 spot by defenseman Simon Despres, as listed on Hockey's Future's Prospect Rankings. Some still argue that he needs more time to develop, but with reports out of Pittsburgh that he did not impress in camp, combined with his injury history, it's easy to wonder if he is running out of time to do something, putting him on the verge of punching a ticket out of the organization.
No one knows Tangradi besides the coaching staff, but some less than impressive signs are on the wall. For example, in Wilkes-Barre/Scranton's season-opening games this past weekend, some noted that Tangradi seemed like he didn't want to be there. He was mostly invisible on the ice and he didn't look interested in the game.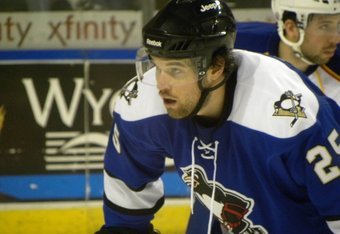 His injury history is also starting to become a concern. If he had just been injured in juniors and hadn't had incidents in each of his first two seasons, it would be easy to overlook the 2009 hand injury. But the fact that he has had a concussion and a shoulder injury, missing significant time with both, is reminiscent of another prospect, Keven Veilleux, who has also struggled with injuries since turning pro.
While some argue that Tangradi may still be cautious on the ice, it's hard to see that as a good excuse. If he is not ready to play for whatever reason, he should still be on the sidelines and taking part in practices if possible. The rest of the AHL will not slow down for him, and he needs to get re-adjusted to the pace of the game. If he gets an NHL call-up, he will not have time to tread carefully.
If Tangradi is indeed feeling like he doesn't want to be in Wilkes-Barre, he needs to get a handle on those feelings quickly. Yes, he will likely be one of the first players, if not the first player in line, to be called up to Pittsburgh. If he acts like he doesn't care while he is in the minors and doesn't want to be a contributor, though, he will find that other players are passing him by for an NHL opportunity.
He needs to work hard and continue improving his game with Wilkes-Barre, making the most out of any minutes he gets. 
There is currently a player in Pittsburgh who could be one of the players that passes Tangradi for an NHL roster spot, and that is Joe Vitale.
Vitale made the Pittsburgh roster out of camp partially due to injured players not being ready to go. It's likely he'll come back to Wilkes-Barre when guys get healthy, but he has done well in his short time. Through four games, he has five hits and has won 61.8 percent of his faceoffs. In Tuesday's game against the Panthers, he was the second star with two hits and three blocked shots, as well as a pair of assists.
It may be too early to write Tangradi off, but there is a real possibility that he isn't going to live up to the hype or even have an NHL future in Pittsburgh. Other players are doing just as well or better than him, and he needs to raise his game to match the level of players like Vitale.
Since Tangradi is a restricted free agent after this season, he needs to start working now. If he continues showing that he doesn't want to be here or is too hesitant to play hard, it may be too late by the time he is ready and willing.
This article also appears on Bottom Line Hockey.