Florida vs. No. 24 Auburn: 10 Things You Should Know About the Gators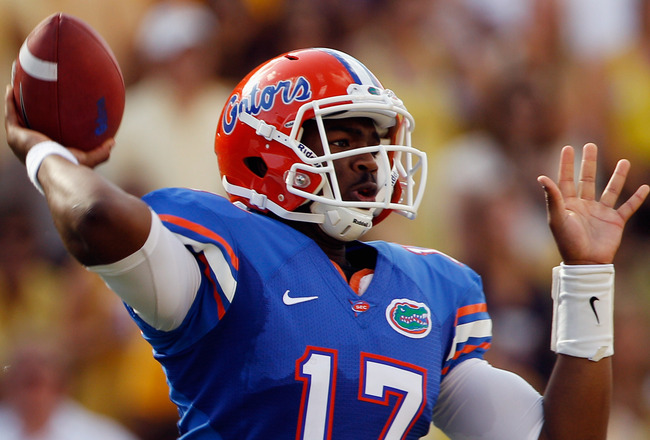 Chris Graythen/Getty Images
Auburn got another dose of humility against Arkansas last week, their first SEC dose of humility, going down 38-14.
In fact, the remainder of the season is all about SEC games for Auburn, with the exception of a mid-November game with Samford. The road doesn't get any easier from here on.
This week, the Florida Gators come to Jordan-Hare Stadium, themselves reeling from back-to-back losses to No. 2 Alabama and No. 1 LSU.
Considering the Gators' injuries and inexperience, those outcomes were not that unexpected, and coming into Auburn this week, the Gators are slight underdogs.
However, the Tigers cannot overlook any opponent going forward considering their spotty offensive and defensive play throughout the season, but mostly learning something from the way they played at Arkansas, a game wherein the Tigers' mistakes, penalties and missed passes helped steer the outcome.
Florida's QB Position is a Mess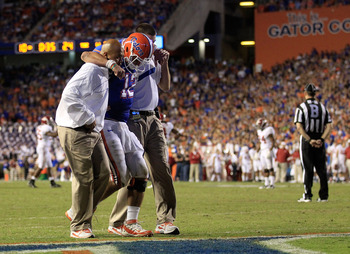 John Brantley, leaving injured against Alabama
Sam Greenwood/Getty Images
The Gators were making some progress early in the season, dominating Kentucky and QB John Brantley impressing as they moved through their opponents.
Then, they met the Alabama defensive buzz saw.
Brantley was actually putting up some good numbers in the first half, going 11-of-19 and 190 yards and one TD before he was felled with a high ankle sprain just before the half.
His replacement, Jeff Driskel, didn't fare too much better, mounting no scoring offense and suffering an ankle injury of his own to lose to the Tide 38-10
By the time the Gators met up with No. 1 LSU, both first and second-string quarterbacks were unable to play, which meant the duty had to fall to true freshman Jacoby Brisset, who had not taken his first collegiate snap from center.
This was a heck of a fire to throw the youngster into, his first game against No. 1 LSU.
Still, he hung in there, passing 8-of-14 for 94 yards and one TD, but two interceptions.
As of this writing, Florida head coach Will Muschamp is stating that the Tigers can expect the same starting quarterback, since the ankles of Brantley and Driskel are still unknown.
If that remains to be the case, Auburn would still be wise to play as if Brantley is in and not let up, because the Gators have a supporting cast that could surprise, especially if there is a letdown on the Tigers' side.
Gators' Offensive Line Letdown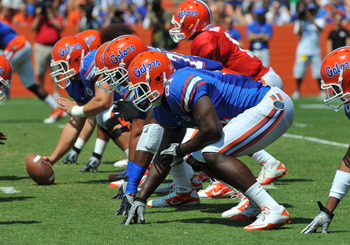 Al Messerschmidt/Getty Images
Florida's offensive line has allowed more sacks in the past two contests with No. 2 Alabama and No. 1 LSU than they allowed in their first four games. For the record, they allowed only two sacks in the first four, none against Kentucky and a total of four against Alabama and LSU.
Maybe it's because they faced the country's best defensive lines in the past two weeks, or maybe it's because of a flurry of injuries at key positions, wherein the team is at a loss overall.
Whatever the reason, the talent of this line is still there, and up against a learning and sporadic Auburn defense, this O-line could restore their early-season glory. But, the Tigers have to step up.
It will be up to Auburn front D-line, the linebackers and the rushing strategy that will help determine this. They have been effective here before.
The Tigers just need to know that they cannot discount this line as irrelevant because of Florida's last two performances. That would be a dismal mistake.
Florida's Running Backs Not Performing
Sam Greenwood/Getty Images
The running game of the Florida Gators, like most of the team, started out the season with the promise of making huge strides for new head coach Will Muschamp.
However, their performance of the last two weeks has gone the way of other aspects in their game, causing a loss of confidence.
Their leading rusher, and hope for the ground game up until two weeks ago, was Chris Rainey, a senior that only gained four yards against Alabama and 52 yards on 13 rushes against LSU.
Still, as I said before, this was against two leading defenses that were keying on the run, thus the loss in the capability of Rainey and the other RB Jeff Demps.
So, with the loss of the running game, there should be other options available to the Gators.
Auburn should not discount the running game as gone, and it will require diligence of the defense on the outside to help contain the run there and up the middle too. Learn a lesson from Bama and LSU in terms of what film to watch concerning the Gator running game.
Mike Gillislee: Well Kept Secret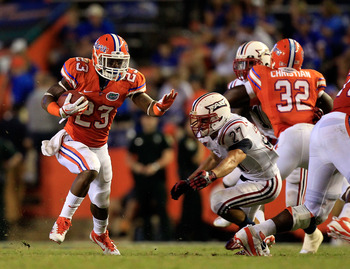 Sam Greenwood/Getty Images
One exception to the last slide about the Gator running game is the emergence of Mike Gillislee, a running back who was at the back of the depth chart behind Chris Rainey and Jeff Demps in the beginning of this season.
He had a career high against Kentucky with 84 yards, so it's not that he's putting up outrageous numbers, but he was the only back who ran with any authority against the LSU defense, gaining a 6.2 yards per carry average against the Bengal Tigers.
What Auburn can't afford to do is discount the entire rushing game because the two stars are not performing well.
If they are on, consider that Gillislee will make a superlative compliment of power to what was already a speedy rushing game, just off track when faced with a decent defense.
Gators Depth at Tight End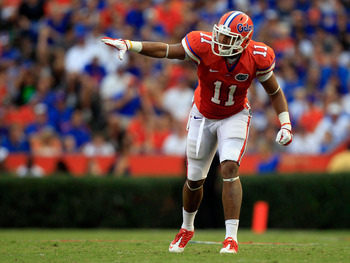 Sam Greenwood/Getty Images
Ankle injuries to the two starting quarterbacks are the most glaring and symptomatic aspects of the Gators' woes of the last two weeks, but there have been other tendencies in the tight end position that should be noted.
It's a telling tale when a tight end is out for two games because of a knee injury but still leads his position in receptions
TE Jordan Reed, who has 11 receptions and 86 yards on the season, still seemed to struggle on his routes against LSU, his first game back after the knee injury.
But this is a position that is deep for the Florida Gators and possibly under utilized in the past few games because the game plan seemed to look at the long-gain, big-play area.
Don't think this hasn't gone without notice to offensive coordinator Charlie Weis.
Auburn should be prepared for the short game, which would favor a young quarterback, to help pick apart the under coverage across the middle and take advantage of other tight ends in the Gator stable if Reed is unable to go on Saturday.
Florida Defense Still Intact?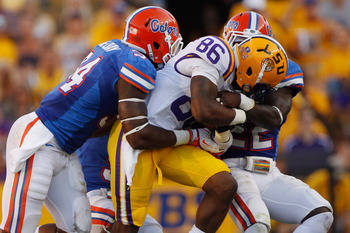 Chris Graythen/Getty Images
The Florida defense did little to stop the LSU offense, allowing a very well-balanced total of 453 yards to be waged by the Bengal Tigers last weekend.
However, four Gator defenders went to career highs in terms of tackles, and that included Matt Elam (12), Sharrif Floyd (11), Dominique Easley (nine) and Michael Taylor (seven)
If the Auburn Tigers cannot muster any more offense than they attempted against Arkansas, then these four career highs will be tacked onto, and the overall Florida defense will be able to improve on their yards per game.
Gators Make Mistakes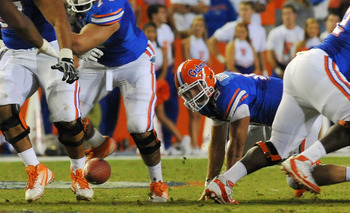 Al Messerschmidt/Getty Images
Auburn cannot be throwing any stones when it comes to making mistakes. It's like the pot calling the kettle black, given the turnovers and penalties created by the Tigers against Arkansas.
But the Gators are the most penalized team in FBS football, committing 55 penalties this season.
Last week alone, they committed 12-for-90 yards, the second time they've been in double-digit yardage this season.
However, against Arkansas, Auburn committed 11 penalties for 105 yards, putting them into triple-digit penalties.
As to the turnovers, both teams are pretty close as well, with the Tigers throwing three interceptions and the Gators two last week. Still, the Gators were on their third string quarterback at the time.
It's just something to consider, but basically when it comes to mistakes, both teams are young and inexperienced, which is where the mistakes comes from.
At the end of the game, it will come down to who makes the fewest mistakes that matters.
Youth and Inexperience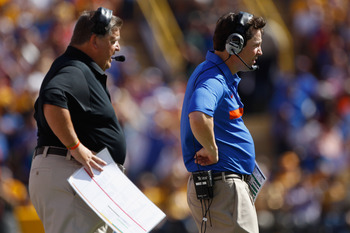 Chris Graythen/Getty Images
Both teams are young and inexperienced, which probably leads to all the mistakes I mentioned in the previous slide.
We've been saying it all season long where Auburn was concerned, mainly because of the 26 starters that did not return this season.
But, Florida does one better in that their coaching staff is also young; maybe not inexperienced, but new for Florida, that's for sure.
This is Coach Will Muschamp's first job as a head coach, but he assembled a coaching staff with 53 years of NFL experience between them, including six Super Bowl Rings.
Offensive coordinator Charlie Weis, well known as the former head coach at Notre Dame, had seemingly found his niche as the offensive play caller, even though at the beginning of the season, it was highly geared around QB John Brantley, one of the few returning starters.
Now, faced with the inability to turn on a dime, Muschamp, Weis and company are faced with having to reinvent themselves at mid-season.
The only difference in the Auburn Tigers is that they are faced with trying to gradually improve game after game with their inexperienced group, only to be thwarted in the last game against Arkansas.
If the Gators haven't significantly changed following the trouncing by LSU, that could go in Auburn's favor.
Florida & Auburn Are Well Matched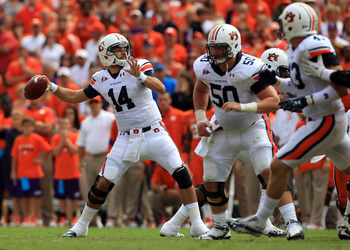 Streeter Lecka/Getty Images
Given the last two slides, you might consider that Auburn and Florida are pretty evenly matched before heading into the game on Saturday. However, there are some differences.
The one thing going for Auburn is that they have an established leader in Barrett Trotter, leading the offense without facing debilitating injuries that has all but decimated the Florida offense.
There is still depth at the position, a statement that the Gators cannot make.
I say this despite a huge number of readers calling for Trotter's replacement this week.
Both teams have solid running attacks, although the Gators are a bit more banged up there as well, and Auburn have healthy starters in Michael Dyer and Onterio McCalebb.
Unless Florida can muster someone to take over for John Brantley in the leadership department, the edge has to go to the Auburn Tigers, and the Tigers should knock on wood that this doesn't happen to them at this point in the season.
Will Muschamp Plays Close to the Vest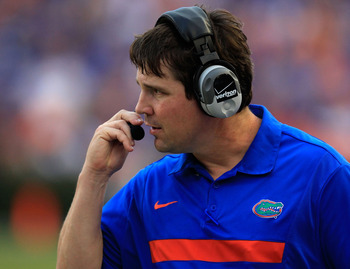 Sam Greenwood/Getty Images
All this being said in the previous slides paints a pretty dismal picture for the Florida Gators' chances this weekend against Auburn.
However, head coach Will Muschamp was able to keep the fact that Jeff Driskel was not able to start against LSU until the very last minute.
Expect one of the things you should know about Florida to be that they could make the necessary adjustments, bring back at least Driskel and make headway toward recapturing some face in the SEC.
If the Auburn Tigers don't bring some buttoned-up play, solid offense and a mistake-free game on Saturday, then the Gators may not need to tighten up their act.
Either way, Auburn nor Florida should expect the other team to roll-over this Saturday. The Tigers of all teams should know not to trust a Gator.
Keep Reading

Auburn Football: Like this team?