Boise State Football: Why the Broncos Should Be Excited About the Big East
October 12, 2011
Otto Kitsinger III/Getty Images
The talks of the Big East reaching out to Boise State continue to grow seemingly by the hour, and I believe we will know if an invite is coming or not by the time the Broncos face Colorado State on Saturday.
The Boston Globe has reported that Central Florida is the first team to be courted by the Big East in the latest rounds of expansion talks. The next likely candidate will be Temple. 
To bring the conference to 12 teams, it looks like the Big East will ask Navy, Air Force, Houston, and the Broncos. SMU was also kicked around, but I don't think they will get an invite unless some dominoes fall, like Louisville leaves for the Big 12 due to Missouri moving to the SEC. That is unlikely, at least until next season. 
If that were the way the invites played out, it would be the best possible scenario possible for the Broncos. I would even say a deal like this may be better then a Big 12 invite.
"What?!?!?" You ask.
Hear me out. If the Big East is successful at bringing in all of those aforementioned teams and split them into divisions, it would look something like this:
| | | |
| --- | --- | --- |
| East |    | West |
| Central Florida |   | Air Force |
| Connecticut |   | Boise State |
| Navy |   | Cincinnati |
| Rutgers |   | Houston |
| South Florida |   | Louisville* |
| Temple |   | West Virginia |
*If Louisville leaves in a year or two it would be even better for Boise State as SMU will likely get the invite
That's a pretty solid West Division, and the travel is not a whole lot worse then a normal year for Boise State, especially if SMU moves in place of Louisville.
Now the reason I say that this would be better for the Broncos than playing in the Big 12 is, when you look at the West Division and even the Big East as a whole, the in-conference schedule presents a great opportunity.
The first thing that stands out is that it is totally manageable for Boise State. I could see them going undefeated in conference like this in their good years and during rebuilding years still finishing in the top three of the Big East. In the Big 12, this is unlikely. 
Let's face it. Even in the years Boise State went undefeated in the WAC, it is unlikely that same team would have gone undefeated in the Big 12. Definitely possible, but unlikely. Running the Big 12 gauntlet every year, the Broncos are not going to win every game, and some years they may be lucky to win eight games. 
In the Big East breakdown above, Boise State makes its leap into the BCS, but it is not such a leap that they will be crushed in their down years and lose one or two in their up years.
They can still go undefeated in good years, and if they don't, they still can get a BCS bowl.  Plus, if there is a really bad year, they still can get better bowls then the Maaco Las Vegas Bowl.
With those 12 teams, the Big East is definitely better than the Mountain West and an undefeated Boise State would look much better in the BCS National Championship picture if they came out of the Big East instead of the Mountain West. Dare I say that my Big East setup is even better then the current Big East, in football at least.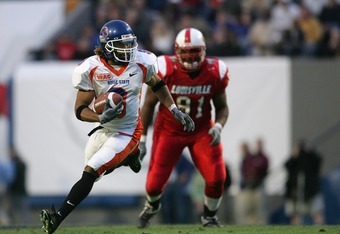 Andy Lyons/Getty Images
So if this were to happen right now here is what I would predict the Broncos' 2012-13 schedule would look like. This is assuming they win every game, as well.
| | | |
| --- | --- | --- |
| Michigan State |      | Away |
| Miami (OH) |   | Home |
| BYU |   | Home |
| Fresno State |   | Home |
| Houston |   | Away |
| Cincinnati |   | Away |
| Navy |   | Home |
| Louisville |   | Away |
| Air Force |   | Away |
| Temple |   | Home |
| West Virginia |   | Away |
| UConn |   | Home |
| South Florida |   | Big East Championship Game |
| Bowl Game |   | Nat. Championship or Orange Bowl |
That might be the best schedule in Broncos history thus far, and the fact that every team on that schedule is beatable makes it even better.
So, despite the fact I was one of the biggest haters towards the Big East in the past, I am actually getting really excited for a potential Boise State move, especially if it plays out like I hope.