2011 NLCS: The Milwaukee Brewers Breed Passionate Fans of All Ages
October 11, 2011
Christian Petersen/Getty Images
It was an amazing summer here in Milwaukee with the Brewers drawing of 3,000,000 fans, setting team records for home victories (57) and total wins (96), while winning their first division title since 1982. It was unfortunate that I had been unable to attend a Brewers game during this magical run until now.
This past week I sold one of my prized possessions in order to acquire the funds to attend Game 2 of the NLCS between the Brewers and St. Louis Cardinals tonight at Miller Park. I went in thinking I would root for the Brewers and have a good time at my first ever Milwaukee Brewers playoff game. I was able to do one, but not so much of the other. 
Something happened on the way to a 12-3 Milwaukee Brewers loss. I took a look around and saw just how much the Brewers and this game meant to several people that were sitting within spitting distance of me. 
Sitting to my right was a teenager with his father. It was the young man's very first Brewers playoff game as it was mine. His white towel was ready to be waved at the drop of a hat, and his excitement was clearly palpable.
Then...he pulled out his cellphone and began texting. I was ready to condemn him and his generation until I became aware that he was texting his grandmother. I don't know about you, but most young teens wouldn't be caught dead texting anyone over the age of 18, let alone their own grandmother.
Here he was sharing his passion and his excitement for the moment with someone who couldn't be there with him. I bet you wish you had a grandson like that.
People hear stories of this fan or that going to great lengths to see their beloved team play. Tonight there was a young woman sitting in front of my friend and I that had done just that.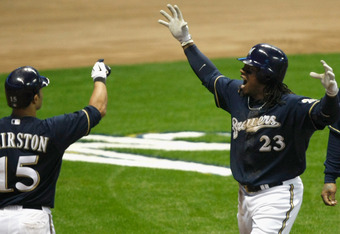 Scott Boehm/Getty Images
She is a Brewers fan, a huge Brewers fan, so she decided that she was going on a road trip to Milwaukee to see Game 2 of the NLCS. She drove 23 hours from Montana just so she could see her team tonight in Miller Park.
That's beyond devotion. Angie sacrificed a lot to be there, more than most people could fathom. She said, "I gave up my Thanksgiving. I gave up my Christmas. I gave up my New Year's." Her passion bled through when she added, "This is my Christmas!" 
Angie is by no means well off, and she wasn't joking about giving up those holidays. She won't be able to afford them this year, but that was fine by her. Naturally she was disappointed by the 12-3 loss, but she was exactly where she wanted to be.
In fact, she was trying to concoct a plan that would allow her to attend Game 3 of the NLCS in St. Louis on her way back to Big Sky Country.
I have a feeling she may just find a way. Stranger things have certainly happened like opposing managers pitching to Prince Fielder.