Auburn Football 2011: An Early Look at the Florida Game
October 11, 2011
Streeter Lecka/Getty Images
This particular article is late coming due to having to rescue a non-performing car from a local shopping mall. This car simply wasn't performing, but it seemed as if swapping one part could fix the problem. The part was replaced and the car has now returned to its usual, dependable, performance level.
Watching the Auburn football team this week reminds one of that car. It broke down miles from home and simply could not perform well enough to accomplish the task at hand. One part seemed to hamper the performance of the entire team.
The first and most obvious factor, as well as the least analyzed, was the prevalence of penalties in this game for Auburn. There were 60 offensive yards lost to holding violations and more than 30 yards negated that had been gained on the plays. This is the type of thing one expects from a young team, but must be improved upon.
Auburn committed three turnovers in this game. It is difficult, at best, to beat a good football team, and almost impossible with that many turnovers.
The passing offense has disappeared and shows no sign of returning. While there were at least five dropped passes in this game, this was not the major problem. Barrett Trotter has lost his confidence in the passing offense. This is largely due to the play selection of Gus Malzahn.
For some reason, Coach Malzahn has all but abandoned the use of high-percentage passes in his play calling. A few high-percentage pass plays early in the game could work wonders for both the starting quarterback and wildcat quarterback.
Hopefully Coach Malzahn has a plan to restore the confidence in the Auburn passing game to the players executing it on the field. Right now, neither the quarterbacks nor receivers have confidence in the success of the plays they are running.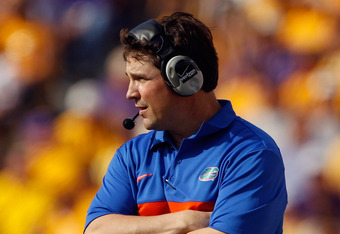 Chris Graythen/Getty Images
The Auburn defense continued to improve, although mistakes are still glaringly evident. Failed gap containment by the Auburn defensive end led to the biggest play of the game. Remove that 92-yard scamper and the 10 points given up from turnovers and the game is a one-score affair. Who knows how the drives ended by holding calls could have turned out?
In all reality the game Saturday is the type of game most were expecting of Auburn early in the season. By this point in 2011, most were expecting such mistakes and problems to be worked out. Clearly this is not the case.
Will a return home restore confidence to this Auburn team?
Opponent
Florida is a team that was exposed two weeks ago, and it only got worse Saturday. This was a team that looked impressive with blowout wins over Kentucky and Tennessee early on, but recent events seem to show that Tennessee and Kentucky are simply that bad and those performances misleading.
Florida produced 436 yards of offense combined against Alabama and LSU. They were averaging 461 yards of offense per game before.
Florida gave up 366 yards of offense to Alabama and on Saturday gave up 453 yards of offense to LSU. It had given up an average of 231 yards of offense per game prior to that.
Florida has been outscored 79 to 21 over the last two games. It outscored Tennessee and Kentucky 81-33 in the two games prior.
While some might say this lack of production is due to the loss of its starting quarterback—and that certainly played a role—Florida was mainly a rushing team prior to that. It had averaged 202 yards passing and 259 yards rushing in the first four games of the season.
The Gators managed 128 yards rushing in their last two games combined. They had 307 combined yards passing in those games. It is the rushing attack that has suffered most, not the passing attack.
The young Florida offensive and defensive lines seemed to be exposed as simply not physically mature enough to compete with those two teams. They were whipped along both lines throughout both games.
Analysis
The Auburn defense is not similar to those of Alabama or LSU. In fact, the perimeter rushing attack Florida has been successful with is exactly the kind of rushing attack that has given Auburn fits.
Florida has no passing game to speak of, but the Auburn defense has shown capable of making a short dink-and-dunk passing game to be very effective for opposing teams.
It is not likely that Florida will be able to contain the Auburn rushing attack. It has given up over 200 yards rushing two weeks in a row.
The Auburn passing attack has proved capable of stopping itself for the last three games. It is unlikely Florida will have much trouble amplifying that factor.
Interesting points
This will be the first common opponent the Auburn faces to compare with Alabama and LSU. It will allow for a comparison of the play along the lines of these teams. This should reveal some about the Tigers' chances in future games this season.