Andy Reid: This Is the End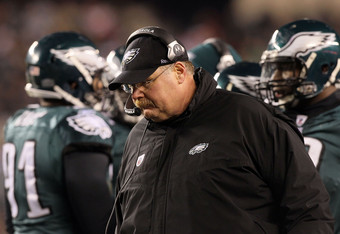 Jim McIsaac/Getty Images
Surely, Andy, you must hear it now: the guttural cry from the green-clad masses.
The winter of their discontent has come early, even before the autumn trees have painted the landscape in red, orange and yellow. Their anger rises, and this time they're calling for your red-haired scalp.
You see Andy, we've seen this before. We've sat through some very bad football over the last half century.
We know it like we know the sight of an unwelcome relative, dragging their suitcase up our sidewalk for an extended stay. It's the smell of day old fish, decaying in a back-alley dumpster.
The memories linger for those of us who have sat through five decades of non-championship football. Since the green and silver led by Concrete Charlie, Norm Van Brocklin and Tommy MacDonald brought this town its last championship, the Eagles' faithful have witnessed the following:
- The Kuharich "Joe Must Go" Eagles of the 60's
- The early 70's white-helmeted bottom-feeders coached by the likes of Jerry Williams, Eddie Khayat and Mike McCormick
- After a sweet but all-too-brief Vermeil era, a return to the cellar with Marion "The Swamp Fox" Campbell
- The often enjoyable but in the end frustrating Buddy Ryan years, highlighted by not a single postseason win
- The embarrassment of Kotite followed by a short spark of postseason hope from Ray Rhodes, ultimately culminating in Rhodes' last season, a 3-13 debacle that brought both McNabb and you, Andy, to this championship-starved city.
You brought success in bucketfuls. Your tenure has been the longest sustained period in franchise history of solid professional football played by well-coached teams of worthy, proud professional players who had a will to win and the talent to back it up.
Dawkins, Westbrook and McNabb were the faces of the franchise, but there was a locker room full of playoff-tested and worthy talent.
But what you failed to deliver was the one thing we had to have: a single Lombardi Trophy to place in our still-barren trophy case.
Without that singular glory with which we could warm our hands and soften our hearts through the inevitable seasons of unrewarding struggle and disappointment, the hunger still gnaws, stings and festers.
And now, the stench of your recent stewardship—punctuated by bad drafting and the loss of apparently irreplaceable coaches like the late Jim Johnson, John Harbaugh and Brad Childress—is unmistakable.
It is the odor of a team that will not be successful. A team for whom a winning record is a monumental challenge, the playoffs a cruel dream and a Super Bowl championship beyond the imaginations of even the most naïve of their green-clad crazy fans.
I, like many others, have lauded your many accomplishments for this team, its fans and the city it represents. By many measures, you have been the most successful coach in Eagles franchise history with one unforgivable blemish that puts you behind the short list of Eagles championship coaches, Buck Shaw and Greasy Neale.
I am a reluctant deserter from your quickly-emptying bandwagon.
But I know the end like I know the green grass and white-lined battlefield at the Linc. It is here. It is now or very soon.
And so I hop off to join the weary town folk who are even now slowly descending with pitchforks and torches on South Philly and demanding only one thing: that they see your ample derriere shuffling for the exit sign at the Nova Care complex for the last time.
This article is
What is the duplicate article?
Why is this article offensive?
Where is this article plagiarized from?
Why is this article poorly edited?

Philadelphia Eagles: Like this team?