NFL Trade Rumors: Peyton Hills and 3 Players Who Should Be Dealt Before Deadline
October 10, 2011
Matt Sullivan/Getty Images
NFL trades don't happen all that often, but that doesn't mean there are players who are in situations that could get them dealt before the Week 6 deadline.
Here's a look at three available players who teams should pounce on.
In Sunday's game against the New England Patriots, Mason was replaced by rookie Jeremy Kerley as the No. 3 receiver.
Mason played in just five of the Jets' 53 offensive plays. He's clearly in the doghouse. 
According to Rich Cimini of ESPN New York, Mason was benched because of his mouth.
"Derrick Mason, who made critical comments after last week's ugly loss in Baltimore, was benched for the first half and wound up playing only a handful of plays. Ryan said, with a straight face, he wanted to give more opportunities to rookie Jeremy Kerley as the No. 3 receiver, but he sat Mason because of his mouth, ESPNNewYork.com has learned."
Mason could even be on the trade block because of his lack of leadership.
"Regardless of the reason, Mason, signed to replace the dependable Jerricho Cotchery, could be deemed expendable. The Jets miss Cotchery, especially his leadership."
Still though, it's hard to imagine there aren't teams out there that don't want Derrick Mason. The 15-year veteran hit 1,000 yards as recently as 2009 and even pulled in 800 yards and seven touchdowns last year.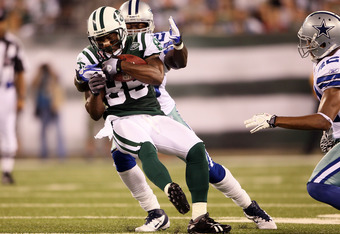 Elsa/Getty Images
He's still valuable and a team in need of receiving depth should go after him, such as the Buffalo Bills, who just lost Donald Jones to an ankle injury.
Peyton Hillis
According to Mary Kay Cabot of the Cleveland Plain Dealer, Peyton Hillis, who had strep throat, would have played in Week 4 if it weren't for his agent.
Obviously the situation with Hillis, who is looking for a new contract, and Cleveland is not good. If talks between the two continue to worsen in the next week, it's likely the Browns will shop Hillis.
Most teams would welcome Hillis' heart and hard running ability. 
Aaron Curry
The Curry trade rumors have been in full force for a couple weeks ever since the former first-round pick was benched. 
The linebacker has been linked to several different teams, and while it's not sure where he'll go, it's likely he'll go somewhere before the Week 6 trade deadline.
The Seahawks are looking for a second-round pick and while they might not get anything that valuable, the Panthers and Packers could be interested.