Tim Tebow vs. Kyle Orton: Comparing the Two Denver Broncos Quarterbacks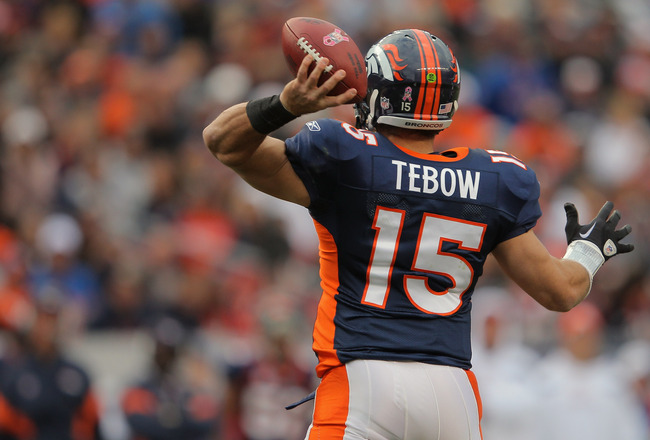 Doug Pensinger/Getty Images
Yesterday in Denver, the fans' cries for Tim Tebow were answered. Following a miserable performance in which he completed only six of 13 passes for 34 yards and a pick, starting quarterback Kyle Orton was benched.
NFL sophomore Tim Tebow, who of course was a college star at the University of Florida and is immensely popular among fans, was put into the game and electrified the fans and the team.
Denver still lost, but the energy in the Mile High City was definitely more positive than in recent games.
Denver has a bye next week, but the story when they return in Week 7 will no doubt be about who is starting under center. To ease the debate, here are Kyle Orton and Tim Tebow, compared and contrasted in every aspect of their game.
Size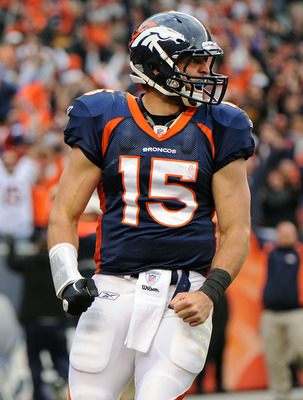 Bart Young/Getty Images
No arguing here, just straight facts—size is an important aspect in any athlete's success.
Although it may seem surprising at an eye's glance, Tim Tebow and Kyle Orton don't differ too much in size.
Tebow is stocky and muscular, standing at 6'3" and weighing in at 245 pounds.
Orton has a more classic physique for a QB; he is 6'4" and registers 225 pounds on the scale.
While Orton possesses a more classic quarterback build, history tells us there is no standard size among winning quarterbacks. Both Manning brothers, Tom Brady and Ben Roethlisberger all stand at 6'4" or taller; Drew Brees, however, is a modest 6'0" and just over 200 pounds.
Tebow is certainly a dense model of a quarterback, but this shouldn't hinder his success. It could prove to be an advantage.
Arm Strength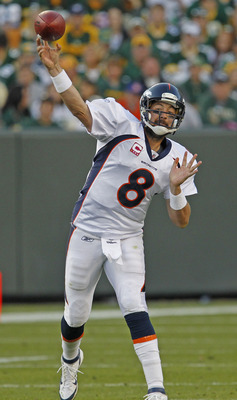 Matt Ludtke/Getty Images
Basing arm strength off simply how far the ball can be thrown, both guys probably rank around the same spot—really, really good.
Kyle Orton has been frequently noted for his above-average arm strength.
Many of Tim Tebow's critics say arm strength is his most hampering characteristic.
I do not agree with that and also don't think that arm strength should be touted so highly. Football is not a cookie-cutter sport; Tom Brady does not possess great downfield arm strength either, yet he has found a ton of success picking apart defenses with a deadly accurate short play that slowly but surely carries his team up the field.
With the right receivers running good routes and a quarterback reading them correctly, arm strength is not much more than a bragging right.
Accuracy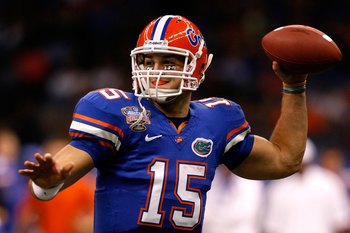 Matthew Stockman/Getty Images
Arguably the most important aspect to being a successful NFL quarterback, Kyle Orton's lack of accuracy is what has most Denver fans screaming for Tim Tebow.
This season particularly, Orton has already thrown seven picks.
Tim Tebow, during his college days, also defined himself as a deadly accurate passer. During his senior season, he completed 213 out of 314 pass attempts, for a phenomenal percentage of 67.8.
Aaron Rodgers is the king of accuracy in the NFL, but if any quarterback stands a chance to dethrone him, it's Tebow.
Passing in the Pocket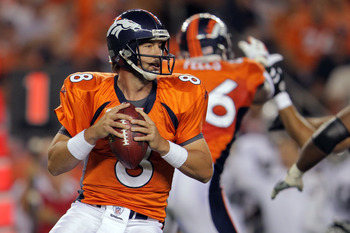 Doug Pensinger/Getty Images
This is one category where Kyle Orton definitely has the upper hand on Tim Tebow.
Orton's strength as a quarterback has always been that he can hang in the pocket, scan the field and find a receiver. Recently, though, his accuracy has been hampering his success.
Tebow often leaves the pocket prematurely, where if he would just hang in a little longer, he could make a more controlled pass.
Obviously, the stability of the pocket is very dependent on the offensive line, but in an ideal situation, Orton is the man.
Agility/Rushing Ability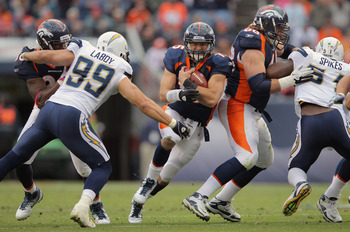 Doug Pensinger/Getty Images
It's pretty easy to pick a winner here. Kyle Orton running is not a pretty sight.
With his tall and lanky physique, Orton is not a graceful runner. That being said, he did have a career high 243 rushing yards last season.
Tim Tebow is a great runner, but looks more like a fullback when doing so. His philosophy seems to be "run right into the defender," so it helps that he is 245 pounds of muscle.
If Tebow gets the starting job, he should easily lead the league's quarterback's in rushing yards, with the exception of Michael Vick.
Leadership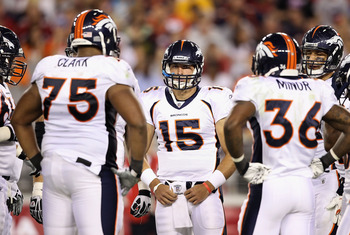 Christian Petersen/Getty Images
I'm not going to bad mouth Kyle Orton and say that he isn't a leader, but it is obvious right now in Denver that Tim Tebow is the quarterback who gets the fans and, for that matter, fellow Denver Broncos' players to their feet.
When Tebow entered the game yesterday, the crowd at Invesco Field immediately emitted cheers of optimism for their struggling Broncos. The defense played better, Knowshon Moreno ran better and Denver almost pulled off a comeback victory.
Tim Tebow gets people excited and makes everyone feel like winners. That, folks, is a leader.
So, Who Gets the Starting Job?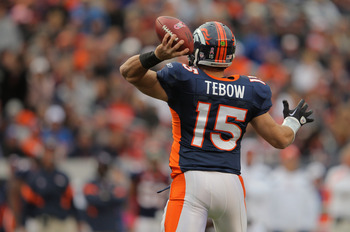 Doug Pensinger/Getty Images
When you're talking about accuracy and rushing ability, the job goes to Tim Tebow.
If you're looking for a pocket passer, the job is Kyle Orton's.
So who gets it?
Tebow does, because he gives the people of Denver the belief that they can win, and that is what they need.
Orton is a good quarterback who would do very well on a great team, but Denver is not at all a great squad.
Denver needs to rebuild, and they need to be optimistic throughout this rebuilding process. Starting Orton at this point would just be a distraction. It's time to move on with Tebow and be confident in the decision to do so.
Keep Reading

Denver Broncos: Like this team?