Toronto Maple Leafs: Thoughts and Predictions for the Leafs' Line-Up in November
October 10, 2011
Abelimages/Getty Images
Something's gotta give.
Due to the Leafs' depth at the defense position, new acquisition Cody Franson has had to watch the first two Leaf games of this season from the press box.
Scratches, demotions, and/or trades will have to occur when Tim Connolly and Nazem Kadri return from injury, because of the number of players who currently deserve roster spots.
Clarke MacArthur's two-game suspension is done, so a change will immediately have to be made.
There are a couple players who I think will be traded this year, but I won't speculate about possible destinations or return in this article because this isn't meant to be a rumour article.
Here is my projected line-up for the Leafs in roughly a few weeks' time:
Forwards
Joffrey Lupul - Tim Connolly - Phil Kessel
Nikolai Kulemin - Mikhail Grabovski - Clarke MacArthur
Matthew Lombardi - Tyler Bozak - Colby Armstrong
Philippe Dupuis - David Steckel - Mike Brown
Colton Orr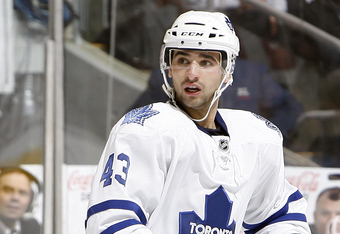 Abelimages/Getty Images
Jay Rosehill
Matt Frattin (to AHL)
Nazem Kadri (to AHL)
Defensemen
Dion Phaneuf - John-Michael Liles 
Luke Schenn - Cody Franson
Jake Gardiner - Mike Komisarek
Carl Gunnarsson (traded)
Matt Lashoff (call-up)
Goalies
James Reimer
Jonas Gustavsson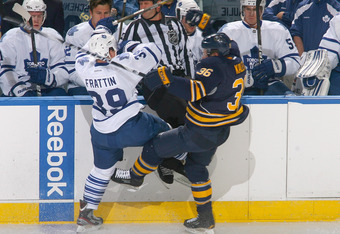 Rick Stewart/Getty Images
Part of the reason I chose to predict the Leafs' line-up for November is because that's roughly when Kadri is expected to return.
It was mostly an arbitrary choice, though; I could have picked December or January and the article would largely remain the same.
Now unfortunately for Kadri, his preseason performance wasn't that great. He didn't show that he was clearly better than Frattin, who he was competing with for the third-line winger position. Then he got injured.
To make matters even worse for Kadri, Frattin put in two solid, if somewhat unremarkable, regular-season performances on the Leafs' current top line alongside Grabovski and Kulemin.
Let's talk about Frattin for a minute.
So far, including the preseason and the two regular season games that he has played, Frattin has not looked out of place at all. He has played on different lines with a variety of linemates and has looked good with all of them.
Based on his recent play, it would be a shame for Frattin to get sent down to the Marlies.
Based on who we've got in the line-up, however, it looks like he will have to spend some time with the Marlies this year.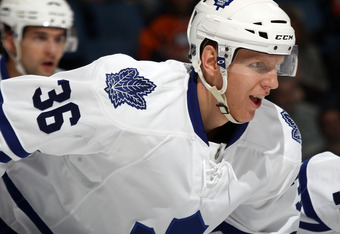 Bruce Bennett/Getty Images
If Frattin's getting sent down, so is Kadri.
Taking a look at my projected bottom-six group, you can see a couple really annoying lines to play against.
The third line of Lombardi, Bozak, and Armstrong is a mix of speed and grit. Each of those guys can contribute a good amount of supplementary offense as well, which is something the Leafs did not have last season.
The fourth line of Dupuis, Steckel, and Brown, I like very much. Who needs tough guys when you have tough players who can actually play in a number of situations as needed? All three of those guys are excellent penalty killers and hard hitters.
On a side note, Mike Brown is probably one of my favourite Leafs right now, despite the fact he recently shaved his moustache. Nobody on the team plays harder than he does; he brings it every single shift.
Anyway, onto the D-corps.
Prior to the season opener, I had Gunnarsson penciled in as the sixth or seventh D-man. I was absolutely shocked when I heard he would be playing on the top pairing with Phaneuf.
I've got nothing against Gunnarsson, but I don't think he belongs there. That leads me to believe he's being dangled for visiting scouts.
Let's be honest: has he really played so well as to deserve a spot on the top pairing?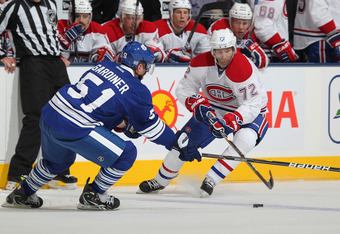 Claus Andersen/Getty Images
He's been reliable, but not awesome.
I think he and Bozak are the ones most likely to be traded this season, though I think Bozak will last longer than Gunnarsson.
I paired Liles and Phaneuf because that pairing creates options. Both like to shoot the puck, so it's not going to be like last year, where you knew Phaneuf was going to be the shooter every time.
Schenn and Franson, two big guys: one can hit and the other can shoot.
Gardiner and Komisarek because they seem to be complementing each other right now. Gardiner can use a big, physical veteran like Komisarek to back him up, while Komisarek can use a mobile puck-moving defenseman like Gardiner to pass to.
Lashoff gets the call-up so Aulie can continue playing with the Marlies, which definitely beats watching the Leafs from the press box.
There is the possibility that Gardiner will start making some rookie mistakes and be benched or demoted as a result.
He has played somewhat well to date, but it would not hurt at all for him to play some big minutes down in the AHL.
His departure would open up a spot for Franson, who I think should be allowed to play ASAP.
I like that Aulie is in the AHL right now because he looked shaky during camp, and I wouldn't mind seeing Gardiner down there, at least for a little while.
I don't think I would mind seeing Kadri down there for a while either, but one person who I think should stick with the big club all year is Matt Frattin.
He skates well, he has a decent shot, and hits hard. He's a smart player who can play on any line for the Leafs. To me, there's nothing left for him to learn at the AHL level.
Frattin is actually only about three months younger than Phil Kessel, so it's not like he's a rookie straight out of junior.
He would look great playing on the wing beside Lombardi and Armstrong.
Bozak was the young guy with some skill who could take a few face-offs and kill penalties. Now the Leafs have Steckel to take face-offs and Frattin, the young guy with skill.
I like Bozak, but as many people will point out, he's somewhat easily replaceable.
I think he'll eventually be traded this season, but I think he'll stay on the third line for now. To me, Gunnarsson will go sooner rather than later, because there's only so long a bottom-pairing guy can stay on the top pairing.
All this is idle speculation, of course.
I have no doubt that, in a few weeks time, I will look back on this article and shake my head at how not thought-out this was.
However, this is how I see it right now, and I would welcome any thoughts you might have on the matter.