AP Poll College Football 2011: Big Ten Teams Battle for Rank
October 10, 2011
Kirk Irwin/Getty Images
The Big Ten now has five representatives in the AP poll this week as Michigan State once again jumps into the Top 25.
Wisconsin still holds down the highest spot at No. 4, currently at the head of the line in the "We are waiting for all three of the top three teams to lose so we have a shot at the BCS" grouping of Boise State, Stanford and Clemson*.
Michigan comes in at No. 11, just ahead of Georgia Tech and a bunch of teams with losses to top 10 outfits, such as Nebraska, who is 14th.
Illinois moves up to 16th and probably has claim to a higher ranking given Michigan's ascent, but Ron Zook is just still happy to be here, y'all.  So happy.
Michigan State is next in line at No. 23, and Spartan fans have to be a little upset that it took the AP Poll this long to put their team back in the rankings, but with games against the three highest ranked teams over the next three weeks, Michigan State has as good an opportunity as anyone in the country to control its own destiny.
With five teams ranked, the Big Ten is fortunate to have a couple key matchups that could really shake things up a bit in the polls next week.  Let's look briefly at two of them and see how things could move between now and next week's poll:
No. 12 Michigan at No. 23 Michigan State
This is a big game for both teams, regardless of rank.  If both were winless, it would still be a matchup that would drive Michigan State fans insane with anger at the arrogance of Michigan fans and drive Michigan fans to act like they didn't care but really, really want to win despite not wanting to show any emotion and dignify a game against "little brother."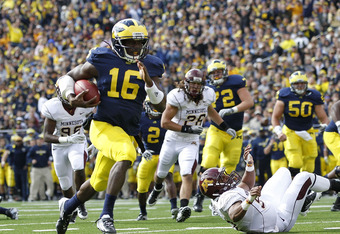 Leon Halip/Getty Images
So yeah, a clash between two Top 25 teams has even more importance, especially considering Michigan State has taken three straight games from the Wolverines for the first time since the '60s.
This game is finally a chance for Michigan to justify its lofty ranking—largely a product of having other teams ahead of the Wolverines lose while Michigan got to pad its record with easy opponents.  Outside of Notre Dame, the Wolverines haven't played a team yet this year that has even sniffed the Top 25, and two years of October collapses mean that voters won't be very patient with Michigan if the team falters this weekend.
On the other side of the ball, Michigan State gets an opportunity for its first statement win of the season, as well as a chance to climb back closer to the initial preseason ranking the Spartans enjoyed before a loss to Notre Dame knocked them from the polls.  An added bonus: ruining Michigan's season for the third straight year.
Ohio State at No. 16 Illinois
Ohio State always has trouble with Illinois.  This time the Buckeyes hope to turn the tables and catch the higher-ranked Illini sleeping at home.
Ohio State has fallen out of the national polls almost entirely, but with the kind of name recognition the Buckeyes enjoy, the team is always one or two impressive wins away from jumping back into the Top 25.  The polls are very forgiving to the teams they are comfortable with.  A good first half against Nebraska showed that Ohio State might not be a lost cause if it can stop the bleeding on offense, and a win against Illinois would be the first step toward finishing the season in the Top 25.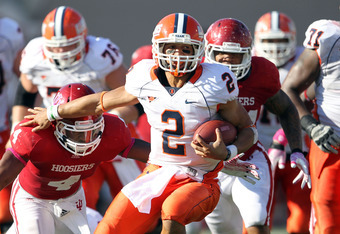 Andy Lyons/Getty Images
Illinois, on the other hand, cannot afford to lose a game—especially to a Leader's division rival—lest it fall far and fast.  Ron Zook's teams don't inspire much confidence, and even though Illinois has an equal resume at this point to Michigan, Zook's team had a harder road to climb to where it is.  A win against Ohio State keeps the team perfect going into a favorable three-week portion of the schedule before back-to-back games against Michigan and Wisconsin at home.  If Illinois keeps moving up until then, those showdowns could be very big for the Fighting Zooks.
Indiana at No. 4 Wisconsin
Indiana doesn't want to lose by 80.
Wisconsin wants to be the first team to beat a BCS cellar-dweller so bad that the polls are forced to take notice.
My money is on Bielema.

*Oklahoma State doesn't count because it actually has a game vs. Oklahoma in which to prove itself.  The rest just have to find a way to stay unbeaten and convince everyone else their conference schedules aren't that bad.