Ron Artest on DWTS: Metta World Peace and the 10 Worst Athlete Appearances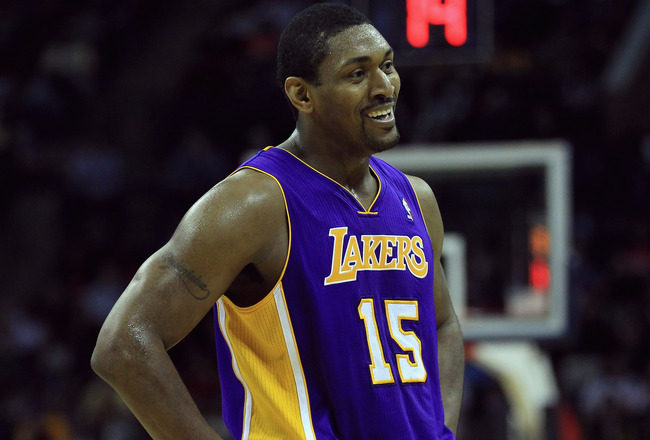 Streeter Lecka/Getty Images
Sometimes it seems like our favorite athletes are good at any sport they try their hand at. They are supremely talented individuals—even the guys on the bench are among the best in the world if you really think about it.
They're playing a game for a living after all.
Sidney Crosby can hit home runs.
Kobe Bryant is a decent soccer player.
It's maddening. What, being killer at one sport isn't enough for them? It's an impossibly high bar to live up to. At least it seems that way.
Enter Dancing With the Stars—ABC's hit television show. The answer to your "I really want to see an athlete fail at something" prayers. There are few things more satisfying than watching a pro-anything player stumble over their own two feet while trying to salsa dance on national television.
At least that is what my mother tells me.
Monica Seles
Tennis requires plenty of fancy footwork and speedy reactions, and Monica Seles has no shortage of either. She was ranked as the 13th best tennis player of all time by Time Magazine, and was elected to the International Tennis Hall of Fame in 2009.
She can win a record number of Grand Slam titles as a teenager, but as it turns out, she isn't very good at the mambo.
According to the judges, Seles was a solid dancer but just didn't "sell it" enough. She was voted off of the show in the first round.
Evander Holyfield
I'm surprised the judges had the gull to tell Evander Holyfield about his shortcomings as a performer—he cuts an intimidating figure as it is, much less while standing next to a grace-filled professional dancer. But they always had plenty to say after he got done showing off his moves.
What he lacked in skill he tried to make up for in enthusiasm. Still, the bulky former boxer may have 29 knockouts to his record, but he was anything but on Dancing With the Stars.
Chuck "Iceman" Liddell
Chuck Liddell wasn't known for his footwork during his time as a topnotch UFC fighter, and that didn't change much while he was on Dancing With the Stars. While he didn't tank out in the first few weeks of the show, he was mildly painful to watch.
His movements were awkward, and viewers were just waiting for him to forget where he was, as he comes off as a bit of a brute compared to the rest of the competitors. But the Iceman had a blast with it, and was a great sport.
But that didn't make it easy to take in. A for effort, though, Chuck.
Floyd Mayweather, Jr.
I see a trend developing here: Fighters really don't do too well on Dancing With the Stars. Floyd Mayweather, Jr. is no different than Chuck Liddell and Evander Holyfield.
If Mayweather had spent half as much time concentrating on learning the dances as he did on pumping up his upcoming fights, then maybe he could have been better. But that wasn't the case, and he was downright terrible.
Luckily for viewers, he was voted off of the competition quickly.
Mark Cuban
Mark Cuban isn't an athlete, but he's a highly visible figure in the sports world, so I decided to show him no mercy by including him on this list.
He improved a bit as the season wore on—I would improve too with a partner like Kym Johnson—but the moves never really seemed to click for the gazillionare owner of the Dallas Mavericks. While his showboat nature came through on the show and he appeared enthusiastic, Cuban just can't dance.
Kenny Mayne
It was awkward to see longtime ESPN sports journalist Kenny Mayne try to do the cha-cha. His moves were clunky and bad, and not even resorting to a little bit of comedy could save Mayne.
He was voted after after the first week of competition, sparing us all from having to see Andrea Hale come up with more dances to limit Mayne's involvement.
Intermission with Stacy Keibler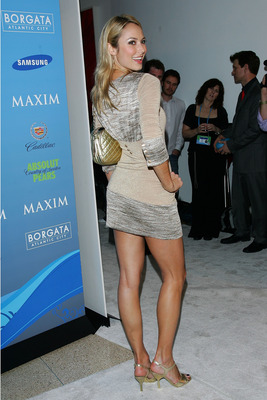 Evan Agostini/Getty Images
Stacy Keibler wasn't bad on Dancing With the Stars. In fact, she finished third overall.
I just wanted an excuse to look through her photos for a few minutes after watching all these terrible performances by athletes on Youtube.
Mission accomplished. Next!
Warren Sapp
So Warren Sapp actually did quite well during his time on Dancing With the Stars. He made it all the way to the finals and outlasted almost all of the competition.
But there is still something that makes me laugh every time I see the 300-pound ex-defensive tackle performing graceful dance maneuvers. Maybe it's because he's way better at it than he should be. I can't quite put my finger on it.
It's almost like there is a slimmed-down dance school dropout operating Sapp's limbs from an off-site location via electronic devices of some kind.
Chris Jericho
Given his background as a professional wrestler, I can't help but feel like Chris Jericho should have done better on Dancing With the Stars. After all, pro wrestling and dancing do have a few things in common.
Choreographed routines? Check.
Live audience? Check.
Selling the moves to the crowd? Check.
Predetermined outcomes? Aye, now there's the rub. Jericho was voted off of the show during the fourth week of competition.
Sugar Ray Leonard
There is something disturbing about seeing a formerly great fighter like Sugar Ray Leonard flail around in a purple button-up, complemented by a vest covered in gold sequins.
Sequins!
Leonard is another fighter that just couldn't hang on Dancing With the Stars. He was the third dancer eliminated during the 12th season of the show.
Jason Taylor
Jason Taylor wasn't outstanding during his time on Dancing With the Stars. But he makes the list for having a very, very twisted set of priorities. Taylor appeared on the show instead of training with his NFL team at the time, the Miami Dolphins.
This led to his eventual trade to the Washington Redskins in 2008.
And dancing to the Monday Night Football theme? Come on.
He went on to finish second, but at what cost?
Metta World Peace
There is something outstandingly creepy about Metta World Peace's performance during the first week on the most recent season of Dancing With the Stars.
Seriously, the first 10 seconds or so of the video is frightening. It's hard to come back from looking like your average dude that's hanging out at the strip club. And World Peace didn't.
(How weird of a sentence could that have been? World Peace looked like your average dude hanging out at the strip club.)
Keep Reading