Nicklas Lidstrom: Can the Red Wings Still Expect Him to Be a No. 1 Defenseman?
October 10, 2011
Jamie Sabau/Getty Images
Nicklas Lidstrom has already secured his place in NHL history as one of the top defenders to ever play the game. He has won four Stanley Cups and seven Norris Trophies during his 19 seasons with the Detroit Red Wings. His amazing play has led him to be ranked in the top four for the Norris in 12 of the last 13 seasons.
At 41 years of age, the question is not what he has done, but if he can still get it done for the Wings?  Most players have slowed down long before the age of 40. Two years ago, even Lidstrom started to show some wear and tear as he posted one of his worst statistical seasons. He bounced back last season though as he again topped 60 points and won his seventh Norris trophy.
Lidstrom has played a different style of defense then most expect a top defender to play. He is not the big and bruising, hard hitting giant that is looking to knock everyone out. Instead, he is much more cerebral in his game. He does not shy away from a hit but he would much rather outsmart opponents. He seemingly knows where a player is going with the puck before they do.
His style has helped ensure a rather injury-free career. In his 19 seasons, the most games that he has ever missed in a season was six, which was in the 2007-08 season. He has topped 80 games 14 times and has played in every game of a season seven times, including the last two.  This shows that not only is Lidstrom in tremendous shape, but he also knows and understands how to take care of himself on and off the ice. He has been able to avoid the big hit throughout his career.
During the playoffs last season, the team started to see a changing of the guard.  Niklas Kronwall led the team in ice time, a distinction that Lidstrom held for well over a decade. While some may see that as a negative, it is actually a good thing. At this point, it matters less how many minutes Lidstrom plays but more what minutes he plays.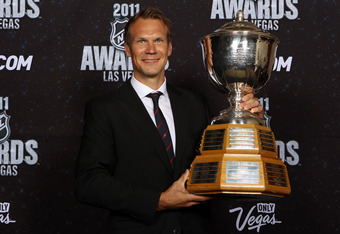 Bruce Bennett/Getty Images
The team will still need him out there to shut down crucial power plays and to help lead the team if a comeback is needed. He will still log minutes against the other teams' top line but more will be asked of his teammates during the regular season.
Beyond Kronwall; Brad Stuart, Ian White and Jonathan Ericsson will be expected to step up this season. Lidstrom still appears willing and able to log the heavy minutes, but at this point in his career he just shouldn't. He can and will lead the team, but his minutes need to be measured in quality not quantity. Of course, he is not dropping down to 15 minutes a game or anything that drastic. 
Lidstrom will not be anywhere near the 28 minutes he was getting earlier in the decade. In fact, his ice time which averaged 27:48 for most of the decade has now dropped by just over three minutes over the last three seasons. Keeping Lidstrom in the 21-23 minute range will be an important goal for the team this year. The lighter load means that other players will be getting valuable experience and that Lidstrom will be able to fresher come playoff time. 
In the team's opening night win over Ottawa, Lidstrom stole a pass then raced in for a quick goal. He still has what it takes to not only lead this team, but to also maintain his lofty perch as the league's best defensemen. The Red Wings know that they still have the league's best defender patrolling the ice for them and he will easily fill that role again this season.