Oregon Football: ESPN College GameDay Excitement, Autzen Stadium Experience
October 10, 2011
On October 6th, I took my first of many walks to Autzen Stadium in order to watch Oregon Ducks football.
The Oregon Ducks beat the University of California -- Berkeley after a strong second half that led to a 43-15 victory. The game proved to be a rematch with the Pac-12 team that played us better than any other school did last year. It was a fitting introduction to Oregon football, complete with rain (even though it never rains in Autzen Stadium), lead changes, a comeback and a premier rushing attack. Digesting the entire experience was an adventure in its own, and being able to watch the Oregon team with the pride of seeing classmates in action is incredibly rewarding.
"It feels like a holiday," said one of my professors, commenting on the green-and-yellow atmosphere of her lecture hall on the first game day of the academic school year.
To intersect school and sports is something very familiar to students at the University of Oregon. One point of interesting inquiry is with the work of Aaron Kobin, who uses his discipline to explain how media interface transfers across our society. He collects small samples of data, such as a doodle of a sheep facing left, and puts them together in a giant piece in order to explain how big our society is. Once completed, the audience is able to get a strong understanding of the magnitude of our world while also looking at each individual piece of data. The thesis of his TED Talk is that together, when each piece of data works together, we have the power to tell a remarkable story.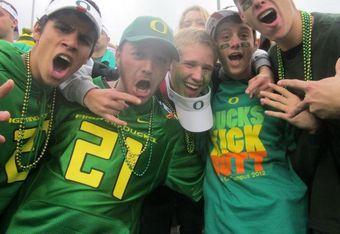 The feeling of being inside of the zoo at Autzen Stadium is not notably different from that same idea. It's impossible to comprehend the magnitude of 20,000 people until you go to school with them. It's even more impressive when you're entrenched in your first journey to Autzen Stadium to yell your guts out for your team with 60,000 people. Each of us act as a link in the chain and are simply encouraged to cheer on our school's football team. That same power of the individual that Kobin brings up is transfered to real life, looking around at the football stadium in Eugene. 
"After kickoff the fans—even the alumni—forget who they are, where they're from and what their degree is in. The audience adopts a new collective identity for the next three-and-a-half hours: the 12th, 13th and 14th man," writes J. Brady McCullough in the Michigan Daily, who calls the stadium the loudest place he's ever been. There is the businessman taking his child to his first Ducks game. There is the boyfriend and girlfriend celebrating an anniversary. There is the student section and there is the marching band. Each is contributing to the noise of the atmosphere.
ESPN College Football personality Lee Corso and Cal Football Head Coach Jeff Tedford have both publicly agreed. "It's very tough," says Tedford. "The crowd there is unbelievably educated on when to be loud."
Autzen Stadium doesn't ask you to do much. Learn the fight song, yell "O" when everyone else is yelling "O" and support Puddles when he does his ritualized push-ups.
College is a fascinating case study on networking. The collegiate student is exposed to countless new faces from new places. The first question is typically "where are you from?" and "how did you end up here?" When game day rolls around the answer hardly matters. Among 60,000 people, we all chose to be in the same place for a reason: to watch an incredible football team.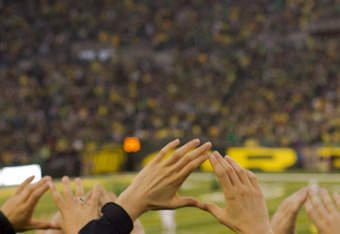 In a world becoming increasingly isolated to social networking with individualized media options for each citizen, it's undeniably harder to make sense of our environment. There are too many other options. Still, when we are divided, it does very little for us as a whole.
Each of us stay so busy and immersed in our own unique ways to kill time that it's an especially wonderful reminder that it's possible to be connected to other people as well.
I find it to be somewhat ironic to note that my most recent reminder of this was the death of the founder of Apple, Steve Jobs. Our society is often criticized for being too attached to our media, constantly updating our Facebook from the popular Apple computer and phone products.
Yet as Steve Job once said in his speech at the Stanford commencement, "Remembering that I'll be dead soon is the most important tool I've encountered to help me make the big choices in life." Jobs brings up a good point in order to think about the quintessential way to prioritize our life. We can let it waste away, or we can make the most of it. "You are already naked," Jobs said. "There is no reason not to follow your heart."
Rooting for Oregon among 60,000 like-minded fans is how I wanted to spend my time on Thursday night. The truth is that the majority of my time is spent with less than 10 people and further, much of the day is spent alone and in my head. The conscious release of looking around and seeing so many people, all wearing green and all screaming our heads off, is socially liberating. Among fans at Autzen Stadium, you are a unit and you are one.
Following LaMichael James's performance against Arizona and the biggest game of his career in which he broke the school's record for most rushing yards in a game in school history, he was continuing that same success on Thursday night as he rushed for 239 yards on 30 carries.
Early in the fourth quarter, James went down with an injury that looked beyond gruesome for the fans in Autzen Stadium. The tension was at an unparalleled peak and all of us grew deathly silent, all with the same worry on our mind. "Will LaMichael James be okay?"
As the trainer eventually helped him up, the entire stadium chanted his name. "LaMichael Ja-ames," we yelled. "LaMichael Ja-ames." He was injured, but he knew that he would recover for his fan base. "I'm tough," James said. "I'm a warrior and I'm never going to quit on my team."
That kind of enthusiasm and passion is what makes sports such a unifying experience for the fan and player alike. Knowing that so many people care about you is the type of motivation that leads one to believe that anything is possible.
In sports, anything is truly possible. They might just be games that people get paid to play, but in its own they are in their own universe in which the improbable feats of strength and athleticism become talent and possibility. There is a journalistic desire to deliver fact, but that is not always the case when we are in our own world.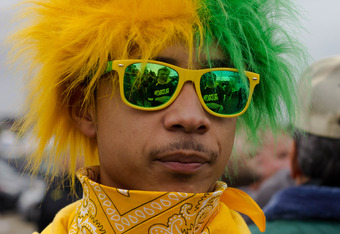 As in sports, an artist acts in a strikingly similar mindset. The role of an artist is to create world, in which the infinite potential of the human mind is often transfered into their own physical limitations. An artist, like an athlete, creates this world from nothing but their own potential. This stretches across the field of modern society, and in his Art 21, William Kentridge explains to us that the world is a process. Each media is an expression of that process, and it, in turn, creates an experience. Sports is one medium for a particular experience, and just like William Kentridge faces the challenges of creating his own universe for his artistic ideas, an athlete faces the challenge of defying the possible in order to push the self forward and to entertain.
Sports, as a whole, acts as a game in its own universe. Sports fans focus on it and perceive the game in its own spectrum and enjoy it for exactly what it is.
There is nothing in the world like the first walk to Autzen Stadium, and the rush of joy that simmers through the spine as the glorious "O" transitions from the hidden trees to the visible eye is something that will live with me until the day that I die.
Autzen Stadium sits on the beautiful Willamette River, where the night before the game I sat, alone, and talked on the phone to a friend who sat on the East River. Watching the world come alive there the very next day is exactly as powerful of an experience as the body can process.
The first journey to Autzen Stadium will live in my mind as I make my next voyages over the course of the next four years as a student, and then for the rest of my life as an alumnus.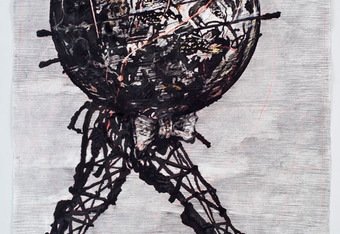 The next walk comes on Saturday morning, when the University of Oregon will host ESPN College GameDay. The campus is already buzzing with the excitement of Lee Corso putting on the Ducks mask.
I am overjoyed to let that experience repeat itself once more as the Ducks football team faces Arizona State.
William Kentridge says that art is a way for him to remember what the world was. For me, writing is a way to remember who I was in the world when I wrote whatever story it is that I had to share. After my first Ducks game, I felt like I knew exactly who I was and very little is as rewarding as that particular feeling.  
Click here to Follow @BryanKalbrosky.