2011 Carolina Panthers: Yes We Cam!
October 10, 2011
Streeter Lecka/Getty Images
The Carolina Panthers have hope.
A team that has been noticeably quiet after losing to the New England Patriots in Super Bowl XXXVIII, have finally given their fans and organization something to cheer about.
That something is No. 1 overall pick, Cam Newton.
Newton was sort of an enigma going into the 2011 NFL Draft, and often there were more cons than pros being tossed around in scouting reports of the Auburn QB. 
ESPN analyst Todd Blackledge said about Newton, "You can't really give any kind of a definitive answer about what his legacy is going to be," Blackledge said. "As a college player, he had as good a season as any that's been had for the last several years. As far as the other stuff, no one knows all the answers."
Nolan Narwocki of ProFootballWeekly.com said, "Can provide an initial spark, but will quickly be dissected and contained by NFL defensive coordinators, struggle to sustain success and will not prove worthy of an early investment. An overhyped, high-risk, high-reward selection with a glaring bust factor, Newton is sure to be drafted more highly than he should and could foreclose a risk-taking GM's job and taint a locker room."
Dan Kadar of mockingthedraft.com said, "But his negatives may scare some teams off completely. Newton will have to greatly refine all of his mechanical flaws if he wants to succeed in the pros. His field vision and pocket poise are average, at best. Then there are the questions about his character — fair or not. He's had multiple off-field issues and has bounced around from Florida to Blinn Junior College to Auburn."
However, Cam put all the naysayers behind him and worked hard in the offseason and it showed.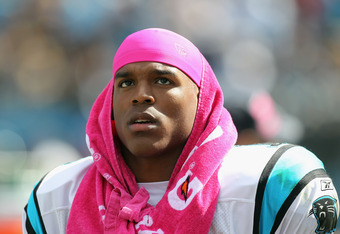 Streeter Lecka/Getty Images
Newton took the NFL by storm in Week 1 throwing for 422 yards and two touchdowns in a loss to the Arizona Cardinals.
In that game, Newton became the first rookie quarterback in NFL history to throw for 400 yards in his debut. Right then people saw just how good Newton could be, the potential for greatness was shining like an aurora around him.
Next, the Green Bay Packers came into town and everyone, while impressed by Newton's first game, didn't expect him to have anywhere near the performance that he had in Week 1.
Cam proved the doubters wrong once more.
He threw for 432 yards and a touchdown, as well as three interceptions, in another close defeat. Suddenly it was no longer a fluke, and the signs were glaring at anyone watching Newton play. This guy was the real deal.
In Week 3, he came through with the go-ahead touchdown pass to Greg Olsen despite an otherwise subpar game.
This is what Newton had been longing for all season, not the 400 yard games, not the touchdowns, but a win. And he showed tremendous reserve and leadership against the Jacksonville Jaguars.
With the loss monkey off his back, Newton took the field against the Chicago Bears and found his stride once more, gaining 374 yards in the air to go with a touchdown and interception.
In his first divisional matchup against the New Orleans Saints Newton went toe-to-toe with star quarterback Drew Brees.
Both threw for 300-plus yards, both had two touchdowns and both had an interception.
It was Brees though, who came away with the win.
Despite a 1-4 record Newton has brought a new energy to this Carolina team, something they have been lacking since 2003.
If you look around Bank of America Stadium on Sundays you'll see signs that read, "Yes We Cam!" Newton is the face of the franchise and a face that has given new hope to a organization that has had little to be happy about recently.
But hope isn't good enough for Newton, "I want wins, and I want them now," Newton said.
Follow Brandon on Twitter: @jeffeb91 
Follow Brandon on Tumblr: http://i-w-r-i-t-e.tumblr.com/