Auburn vs. Arkansas: Report Card Grades for the Tigers Loss to Arkansas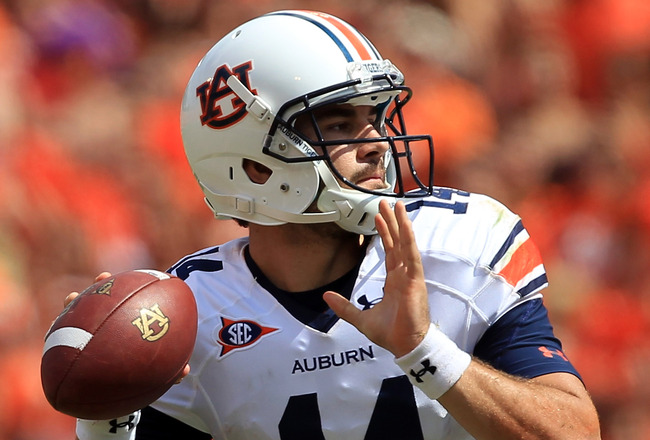 Auburn QB Barrett Trotter and the offense struggled mightily in the 38-14 loss at No. 10 Arkansas
Streeter Lecka/Getty Images
After jumping out to an early 14-7 lead on the road at No. 10 Arkansas, the Auburn Tigers committed a bevy of mistakes that saw them end up on the wrong end of a 38-14 loss at the hands of the Razorbacks.
Untimely penalties and costly turnovers led to their defense getting worn down against a high-powered Razorbacks offense that would score 31 unanswered points to finish the game.
Clearly, Auburn's offense was missing injured wide receivers Emory Blake and Trovon Reed.
Starting quarterback Barrett Trotter and true freshman Kiehl Frazier combined to throw three interceptions in the second half, and star running back Michael Dyer was largely held in check after a 55-yard touchdown run in the first quarter.
The defense fought hard and gave a valiant effort, but in the end, the mistakes by their own offense and their inability to stop a red-hot Tyler Wilson would eventually doom them.
Here are Auburn's report card grades for their loss to the Razorbacks.
Offense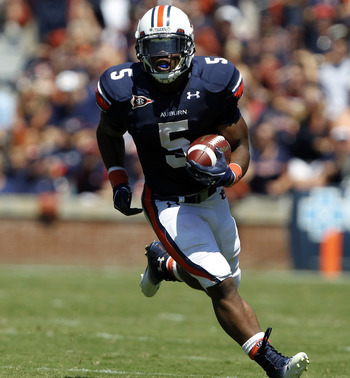 After a long TD run in the opening quarter, Arkansas was able to shut down Tigers RB Michael Dyer
Butch Dill/Getty Images
Early on, it looked like bringing in Kiehl Frazier would be an effective change of pace similar to last week's win over the Gamecocks.
Frazier was worked into the offense, and hit some big runs in the first half, especially on third downs.
However, when Arkansas stuffed the box and forced the true freshman to throw, the end result was a pair of interceptions that clearly swung the momentum to the home team in the second half.
Clearly, the staff is losing faith in Barrett Trotter, and with two main targets unavailable, the offense struggled to find ways to move the ball without strong production from Dyer.
Gus Malzahn needs to find ways to use Onterrio McCalebb in the passing game, and get tight end Phillip Lutzenkichen more involved to help his young quarterbacks get short and safe completions.
Also, freshman Tre Mason, who looked explosive in his limited role, is another player who needs to see touches
But, the Tigers get somewhat of a pass for playing short-handed
Grade: C-
Defense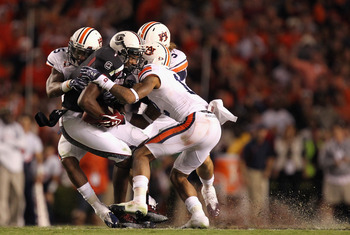 Auburn's defense had few answers for the Razorbacks high-powered offense
Streeter Lecka/Getty Images
The Tigers had stretches when they played good defense against the Razorbacks.
In the first quarter, they forced an early three and out as well as a missed field goal attempt after defending a short field.
In the second quarter, Wilson began to find holes in the Tigers secondary and went on to complete 18 consecutive passes in a stretch that went late into the third quarter.
Arkansas was able to effectively mix in the run, and strike with big plays highlighted by Joe Adams' 92-yard third quarter touchdown run.
Once again, their grade is skewed because of some of the impossible situations they were put in due to their offense's turnovers.
Grade: C
Special Teams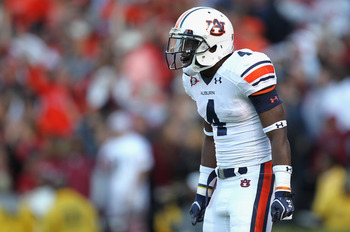 Freshman Quan Bray and the Tigers had their struggles in the return game
Streeter Lecka/Getty Images
Punter Steven Clark rebounded from a first quarter 11-yard punt to have another strong game on the road.
He was able to pin the Razorbacks inside their own 20-yard line numerous times, and they did little to no damage in the return game.
On the other hand, Auburn's return units were held largely in check.
Freshman Quan Bray struggled to find room returning punts and was largely ineffective filling in for the injured Reed.
The Tigers may want to look at other options in the return game, with Mason being a prime candidate to take over.
Grade: B –
Coaching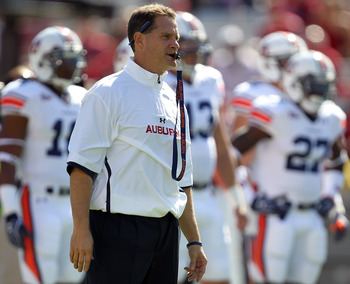 Auburn head coach Gene Chizik and his staff have several issues to fix going forward
Streeter Lecka/Getty Images
This game was a case of Auburn being handicapped on both sides of the ball.
Gus Malzahn struggled to get either quarterback into a rhythm, and with Dyer being largely ineffective due to Arkansas loading up against the run, the Tigers could not muster any consistent threats in the passing game.
The much-maligned Ted Roof will likely face more heat after a one-week reprieve.
Arkansas was able to do whatever they wanted against Auburn's defense, and ultimately, the Tigers got picked apart by Wilson.
On paper, this game looked like a mismatch, but due to the job Auburn's staff did last week, there was hope they could duplicate their performance this week.
After a promising start, those hopes were dashed with a sobering dose of reality.
Grade: D
Overall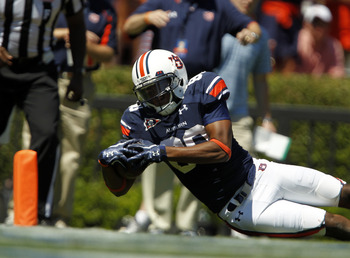 Clearly, Auburn missed injured WR Emory Blake in their loss to Arkansas
Butch Dill/Getty Images
Auburn's youth and inexperience showed up once more against the Razorbacks.
Although their effort was never in question, a 24-point loss is not an acceptable result for the defending national champions.
Unlike last year's title team, this unit is not capable of overcoming turnovers and penalties like the ones that plagued the Tigers in this game.
The Tigers could not mount any type of sustained offense against an Arkansas defense that was not exactly lauded as being one of the SEC's top units.
Overall, they came into this game short-handed and were beaten by a talented Arkansas team that looks to be hitting its stride.
Grade: C-
Keep Reading

Auburn Football: Like this team?