Oklahoma Football: 5 Things We Learned About the Sooners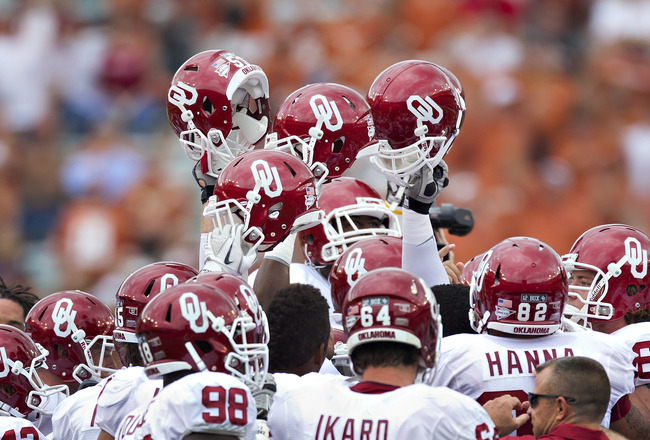 Wesley Hitt/Getty Images
Another Red River Rivalry is in the books, and the Oklahoma Sooners have yet again stomped a Texas-sized hole in the back end of the Longhorns with a 55-17 Bevo beatdown.
While the game proved that Texas isn't quite ready to compete at a championship caliber as the Sooner defense outscored the Longhorn offense by a score of 21-10, it also taught us some things about the team in Crimson and Cream—and not all of them are positive.
Let's see what we learned.
Kick off Coverage Still Has Problems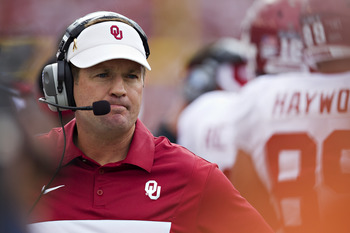 Wesley Hitt/Getty Images
This nemesis of the Sooner special teams again reared it's ugly head in the game, not once, but TWICE.
If not for a penalty on the second return, Oklahoma would have surrendered more point to the Longhorn kick return team than the Texas offense could muster in 60 minutes of play.
While neither of these returns could have sparked the Texas team to victory, it is a major concern that most of the Sooner faithful thought had been remedied during the first four games of the season.
Whether it is a matter of the scheme or just poor play and lack of preparation, this weakness needs to fixed before it comes back to bite the team in a tighter game or causes Bob Stoops to suffer an anuerysm on the sideline.
Dominique Whaley Is Really Fast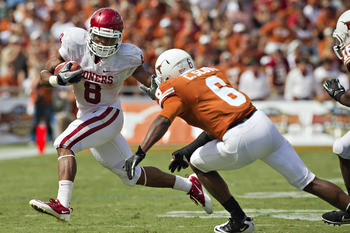 Wesley Hitt/Getty Images
Oklahoma did not generate much of a rushing game against the Texas defensive front. However, running back Dominique Whaley proved that recruiting guru rankings and fancy stars next to your name don't mean as much as they would lead us to believe.
When Whaley turned the corner and left two Longhorn defensive backs in his walk-on dust on the way to a 64 yard touchdown romp in the third quarter of a game 41-10 game, he etched his name in Sooner lore.
That is his third touchdown run of at least 25 yards on the young season and has cemented his spot at the top of the charts when it comes to non-scholarship Oklahoma players as far as impact on games and fan favorites. All this kid does is make big plays.
C'mon coach, I know you've got your rules, but give him a scholarship already!
The Defense Is Shaping Up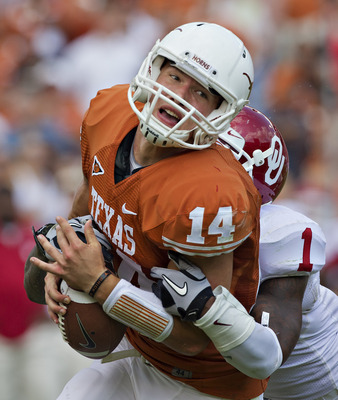 Wesley Hitt/Getty Images
As previously stated, the Sooner defense outscored the Longhorn offense all by itself in Dallas, courtesy of one interception and two fumble returned for touchdowns. The defense created a total of five turnovers that resulted in 31 points on the board.
They set program records for sacks and negative yardage for an opponents offense in the game while limiting the Texas offense to only three points until less than three minutes left in the fourth quarter.
They are big, fast, mean and attack an offense like a pitbull after a poodle. They have been vastly underrated after giving up so many yards in their third game against Missouri.
This defense has a chance to be one of the best that Coach Stoops and Defensive Coordinator Brent Venables have ever produced.
Landry Jones Can Handle Playing a Big Game on the Road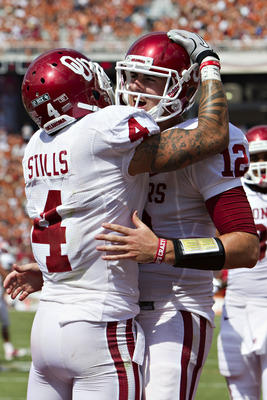 Wesley Hitt/Getty Images
I've got to admit, there were a few times early in the game that Landry Jones looked a little confused.
However, he pulled it together nicely and led the Sooner offense to 34 points and a commanding lead before giving way in the fourth quarter.
Many Sooner fans were still questioning Jones' ability and wondered if he had what it takes to lead the team into a hostile environment and perform the way he has shown he is capable when playing in Norman.
After torching the Longhorn defense for over 350 yards and three touchdowns with, more importantly, no interceptions, those doubts should be laid to rest.
He peppered the Texas secondary with pin-point accuracy and made the right reads to turn what was expected to be a closer game between unbeaten heavyweights into fun foray into Texas for Sooner fans before halftime.
Jones has matured into the leader Coach Stoops always thought he could be.
Bob Stoops Owns Mack Brown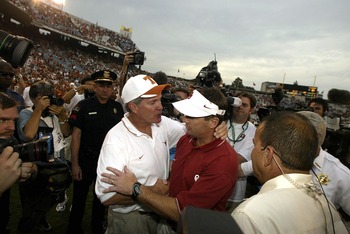 Ronald Martinez/Getty Images
This most recent victory in the Red River Rivalry makes Coach Stoops record against Mack Brown an impressive 8-5. One of those losses came in his first season so since the 2000 season, he has eight victories against only four losses to our arrogant neighbors to the South.
Despite the fact that Texas routinely has higher rated recruits on their roster, Stoops Troops have managed to put up three of the most lopsided victories of all time for either side in this historic rivalry.
Sooner fans will always take Stoops and his annual championships and leave Texas with Mack Brown and his annual whining for bowls tour.
Keep Reading

Oklahoma Sooners Football: Like this team?