Wayne's World: And Why You Wouldn't Want to Live There
October 9, 2011
Michael Regan/Getty Images
Everybody hates Wayne. 
Again.
Next weekend, when he's back in his cocooned comfort zone of Manchester United, Wayne Rooney might score another hat trick (his third of the season), and once more slip into the role of English football's brightest talent.
But this weekend, after lashing out at Montenegro defender Miodrag Dzudovic on Friday and ensuring suspension for the start of Euro 2012, everyone agrees he's a disgrace to his country. He's out of order.  He's a hot-tempered idiot that fans, pundits, and public feel free to judge and jeer.
So what about the man at the center of this latest squall in a stormy career?
Inside Wayne's world, the man himself probably couldn't give a flyin'…
Wayne Rooney is not a complex man.  He doesn't claim to be.  He is a professional footballer who knows his own worth, and knows that he owes no loyalty to England—or indeed to Manchester United—because they need him more than he needs them.
You disagree?  Consider this: England fans will be tearing their hair out between now and June debating the effect of Rooney's absence for the first game or two of Euro 2012.
Meanwhile, the player himself won't be sitting around stewing in his own remorse.  He'll be getting on with the business (and it is a business) of grinding out results for Manchester United, a team he was quite prepared to leave last year. Their ambition, he claimed, did not match his.  It does now. And his income now matches his worth.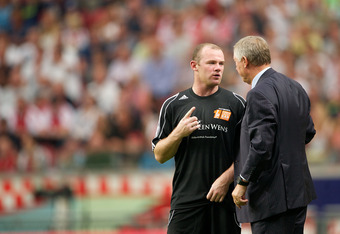 Getty Images/Getty Images
Rooney epitomizes the modern player—a professional who looks after No. 1 first and foremost. And with good reason. 
We can all pontificate 'til the Three Lions come home about how he's jeopardized his country's chances with a moment of petulance.  But we don't live inside Wayne's world.
In Rooney's world, crime and punishment are never far away.  Unlike most commentators, Rooney grew up in Croxteth, Liverpool, where violence is the language of the streets.  He comes from a long line of boxers.
Much has been made of Rooney's reaction to the arrest last week of his father and uncle on suspicion of involvement in an alleged bet-fixing scam in Scotland.  I tend to believe Fabio Capello's claim that Rooney was not distracted by the news.  Such turmoil, after all, is par for the course in Wayne's world.
Early in his career, The Sun, a Rupert Murdoch newspaper despised on Merseyside for its biased reporting of the Hillsborough disaster, bought the young Everton player's story. The newspaper then proceeded to sell him out, exposing the teenager's visits to a local brothel.
When Rooney made his debut for Manchester United in 2004, his agent, Paul Stretford, was battling in court for the right to retain ownership of Britain's hottest footballer.  The case exposed death threats against Stretford by a former agent's "bodyguards," payoffs of £250,000 in a paper bag, image rights sold for a nominal sum of £2, and allegations of offices being bugged.  It's a dirty world, Wayne's world.
Stretford allegedly received more death threats after Rooney's move to Manchester.  The Rooney family's lifelong affinity with Everton meant little when United came calling.  Loyalty means little in Wayne's world.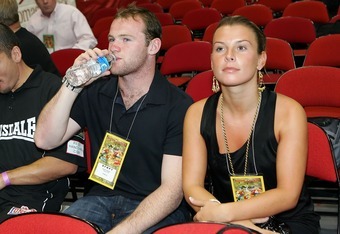 Ethan Miller/Getty Images
After Rooney declared his desire to leave United last season, he himself became the target.  That game of high-stakes Russian roulette between Rooney and the club was likely encouraged by his agent.  Rooney received a visit to his house by a gang of masked men.
This echoed the Ken Loach film Looking for Eric, in which United fans face down a local gangster, all wearing rubber masks of their idol, Eric Cantona.  In last season's real-life drama, Old Trafford's latest idol was cast in the role of villain.
The only loyalty in Wayne's world is to his own clan.  Rooney grew up as part of a tight-knit Catholic family of Irish descent.  His brother John, who plays for New York Red Bulls, has expressed his wish to represent the Republic of Ireland.  This is surprising, until you consider what playing for England is really like these days.
Gary Neville and Paul Scholes have recently described the England set up as a depressing ordeal that they'd both rather have avoided.  Scholes's claimed many players use the days of sitting around in the clique-ridden camp as an opportunity to further their club career. This probably applies to Rooney.  It is more than likely he was "tapped up" by United's players on one of his first England outings.
Loyalty means little in Wayne's world.
Rooney's opinions on the loyalty of England fans were broadcast to the watching millions at last year's World Cup. "Nice to see your own fans booing you. If that's what loyal support is, for ****'s sake," he opined straight to a camera at the end of another disappointing performance.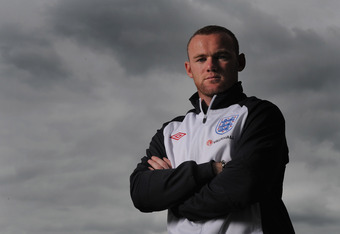 Michael Regan/Getty Images
The public may have seen him as just another underperforming multi-millionaire that day.  Yet his assessment of the spirit of modern England was perceptive: a land of shrill condemnation, its tone set by the mean-spirited sneering of reality TV judges. 
We learned subsequently that Rooney's poor form in South Africa was probably connected to his knowledge of forthcoming revelations about his private life.  
Welcome to Wayne's world.  Sitting in anonymous hotel rooms, watching strange people on TV talking about your life; the boredom of never going out for fear of someone picking a fight; the furtive associations; the late-night packs of cigarettes that cost £200; and the nagging suspicion that your advisors might be right; that you might not be earning your true market value.
Rooney is a man who reportedly only sleeps with a vacuum cleaner running or a hairdryer blowing; a man who lives at the center of a constant storm. His natural habitat is one of chaos, conflict and noise.
Rooney and his family have been probed, observed, and studied like microbes on a petri dish, prime exhibits in tabloid Britain's ongoing obsession with class.
Who would envy such a lifestyle—a captive existence spent in a state of constant hassle lapsing regularly into inevitable aggravation?
The great question of Rooney's career is whether he will become a Manchester United and England great, and not sink in the mire like Paul Gascoigne.  His lifestyle suggests he will struggle with fitness as he ages; meanwhile the jury is still out on his England legacy.  
"England expects" is the country's usual pre-tournament rallying cry.  But England has never expected its footballers to be so coldly cynical and calculating as Rooney has shown himself to be.  
Wayne Rooney has no illusions about life as the greatest English player of his generation: "Of course, it's fantastic playing for Manchester United, brilliant playing for England, but my main thought when I turn out for either of them is the same—I deserve it."
Who are we to judge?  With all the greed and the grief that swirls around him, maybe he does.