Montreal Canadiens vs. Winnipeg Jets: Torn Between Two Lovers
October 8, 2011
Richard Wolowicz/Getty Images

Dear Winnipeg Jets:
I'm writing you this letter because I think we need to talk about some things before your game with the Montreal Canadiens.  Your first-ever game back in the NHL, I might add. 
These are some things that aren't very easy to say, but they need to be said anyway.
So here goes. 
I want you to imagine this scenario with me: imagine that the love of your life, your childhood sweetheart let's say, simply disappears one day.  Every sign tells you that he or she is gone for good, and is probably dead.
So you mourn for a time and then, as is natural, you move on.  Eventually you find someone else.  Someone who's not perfect, of course, but who makes you happy anyway. 
But then suddenly, sixteen years later, your old love shows back up and announces she's alive, and she wants you back.
Extreme, sure, but it's what I felt like when I heard that your first game as the brand new Winnipeg Jets was going to be against the Montreal Canadiens.  Yes, them, the Montreal Canadiens: les bleus blancs et rouges, les glorieux, the Habs, the most storied franchise in all of hockey. 
And most of all, rather awkwardly, my current flame.
Don't get upset, Winnipeg.  Calm down.  Let me explain.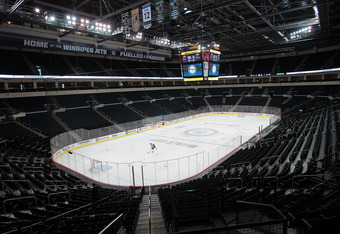 Marianne Helm/Getty Images
For starters, in my defence, I thought you were dead.  And so I moved on.  I fell in love again. 
And also, ever since I moved to Montreal, I could cheer for the Habs.  It was easy.  There were no Jets to cheer for. 
But I've got to be honest here.  I know this is unfair, and maybe even unfaithful of me, but I always had a little bit of a thing for the Habs anyway, even when you were still around.
How could I not?  One of my earliest memories of hockey is of me and my dad watching Serge Savard in the old Winnipeg Arena, when the great Montreal Canadiens All-Star was winding down his career with the Jets. 
I mean, this was the guy who had shared the ice with Ken Dryden, with Jean Beliveau and Henri Richard, with all of them.  He'd won Stanley Cups and Conn Smythe trophies.  He'd gone eyeball-to-eyeball with the Russians.  The guy was a legend.
And now here he was, one of those last few NHL'ers without a helmet, playing for the Jets under his old Habs buddy John Ferguson. 
And seeing him score a goal with 43 seconds left to win the game, putting one top shelf on the equally great Tony Esposito, well you just don't forget things like that.
Plus, the Habs are the Habs, you know?  If the Jets have always been like the quiet, ruggedly handsome farm boy across the street, the Habs have always been like the rock star you only see on TV. 
And you might date the farm boy, maybe even love him, but you still can't help but dream about the rock star.
So maybe I was always conflicted on this, and maybe I just needed to move to Montreal to figure it out.
But in any case, here it is.  It's on.  Jets vs. Habs, the game I had hoped in some ways I'd never have to see.  A sort of Canadian civil war, pitting me against most of my friends and my family. 
If the Habs win, I get blamed.  If they lose, I get taunted.
But still I'm conflicted.  How am I supposed to look at the Jets, at the Winnipeg freaking Jets man, and not cheer for them?  Can I? 
I mean, what's going to happen if Dustin Byfuglien drops the gloves with P.K. Subban, or if he slashes him good across the legs a few times?
What should I call Byfuglien?  Should I be a Habs fan and call him a thug?  A disgrace to the game, someone who doesn't belong in hockey? 
Or do I do my Jets fan routine and just chuckle and say oh, you know Buff: he's gritty.  Hard-nosed.  Plays hockey the old-time way.
Or what if Subban knocks him on his keister, and then talks some trash as he skates back up-ice?  Do I cheer?  Or do I yell for a penalty?  Oh man, this is tough.
And if the Habs win, which they probably will, what do I do then?  Do I apologize to everyone back in the "old country," and try not to rub it in?  Do I gloat?  Do I update my Facebook status to "Habs rule, Jets drool"?
Or do I feel bad for the Jets, and for the city that's embraced them?  And in feeling bad, will some of those old buried feelings come back again?
 
So you see my dilemma, Winnipeg.  It's about loyalty. 
It's about deciding whether I'm true to my roots.  About whether I'm still lunch-bucket Winnipeg, wearing work boots and plaid, or whether I'm big-city Montreal, all hair gel and lattes and a scarf knotted oh-so-smartly at my neck. 
It's about whether I'm a Guess Who kind of guy, or an Arcade Fire one.  Whether I'm Thomas Steen, or I'm Guy Lafleur. 
So maybe some day when this all settles a little, we can sit down together, all three of us, and have a drink.  Just for old time's sake.  And if you can wait a few years, and some of the Habs young players really blossom, maybe you can come out here and drink from the Stanley Cup, just like you've always wanted. 
But I'm sorry Winnipeg.  I've made my choice I think.  No, not I think.  I'm sure.  I'm sure.  I've made my choice.  I love the Habs now, really I do. 
I'm almost certain of it. 
Best wishes,
Lorne