Washington Capitals V. Carolina Hurricanes: What to Watch for Tonight
October 8, 2011
Greg Fiume/Getty Images
The puck will drop tonight at 7:00PM EST to begin the 2011-2012 regular season for Alex Ovechkin and the Washington Capitals. The Capitals, under Bruce Boudreau as head coach for yet another season, have a promising and exciting season ahead of them.
Team owner and assistant GM Ted Leonsis has high expectations for the team this season: It's the Cup or bust. And, with the lineup significantly reformed after a brilliant summer by GM George McPhee and a new defensive system in place, the 'Caps should be a much improved team this year.
With those things in mind, there are a few important things to watch for tonight.
The Bottom-Six Forward Lines
The Caps have always lacked true grit, character, energy and depth in their bottom-six. That will look very different this season. The bottom-six lineup for tonight looks like it will be Ward-Laich-Chimera on the third line and Hendricks-Halpern-Beagle on the fourth line.
With the Caps' fourth line looking entirely different than last year, Washington may be in competition to have the best energy line in the league. 
Halpern is a big upgrade over former fourth-line center Boyd Gordon. Halpern is a gritty veteran who is a defensive specialist and has some great offensive upside. Not to mention, Halpern is great at cycling the puck and working along the boards.
Matt Hendricks has turned out to be an incredible pickup for the Caps, who signed the forward during the 2010 offseason. Hendricks can fight, has great hands in the offensive zone and has some of the best hits and blocked shots per minute-on-ice among league-forwards.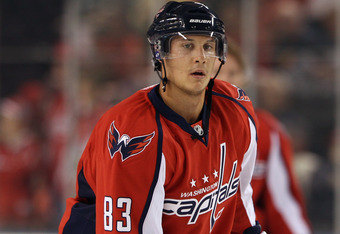 Bruce Bennett/Getty Images
Enough cannot be said about Jay Beagle either. 
Beagle is the kind of guy who really knows his role. He worked on his physicality this summer and should be pretty psyched up to hit the ice hard and hit some bodies hard. Beagle is also great on the penalty kill and on the forecheck—especially considering he struggled to stay on the NHL team for most of last season.
This fourth line is dangerous.
Washington's third line is not something that an opposing team should take lightly either. Laich is a second-line player who excels at both ends of the ice, and Ward and Chimera are both hard-workers and even harder hitters and net-crashers.
The Power Play
The Capitals power play has struggled significantly in the past year. However, it looked promising during the preseason. Mike Green is back in tip-top shape and is moving his feet and the puck noticeably better. 
Stronger puck movement will help the Caps once-deadly power play regain its form this year.
During the preseason, the power play also exhibited an ability to work the puck down low and into the slot, forcing enemy penalty kills to uncomfortably collapse and tighten up.
Also, Alex Ovechkin seems to be much more motivated, like Green, to move his feet and body around more on the power play. Look for Ovie to position himself down low much more frequently this year since the Caps now boast plenty of other power play point specialists like Green and Dennis Wideman.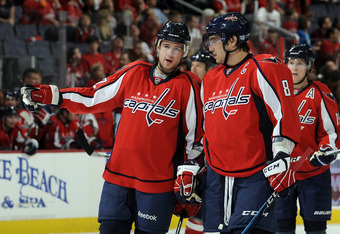 Greg Fiume/Getty Images
The Man Between the Pipes
Michal Neuvirth will start in net tonight. Boudreau said that this is to reward Neuvirth for having a strong camp and that this is not a reflection of Vokoun, whom Boudreau has already named the number one goaltender entering the season.
Neuvirth is slowly but surely becoming a solid NHL goaltender. And Caps fans and raring to see what kind of numbers the elite Tomas Vokoun will put up behind the Caps' incredible defense.
Even though those rocking the red won't be able to see Vokoun in action until Monday night, the goaltender should be watched tonight as Neuvirth will look put up a strong performance tonight.
The Great Eight
Not to be cliche, but keep your eye on Ovie tonight. After many critics proclaimed that defensemen around the league have figured out Alex and even gone so far as to say that Ovie is a one-trick offensive pony, Ovechkin has said that he worked on his game a lot.
Ovie is becoming a more complete player and showed us some new energy during the preseason. 
Look for Ovie to start the season off on a very strong note tonight.
The Mean Green Scoring Machine
Green was putting up great numbers before he got injured midway through last season. Despite what his critics say, he is becoming a very complete, two-way player and is now, along with Ovie and the other Young Guns, looking to lead this great hockey club to excellence.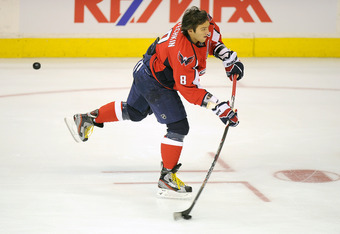 Greg Fiume/Getty Images
Especially under the influence of veteran defenseman and new line-mate Roman Hamrlik, Green should be itching to start off the season in impressive fashion.
To Wrap Up...
Carolina-Washington games usually seem to be high-scoring, so look for tonight's game to be won in a high-flying fashion. And even though the Caps went 5-0-1 against Carolina last regular season, the Southeast division is no longer the laughing stock of the league and the Hurricanes are looking a bit stronger than they were last year.
All in all, tonight is sure to be an exciting way to open up what is sure to be a historic season for the Nation's hockey team.