ALCS 2011: How the Texas Rangers Can Beat Justin Verlander in Game 1
October 8, 2011
Patrick McDermott/Getty Images
The Major League Baseball equivalent to the economic dilemma of "how in the heck do we get out of this dang recession?" is easily stated: "How in the world do we beat The Verlander?"
So, you're a baseball fan. You know how it works. Ron Washington isn't the only one who knows "that's how baseball go." It's all about competitive advantages, and outsmarting your opponents. It used to be all about money. Well, that doesn't work anymore. Ask Boston, New York and Philadelphia.
If Moneyball taught us anything—at least anything besides how cheese ball Hollywood can make a decent book appear on screen—then it's that money ain't everything.  The Texas Rangers and the Detroit Tigers are two mid-level market teams that are now just four wins away from the World Series.
This makes baseball fans happy, as they now have two underdogs to root for.  This does not make the national media happy at all. 
Regardless, for the Texas Rangers to beat the Detroit Tigers they must beat The Verlander. Oh yeah. No first name, just the indefinite article (capitalized) followed by the last name; he's all that and a sack of chips, and you'd better believe those chips come with a superhero chin.
He's pretty much unbeatable.  At least, he's never lost at the Texas Rangers' Ballpark in Arlington before. For the Rangers to beat him, they're going to have to think way outside of the box.  It's going to take pitch recognition, Cowboys redemption, smoke and mirrors, and maybe...just maybe, a hot tub time machine.
Justin Verlander, the man, the myth, the legend
 It's a well known fact that behind the whiskery facade of Chuck Norris lies a third fist.  That explains why Chuck Norris breaks a mirror every time he attempts a shave.  Behind Verlander's beard is a dial. A speed dial if you will, and it goes all the way to 99 MPH—in the ninth inning—my friends.  
Here are the three ways to circumvent the unprecedented greatness that is The Verlander, and his right arm of unmitigated greatness.
Three words: Hottub Time Machine—Okay, if you spell "hot tub" correctly it's four words, but bear with me, I'm trying to avoid a copyright infringement.
 The Verlander's season was amazingly awesome. But if there is one tiny bump on that smooth super-freeway of success that made up his '11 campaign, well, then it was April.  
The Texas Rangers must make Verlander believe it's not October, but April. This is the only logical conclusion. And there is no better way to pull this off than to simply make him go back in time (but yet, like, somehow, it will count in present day when he gets blown up back then, now. I've worked it all out, it makes perfect sense.)
Convincing a man from the good state of Michigan to jump into a hot tub is really not so difficult. Even if he grew up in Virginia. It's made less arduous when you place C.J. Wilson's super hot girlfriend into said tub.  Then BOOM! set that sucker back to April 2011 and the Rangers are golden!  
Warning: Do not! Repeat, do not! Accidentally set that dial to June of 2011. The Verlander went 6-0 with a 0.92 ERA, back then, while helping his team hit a streak of hotness that they really haven't stopped yet.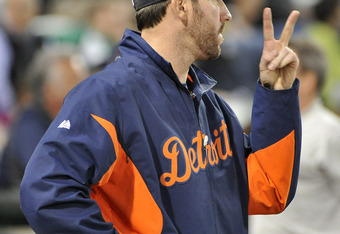 Brian Kersey/Getty Images
Work the count
When The Verlander finds himself with a 3-0 count on a batter, said batter has a .500 batting average! And, check this out, when it's 3-1, they have a .429 batting average!  It's so simple, really. ONLY swing the bat when you're in a 3-0 or 3-1 count.  
The best way to achieve this is with a remote-controlled home plate, and—if you can pull it of—Frank Drebin from Police Squad! as the home plate umpire.  
Whatever you do though Rangers, DO NOT, let him get you down 0-1. At 0-1, that bat your wielding is about as useful as football small-talk at a Glee fan convention.  
The Dallas Cowboys Factor
As we all know, the Dallas Cowboys are America's Team. You can't argue with that—it's against the law—and backed by science anyways.
Which law? Nature. What science? The cool kind. Duh. 
It's also written in holy scripture somewhere.  
And as you may have noticed, since the Detroit Lions took down the Cowboys last Sunday—in dramatic fashion—things have been kind of messed up cosmically.  
Strange creatures disrupting baseball games, some weird blender called "The Ninja" on late-night info-mercials, people driving in really stupid "smart" cars...some really messed up stuff has been going down...and, of course, it's all because the Cowboys lost.
Fear not, Americans!
The Verlander is all about harmony. He understands that he must do what he can to avenge his hometown team's victory against the 'Boys, and restore peace and harmony to the good, fair-weather fans of the Cowboys (as well as the rest of the universe.)
And, of course, he knows that in order to restore the world back to where it should be, he must channel his inner Tony Romo while he prepares for his start tomorrow.  And here's hoping his fastball will "run the wrong routes" ensuring an easy Rangers win—thus avenging the Cowboys' loss—while restoring our world back to working order...and possibly dropping down gas prices.
After all, it's for the cosmic good.
Final Analysis
 Okay, if these tips won't help the Rangers' beat the unbeatable—The Verlander—then nothing will. Unless, of course, the Tigers fly to Arlington, Virginia by mistake.  
Well, we can always hope.
Follow Timothy on Twitter @TMurrayHowell—he follows back, but not in a creepy way. Or hit him up on Facebook—you know you have an account.