Green Bay Packers vs. Atlanta Falcons: Packers Good To Go Despite Media Circus
October 8, 2011
Matt Ludtke/Getty Images
Greetings from the Frozen Tundra of Wisconsin!
Who am I kidding?  It was like 80 degrees today.  I woke up this morning rocking the biggest Slash-style hairdo that I have ever had in my life, and that's pretty serious, my friends.  A nearly six foot tall, furry (really pale) Norwegian with huge hair.  This is the story of my life.
If you happened to be in the Wisconsin Dells ("big girl on a water slide!" was my main comment) this week for any length of time, you may have witnessed this great event in the history of my hair and shook your head with amazement.  Or, you just may have thought, if you saw me this morning in my lucky Packers sweatshirt, "Wow!  Look at that girl!  Her hair shows the stress of Brett Favre's comments!"
In case you missed it, and if you live in Wisconsin you probably didn't, Brett Favre opened his mouth, spoke and then made the newspapers.  If you listen to one side of the argument, Brett Favre knocked Aaron Rodgers by saying that he had a good team supporting him.  If you listen to the other side of the argument, Brett Favre said that he was surprised that a good player, such as Rodgers, took so long to win a Super Bowl.
Do we really need to go down this road AGAIN?
Okay, here's the breakdown: Brett Favre was a great quarterback.  And not only was he a great quarterback, he achieved near immortal status in the great state of Wisconsin.  People named their children after him, if you catch my drift. 
He also did a lot of good deeds and charity events throughout the state.  When his wife, Deanna, was diagnosed with breast cancer, the Favre family brought forth Deanna's personal story to bring awareness for screenings and prevention.  The Fourward Foundation also worked with different agencies to provide opportunities for disabled kids, like the Boys and Girls Club. 
The Favre family were also advocates for fuel assistance to help families in need in Wisconsin with heating costs during the winter months.  What I'm saying is that Brett Favre, and his family, did an amazing amount of charity and volunteer work, all while he faced public scrutiny during his addiction to pain killers, his wife's illness and his father's passing.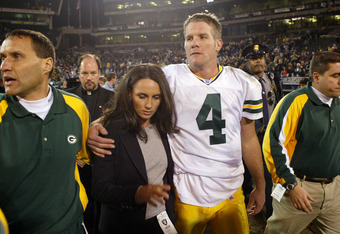 Jed Jacobsohn/Getty Images
And then  he left Wisconsin on a jet plane and after a brief layover in New York, settled in Minnesota.
I hate to tell you, but Wisconsin, and the Green Bay Packers, survived without Brett Favre.  The Green Bay Packers did not close up Lambeau Field and nail a board over the entry gates.  While there were droves of people wandering the streets, weeping and wailing Brett Favre's name, we still continued to push through.
Did you forget that the Packers won a Super Bowl?
Do you remember that Aaron Rodgers is doing a fine job as the "new guy?"
Aaron Rodgers, in comparison, has made several statements along the lines of "this is a team sport and no one player is bigger than the team itself."  And for that, I say, WOO HOO!  Football is a team sport and is supposed to be fun for fans. 
I wrote an article a few weeks ago about the most hated players in the NFL from the perspective of a Green Bay Packers fan, and I was given this helpful advice: get over the Brett Favre thing.  And to date, I have given up the bitterness that I have shown in the past about Brett Favre. So, I have only one thing to say in response to Brett Favre's comments.
Who cares?  Let him have his opinion! 
My friends, the Packers are still winning, Aaron Rodgers continues to make fantasy football owners weep on their keyboards and the earth is still turning.
Although this 80 degree weather in October may or may not be a sign of global warming...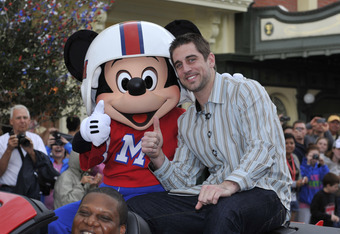 Handout/Getty Images
Anywho, on to other news!
In addition, while Manpig and I were watching the news this evening, I heard, "Super Bowl champs visit the White House."  I turned to the television, while eating some righteously awesome spaghetti, and came face to face with Jim McMahon. 
"What in the hell was that?"  I snorted.
Friends, when you inhale a spaghetti noodle up your nose, it does not make you appear to be endearing, nor romantic, to the Manpig or Womanpig in your life.  Nor does it continue to be a "cute" thing when removing said spaghetti noodle from your nasal cavity.  I will go no further with this discussion.
Yeah...President "I'm A Chicago Bears Fan" Obama invited the 1985 Super Bowl winning Chicago Bears to the White House.  The background of the story?  The 1985 Chicago Bears were invited to the White House but were not able to attend due the Space Shuttle Challenger explosion, which occurred days after the Super Bowl.  This honor, despite your political affiliation, is pretty cool.  And to have Obama honor the Bears 25 years later?  Still pretty cool.
I, however, was initially shocked when I heard "Super Bowl Champion Chicago Bears."  I initially thought, "Holy cow!  Was this last year just a dream?  Did Manpig slip me something in the spaghetti?"
Alas, all remains the same.
We are, however, again back to the Packers versus the Falcons.  I cannot wait until Sunday evening, to see what kind of havoc the defense will reign on Matt Ryan.  I also cannot wait to see the Packers offense rock and roll.  And Clay Matthews? 
Do I need to issue a gentle reminder that he is playing football, with a team it appears, as football is a team sport?  And he is doing what he needs to do to support his team? 
Just keep doing what you are doing, Clay, and the numbers will come.
All the other stuff?  We will survive.