Wayne Rooney: Late Red Card is Mistake For Team That Can't Afford One
October 7, 2011
Michael Regan/Getty Images
There is always a ton of pressure on England's national football team, as there are sky-high expectations around the national side in each and every major tournament they are involved in.
But that pressure has been turned up again as this current group of footballers has failed to bring home the hardware that their followers desire.
In the face of that pressure, Euro 2012 and the Euro 2012 qualifiers are of particular importance for England. They need to show well.
Wayne Rooney, their biggest star, will have to be at the center of things for them to get where they want to go.
That's why his red card towards the end of England's Euro 2012 qualifying match against Montenegro is so disheartening. 
The card is disappointing on two levels.
First, things like this were supposed to be a thing of the past for Rooney. His national side needs him to be a mature leader, not a talented but brash star.
Second, because he will miss one or two games at the start of the tournament, it will hamper his team, a team that can't afford to have too many things working against them. England has to have Rooney in the lineup to achieve everything they want to and now they will be without him in some important games.
It has become something of a footnote in light of the bigger consequences involved here, but his card also played a big part in the match against Montenegro ending in a 2-2 draw rather than in an England win. They still qualified for the main draw at Euro 2012, but his card put that in jeopardy at the time he was sent off.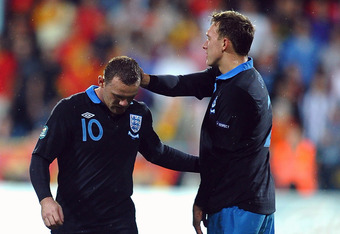 Laurence Griffiths/Getty Images
To be fair, it has been a tough week for Rooney. Earlier this week, his father and uncle were arrested on charges of being involved in a betting scam in the Scottish Premier League.
Huw G, a football commentator in England, has already taken to Twitter with a report that Rooney said that he was afraid that anger caused by his father's arrest would lead him to be sent off:
Wayne Rooney claims his father's arrest has angered him greatly, and is concerned he may get sent off in tonight's game.

That particular report has not been confirmed by any other source, so for now, we have to take that with a grain of salt. But that doesn't make it any less interesting.
Even if there is truth in that report, that's a lame excuse for committing a foul that would get him sent off. I understand being upset or angry that your father has been arrested, but you have to keep your personal life separate from your professional life.
Rooney should have known better than to do what he did. He has jeopardized his team's chances for success at Euro 2012 in a time when his team needs him more than ever.