Chicago Bears vs. Detroit Lions: Will They Be a Running Team from Here on Out?
October 7, 2011
Wesley Hitt/Getty Images
After failing with the running game the first three games, the Chicago Bears had a great Week 4 running the ball.
The question is, will Chicago be a running team from this point on?
In the first three games, running back Matt Forte had 109 yards rushing on 35 carries. Things got so bad that No. 22 had a career-low two yards against the Green Bay Packers.
Week 4 changed everything. Offensive coordinator Mike Martz, who called 24 runs against the Packers and New Orleans Saints, called 31 rushes out of 48 plays. The first nine plays were runs.
Forte exploded for a career-high 205 yards, while he and backup Marion Barber each powered home a touchdown.
Will Chicago start running the ball more?
Hopefully, as an anemic passing game is not working. Forte is the team's leading receiver (26 catches, 310 yards and a score) while the receivers (Devin Hester, Roy Williams and Johnny Knox) have all underperformed (a combined 24 catches for 446 and no touchdowns).
Maybe Chicago did not run as much early because of Barber's injury. He missed the first three games with a hurt calf, but is now healthy and can spell Forte with his power running. Having him backing up Forte will definitely strengthen the ground attack.
All Martz and coach Lovie Smith need to do is look at last year's success running the ball.
In 2010, the Bears struggled to a 4-3 record by their bye week. Martz primarily called passing plays. After adjusting to a running team, the Bears went on a 7-1 tear and went to the NFC championship game.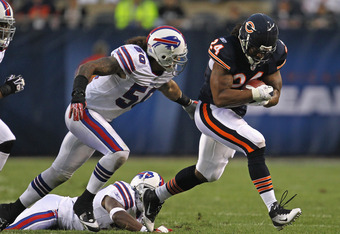 Jonathan Daniel/Getty Images
Martz's offense scored just 15 points a game (subtracting Hester's returns and a defensive touchdown) during last year's opening seven matchups. When he ran the ball more on Chicago's 7-1 run, the Bears scored 24.75 points a game.
While it's true Carolina is horrible against the run (31st by allowing 143.8 yards a game), Chicago looked strong by running downhill and breaking two 40-plus-yard runs.
The Detroit Lions would be the perfect team to make another running statement. Despite being 4-0, Detroit (20th by allowing 113.0 ypg) can be run on.
The Lions secondary is also really strong, as Detroit is tied for third in having seven interceptions and giving up 6.2 yards per catch. Knowing that, it might not be the good for struggling quarterback Jay Cutler to have a passing-oriented game plan.
The Bears' offensive line needs to step up against star defensive tackle Ndamukong Suh, an explosive player who has 12 tackles and two sacks. Center Roberto Garza needs offensive guards Lance Louis and Chris Williams to help him double-team Suh to protect Cutler.
The Bears' linemen need to also create holes for Forte and Marion to break big runs, like they did against Carolina.
If Chicago wants to be successful offensively, it needs to run the ball. Monday, we'll see if the Bears will come out running or not.
Bob Bajek is a second-time writing intern at Bleacher Report. He is also a freelance reporter and can be followed at Patch.com and Twitter.