London Olympics: The Roster for U.S. Dream Team 2012 (3.0)
October 7, 2011
In 2009, still giddy from the "Redeem Team's" successes in the Beijing Olympics, I tallied up two versions of potential rosters for the 2012 U.S. Dream Team.  With the chaotic uncertainty surrounding the health of the 2011-2012 NBA season, now seems like a perfect time to discuss this concrete concern once again: who will represent USA in London this summer!?
From Beijing's Redeem Team, Carmelo Anthony, Chris Paul, Kobe Bryant, LeBron James, Dwyane Wade, Dwight Howard and Deron Williams have all pledged their loyalty for team USA, and have committed to defend their Olympic Gold.
An unwritten rule that has formed throughout the years of USA Basketball is that players from the most recent Olympic Team wanting to return are rewarded roster spots.  Therefore, with seven of the twelve players pledging to return, we have FIVE spots up for grabs. Here we go:
Guards: (2 spots available)
As evidenced by the Nightmare Team in Athens (Bronze '04), a key part of winning a gold is the presence of at least one pure outside shooter.  In 1996 it was Reggie Miller and Mitch Richmond.  In 2000 it was Ray Allen, Steve Smith and Allan Houston.  In 2008, we had Michael Redd, Kobe Bryant and even Carmelo Anthony.  In 2004, there was no pure outside shooter.
The top pure shooting candidates for a 2012 Dream Team spot would be either Eric Gordon or Stephen Curry (shooting .364 and .442 respectively from behind the arc last season).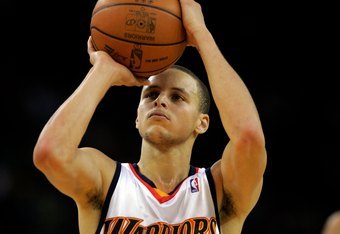 Ezra Shaw/Getty Images
Gordon had a coming-out party in the 2010 FIBA World Championships, as he was the fourth-leading scorer, and shot a second-highest .452 behind the arc.  Gordon's international outside game is coupled with a budding ability to score off the dribble and finish at the rim (averaged over 22 ppg last season).  Athletically, he is in a league of his own.
Curry on the other hand, was third in the NBA in 3 PT % this past season, and led the NBA in Free Throw Percentage at .934.  What separates Curry from Gordon is his ability to distribute the ball (5.8 apg) and force turnovers (15th in the NBA in steals at 1.48 spg).  It is this consistency that leads me to include Curry on the roster, slightly edging out Gordon.  On a roster where bulk scoring is not a primary concern, Curry's ability to produce without being the primary focus gives him the edge.
As for the second guard spot, Derrick Rose is a solid lock.  His quickness, athleticism and ability to force turnovers will make him an international nightmare for opposing teams.  At 6'3", Rose can rebound, defend international SG's and SF's and would provide a beneficial change of pace from Chris Paul's floor general mentality.  Rose would anchor the U.S. Team's second unit. 
(Russell Westbrook is an option here, but adding a shoot-first point guard to a roster of dynamic scorers would not be as advantageous as Rose)
Forwards / Swings: (two spots available)
Kevin Durant. Kevin Durant. Kevin Durant.  Hands down he should be awarded one of the two spots here.  The 2010 FIBA World Championship MVP, led all scorers at 22.8 ppg and broke several Team USA scoring records (most points in a tournament (205), most points in a game (38), most points per game (22.8)).  He also shot a ridiculous .456 from behind the arc and was second in rebounds on the team.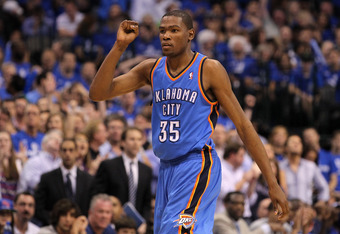 Ronald Martinez/Getty Images
As for the second spot, it comes down to the need for length, defensive ability and offensive rebounding.  The list of candidates for this spot is long: Chris Bosh, Blake Griffin, Andre Iguodala, Rudy Gay and Lamar Odom. 
Andre Iguodala displays defensive intensity every time he steps on the court. However, as a member of the 2010 FIBA Team, Iguodala arguably failed to perform up to expectations (story of his career).  He scored only 51 points, shot .474 from the free throw line and shot .286 from behind the arc.  With the other candidates here, I think Iguodala will be on the outside looking in. 
Rudy Gay is an interesting option, but plays too much of a swing guard position to fit the bill for Team USA.  Depth in the front court is incredibly important, where the injury to a single low-post player could change the landscape of a team's successes.  Similarly to Iguodala, Gay was not a primary player on the 2010 FIBA Team, and I believe will likewise be excluded from London.
Chris Bosh, for those who do not remember, was a key part of the Redeem Team's success in the Beijing Olympics. 
Coming off the bench, Bosh was an offensive rebounding machine.  His slender frame transferred beautifully to the international game, and he proved this season that he's okay being a third option.  On the downside, Bosh was oftentimes the scapegoat for the Miami Heat's meltdown.  Therefore, unless Bosh specifically asks to be on the Team, I think the Team USA decision-makers will avoid the semi-hated "Big Three" representing anyone outside of Miami. 
As of now, he has not committed to returning in 2012.
Lamar Odom was a centerpiece on the 2010 FIBA Team, and provides unparalleled leadership on and off the court.  He has plenty of experience being a companion piece as opposed to a star player on a unit, and can play any position aside from PG.  Lamar was a member of the 2004 Nightmare Team, but was not on the 2010 Redeem Team.
Blake Griffin.  I can't stop thinking about the 2000 Olympics, where Vince Carter jumped over the 7' Center for France, and I keep imagining that if Griffin made the roster, he would have five or six of those monstrous dunks in the London tourney.  Griffin would add an element to the 2012 Team USA that has been missing since the Barcelona Dream Team in 1994:  Fear.  He walks with swagger, plays with ferocity and refuses to back down. 
I don't know how much time he would actually get on the roster, and he lacks the leadership that Odom brings, but he has my vote. 
Center (one spot available):
Backing up Dwight Howard is no easy task, especially the way international referees call fouls.  This spot would be highly used and expected to be a key ingredient in Team USA's defensive mindset.  My vote for this roster spot would be Kevin Love.
Love led the NBA in rebounds at 15.2 averaged 20.2 ppg and even shot .417 from behind the arc ( 88/212).  This ability to step outside would be crucial in the international game.  Love's play in the 2010 FIBA Championship, although in limited minutes, was superb.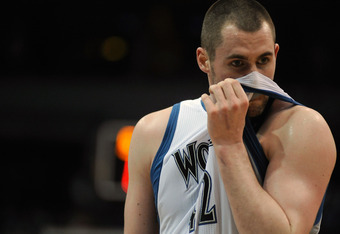 Hannah Foslien/Getty Images
Other options here: LaMarcus Aldridge, Al Horford.
2012 Dream Team Roster (3.0):
Guards: Chris Paul, Deron Williams, Derrick Rose, Kobe Bryant, Dwayne Wade, Stephen Curry
Forwards: LeBron James, Carmelo Anthony, Kevin Durant, Blake Griffin
Centers: Dwight Howard, Kevin Love
Five Interesting Replacements: Al Horford, Wesley Matthews, Russell Westbrook, Josh Smith, Tony Allen