Rangers Preview: Callahan Line Must Counteract Loss of Staal
October 7, 2011
Bruce Bennett/Getty Images
There is justified excitement around the New York Rangers organization. The team is composed of a whole host of players that were drafted and developed by the Rangers themselves, and in the win-now atmosphere of New York sports this is a refreshing departure from the norm.
The team has been built around the concepts of speed and character—grit, if you will—and this identity is no better exemplified than in the person of the newly named Captain of the team, Ryan Callahan.
Callahan is a player's player, willing to do all the nasty things that need doing to create a winning environment. He will have to do that and more now, as the Rangers face the strong possibility that workhorse defenseman Marc Staal could be lost for an extended amount of time.
That Callahan is able to score, and that he seems to be developing into a consistent scorer at that, is a welcome bonus. While former Captain and newly retired Chris Drury had many of the same characteristics of Callahan, he never quite contributed offensively the way the team envisioned after signing him as a free agent.
Callahan, along with his second-line partners Brandon Dubinsky and Artem Anisimov, figures to benefit greatly from the fact that much of the attention of opposing checking lines will focus on shutting down the Brad Richards-Marian Gaborik combo. As a result, look for 30-plus goals from Callahan, and in the range of 70-80 points overall.
It will be the production of this second unit, to a large degree, that the Rangers will rely on to counteract the loss of Staal. The Rangers have been a stingy defensive team in the past several seasons, and Staal has been a major reason why. He is a true shut-down defenseman, and with partner Dan Girardi his defense pairing has historically been tasked with facing the opposition's most dangerous offensive threats night in and night out.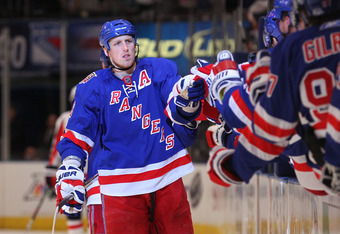 Bruce Bennett/Getty Images
Though the Rangers do possess a great deal of young talent on the blue line, the key here is that they are young. Girardi, Staal's partner and a workhorse in his own right, is essentially the senior man on defense, and he's just 27 years old. Though Brendan Bell and recently claimed Jeff Woywitka are both older than Girardi at 28, they figure to serve as insurance pieces more than anything else.
This all translates into the stark reality that many of the Rangers young defensemen will be asked to play larger roles until the hoped-for return of Staal. Time will tell if they are up to the task, of course. However, much of the pressure they will be under could be relieved if the Callahan unit can produce consistently.
It will be a tenuous balance, to be sure. Callahan is berserker-like in his dedication to shot-blocking, and it's an element of the Rangers approach that they take very seriously. Callahan would not be inclined to back away from this approach if asked, and he likely wont be asked anyway, so the risk will always exist that he will be lost to a blocked-shot-related injury, as he was last season.
This risk is there for all Rangers personnel, of course, but it's an interesting quandary brought on by the loss of Staal. The more shots the Rangers are able to block, of course, the less goals they'll surrender.  Equally certain, however, is that the more shots they block, the more likely it is that their scorers will be lost in the process, thereby amping up the need to block shots and stress defense.
Under coach John Tortorella, the Rangers will continue to play the gritty, shot-blocking style that has given this group its identity. With that said, they will have to hope that the rewards of such an approach are not diminished by the risks being realized in the way of injuries to key players.
There is, again, legitimate reason for optimism as it regards the Rangers prospects this season. If Marc Staal's absence cannot be overcome, however, the Rangers will find themselves on very familiar ground come April: scratching and clawing for the last remaining playoff slot. Not exactly what they had hoped for or expected, of course, but a strong possibility nonetheless.