Streeter Lecka/Getty Images
October 8, 2011
South Carolina was predicted to win the SEC East running away in 2011. However, incredibly (and surprisingly) bad quarterback play has dashed that assumption. Now, the Gamecocks will be in a fight to the finish to win a chance to knock off a powerful SEC West champion in Atlanta. 
The SEC East race is wide open between four teams.  Florida, Georgia and South Carolina all seem to have even footing right now, with Tennessee having an outside shot. However, Tennessee doesn't have a realistic shot at this point, so we will just say that there are three teams vying for that top spot. 
Is the East still South Carolina's to lose?
Let's take a look.
South Carolina Gamecocks

Reason to believe: Marcus Lattimore, Alshon Jeffery and the best front four in football, comprised of All-World freshman Jadeveon Clowney, future top defensive end pick Devin Taylor and this year's future defensive player of the year, Melvin Ingram.
Reason to doubt: Quarterback play. Period. Everything else is there. 
Games left: Kentucky, Mississippi State, Tennessee, Arkansas, Florida, Citadel and Clemson.
Probable Wins: Kentucky, Mississippi State and the Citidel
Streeter Lecka/Getty Images
Probable Losses: Arkansas and Clemson
Swing Games: Tennessee and Florida
Projected Finish: 9-3, (6-2)
The Gamecocks still have the firepower to win the East out right. However, much will be decided on the arm of Connor Shaw. The young sophomore quarterback needs to grow up quickly and play much better than his fifth year senior colleague Stephen Garcia for the Gamecocks to have a chance.
Florida Gators

Reason to believe: Will Muschamp, Charlie Wies, and one of the best coaching staffs in the SEC.
Reason to doubt: A brutal schedule, and an injury to John Brantley. 
Games Left: LSU, Auburn, Georgia, Vanderbilt, South Carolina, Furman and Florida State.
Probable Wins: Vanderbilt and Furman.
Probably Losses: LSU and Florida State.
Swing Games: Auburn, Georgia and South Carolina.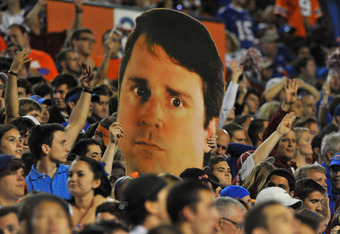 Al Messerschmidt/Getty Images
Projected Finish:  7-5 (4-4)
The loss of Brantley will be tougher on this team than people think. They will probably lose two of their three swing games, and if I had to guess, I would say it would be Auburn and South Carolina, due to the fact that they have to travel. The Georgia game is played on a neutral site, and it will be difficult as well. 
Georgia Bulldogs
Reason to believe: Freshman phenom Isaiah Crowell, the excellent Aaron Murray and the seventh-ranked defense in the country...along with the easiest remaining schedule of the "big three."
Reason to doubt: Not having the tiebreaker against South Carolina. 
Games Left: Tennessee, Vanderbilt, Florida, New Mexico State, Auburn, Kentucky and Georgia Tech.
Probable Wins: Vanderbilt, Kentucky and New Mexico State. 
Probably Losses: None.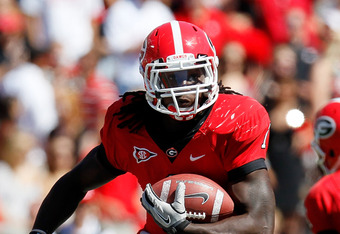 Kevin C. Cox/Getty Images
Swing Games: Tennessee, Florida, Auburn and Georgia Tech.
Projected Finish:  8-4 (6-2).
The tiebreaker loss to South Carolina is going to make the difference this year. I think Georgia Tech will be a struggle for them, but a win or loss doesn't matter much regarding the SEC race.  This is a good team that might be the best in the SEC East (at this point), regardless of how things shake out. 
Final SEC East Standings
1. South Carolina (6-2)
2. Georgia (6-2)
3. Florida (4-4)
South Carolina is in the driver's seat when it comes to the SEC East. It won't come easy, and the Gamecocks must take care of business. The tiebreaker against Georgia will be the final deciding factor, as to which team earns a spot in the SEC West Coronation Game (formerly called the SEC Championship). 
Like the new article format? Send us feedback!