USC Football: Forget Matt Barkley, Robert Woods Is USC's True Heisman Candidate
October 7, 2011
Stephen Dunn/Getty Images
The Heisman Trophy mission statement declares that the trophy is to be given to "the outstanding college football player whose performance best exhibits the pursuit of excellence with integrity," but, based on the history of the award, the Heisman Trust should consider including the waiver, "Anyone other than quarterbacks and running backs need not apply."
In the award's history, only five individuals who primarily played other positions have won the award, and none since Charles Woodson claimed the award for the 1997 season.
Particularly surprising is the lack of winners at the wide receiver position. Only two wide receivers have ever won the award—Tim Brown and Desmond Howard—and both won it in large part due to their performance as kick and punt returners.
One of the reasons why it is so difficult for a wide receiver to win the award is that for every completion they make, yard they gain, or touchdown they score, the quarterback earns the same statistic. Since no quarterback throws every single pass to the same receiver, the quarterback will always have the higher number total, and it is easier for voters to grant the award to the quarterback. Such is the curse of the receiver.
Not surprisingly, the leading candidates for the 2011 Heisman Trophy are quarterbacks and running backs, including such standouts as Stanford's Andrew Luck, Oklahoma's Landry Jones, and Baylor's Robert Griffin III.
Five games into the season, the media is beginning to discuss the candidacy of USC's junior quarterback Matt Barkley, who has completed 133 passes for 1587 yards, 14 touchdowns and four interceptions throughout the Trojans' first five games.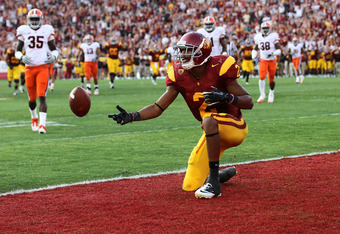 Stephen Dunn/Getty Images
Although Barkley is having an outstanding season and is definitely deserving of his place in the Heisman discussion, the true Trojan Heisman candidate should be Barkley's No. 1 target, wide receiver Robert Woods.
Woods has fallen victim to the classic Heisman trap, in which commentators attribute the receiver's success to the quarterback. Because Woods excels as a pass catcher and not as a returner, voters must evaluate him based on his receiving statistics, and therefore Woods falls victim to the curse of the receiver.
Nearly every Heisman-winning quarterback has had a favorite receiver who catches the lion's share of the QB's passes, but what separates Woods from the top receivers of other Heisman-winning quarterbacks is just how heavily Barkley leans on him.  
So far in 2011, Woods has caught 41.4 percent of Barkley's completed passes, tallied 47.1 percent of his total yardage, and scored 42.9 percent of his touchdowns. Of the 13 quarterbacks who have won the Heisman Trophy since 1990, the highest percentage of completed passes to any one receiver was Eric Crouch passing to Wilson Thomas, with Thomas receiving 35.2 percent of Crouch's passes.  
Considering that Crouch won the Heisman almost entirely on his running skills—Barkley already has more completed passes this season than Crouch did in his Heisman winning season—he isn't a fair comparison.
After Crouch, the next highest completion rate to one receiver is Danny Wuerffel to Reidel Anthony. Anthony caught 34.8 percent of Wuerffel's passes. Of the Heisman winners since 1990, the average completion rate for a quarterback to his favorite receiver hovers around 25 percent. This means that Barkley is completing passes to Woods more than 50 percent more than the average recent Heisman-winning quarterback connected with his favorite receiver.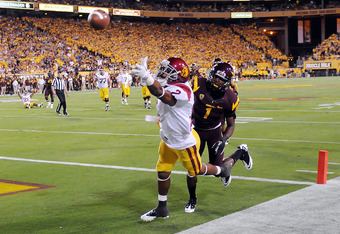 Norm Hall/Getty Images
The differential between Barkley and recent Heisman winners is just as significant in terms of total yardage: Barkley has thrown for 1587 yards, 747 of them to Robert Woods, or 47.1 percent. The highest of any of the recent Heisman winners was, once again, Eric Crouch, who totaled 40.8 percent to Wilson Thomas.  
Once again, excepting Crouch for the aforementioned reason, the next highest is Jason White to Mark Clayton. Clayton caught 37.1 percent of White's passes, 10 percent less than Woods has caught from Barkley.
The numbers are less conclusive, but still noticeable, in terms of touchdowns scored. Woods has caught six of Barkley's 14 touchdown passes, or 42.9 percent. Gino Torretta has the highest percentage of touchdowns to one receiver, with 52.6 percent of his touchdown passes caught by Lamar Thomas.
Danny Wuerffel is next in line with 46.2 percent of his touchdowns thrown to Reidel Anthony. Eric Crouch has the same percentage as Matt Barkley and Carson Palmer is a hair behind at 42.4 percent to Mike Williams. The number falls as low as 12.5 percent (Tim Tebow to Percy Harvin) and 20 percent (Sam Bradford to Juaquin Iglesias).
Barkley's numbers so far are certainly impressive, and, at this pace, he is likely to be in the Heisman hunt come season's end. Yet, over the past two decades, no Heisman Trophy-winning quarterback has relied on one receiver as much as Matt Barkley has relied on Robert Woods so far this season.  
The odds of a wide receiver winning the Heisman primarily as a pass catcher are small, but if there ever was a receiver who was so clearly the critical component of an offense that he deserved the Heisman, Robert Woods may just end up being that individual.