NHL Predictions 2012: Predicting Where the Colorado Avalanche Will Finish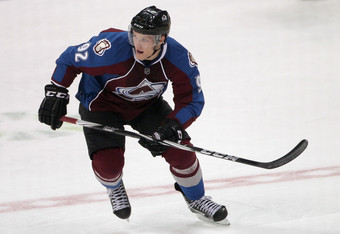 Doug Pensinger/Getty Images
This season is a huge season for the Colorado Avalanche for several reasons.
They are coming off one of their worst seasons and easily the worst second half of a season since moving to Denver.
Avalanche coach Joe Sacco is in a defining year that will show the rest of us whether or not he is the coach that surprisingly took a team to the playoffs or one that can't keep his team motivated enough to start a game.
General manager Greg Sherman is also in a defining year after giving up a great amount in order to acquire incredibly talented, but injury-prone goalie Semyon Varlamov. In order to get Varlamov, Sherman sent this season's first-round draft pick over to the Washington Capitals, which has made Avalanche fans a bit antsy.
If things don't go so well for the Avalanche and they lose out a lottery pick, it's quite possible that we could see both Sacco and Sherman searching for other jobs.
Still, optimism abounds in Colorado. Training camp was immensely positive for the Avalanche who saw quite a few other new faces on the roster in several positions.
Preseason was up and down, but definitely ended on a high note when the Avalanche really got all their big guns running against the LA Kings when both teams were playing the majority of their regular players.
So where will the Avalanche finish this season? That really depends on a lot.
How will the new players fit into the system? Will the coaching staff be able to adjust when the team is being stifled? Will Peter Mueller find his stride in the NHL again? Will the bigger defense be better?
Doug Pensinger/Getty Images
Perhaps the biggest question mark surrounding the Avalanche is in goal.
Varlamov is an incredibly talented goalie with a ton of potential to still discover, but he will have to do so without a goalie coach in his corner to help him develop his good skills and overcome any bad habits.
J.S. Giguere, whom the Avalanche acquired to back up Varlamov and who has also had a spectacular preseason, should provide a stabilizing influence on both Varlamov and the rest of the team, but he can't be a goalie coach for the team.
Since there are so many questions for the Avalanche to answer, I'm going to say that the Avalanche will finish eighth or ninth in the Western Conference.
Tons of people have the Avalanche bottoming out again, but I truly believe that will only happen if the Avalanche become ravished by injuries again.
Don't forget that the Avalanche, while still giving up many goals, led the NHL in scoring for much of the first half of the season and weren't out of the race for the playoffs until March came along.
The goaltending is better and the defense is a lot bigger and stronger. Kyle Quincey is returning from injury and has played so well throughout all of the preseason and camp. Jan Hejda may turn out to be one of the most underrated signings of the free-agency period as he will line up on the first pairing with Erik Johnson.
Gabriel Landeskog looks to be a very promising rookie for the Avalanche who will fill a power forward role that the team really missed last year. He could find a lot of time on any of the top three lines as he has played well with several people throughout the preseason.
Colorado has a lot of potential positives going for it, and its ability to capitalize on its potential positives will be the big deciding factor in how well it does.
I think there will be a lot of ups and downs, but enough ups for the Avalanche to squeak their way into the playoffs or just barely miss it.
This article is
What is the duplicate article?
Why is this article offensive?
Where is this article plagiarized from?
Why is this article poorly edited?

Colorado Avalanche: Like this team?