Week 5 Fantasy Football Rankings: Which Defenses Will Score Big This Week?
October 7, 2011
Andy Lyons/Getty Images
It hasn't been a great season so far for fantasy defenses. Offenses are putting up points at a blistering pace and the number of defenses that seem to be clicking on all cylinders can be counted on one hand.
That should start to change soon, however. Communication and togetherness are huge factors in a defense playing well and those two things can improve as a season wears on.
Offenses will still put up tons of points, but in Week 5, the following defenses will hold their own and give their fantasy owners a good score.
Quietly, the Bengals might have a really good defense this season. Without any huge names on that side of the ball, they are better than the sum of their parts so far. They have yet to let an opponent score more than 24 points and most recently, they only allowed 20 to a Bills team that had been putting up points in bunches.
This week, they will give their best performance to date, as they take on the Jacksonville Jaguars. The Jaguars offense has one big star, Maurice Jones-Drew. He is among the best running backs in the league, but if you can find a way to just slow him down, you have a great chance of being successful against Jacksonville.
The big points for the Bengals' defense will come later in the game when the Jaguars turn to Blaine Gabbert to get them back in the game through the air. Gabbert won't be able to and he'll turn the ball over in the process.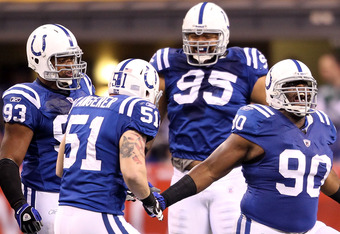 Andy Lyons/Getty Images
I don't know that I would feel comfortable starting the Colts' defense in any other week, but this week, I would do it.
The Colts' defense does one thing well and that's rush the passer. When said passer is Matt Cassel with the Chiefs' offense around him, the defense is set up for success. I would expect Dwight Freeney and Robert Mathis to be in Cassel's face early and often.
Teams that can protect their quarterback and get the ball in the air against the Colts linebackers and secondary can have success, but I don't know that the Chiefs will be able to do that.
Last week, the Chicago Bears' offense underwent what appears to be a major change. Rather than leaning on Jay Cutler to carry them to victory as they so often had in the past, they turned things over to running back Matt Forte.
The results were impressive. Forte had his best game of the season and the Bears got a big win over the Panthers.
I think they will look to stay with that offensive game plan this week against the Lions, but I think the Lions' defense will force them back to their old ways. The Lions have the defensive line, led by Ndamukong Suh, to slow down Forte.
That will force the Bears to throw the ball more, which got them in trouble in the first few weeks. 
Joseph Healy's Fantasy Defense Rankings for Week 5
1. Detroit Lions
4. Cincinnati Bengals
7. Chicago Bears
8. Indianapolis Colts
10. New York Jets