Scouting the Best Wide Receivers of All Time
October 6, 2011
Jed Jacobsohn/Getty Images
What makes a wide receiver great?
It's a number of things, actually. There is no one trait that separates a Charles Rogers from a Calvin Johnson, but the greats all have one thing in common: They run great routes.
The art of route running has been lost as the college and NFL game moves toward a more athletic wide receiver built to box out the coverage instead of the "old days" where a receiver relied on speed, technique and agility to get open.
What traits do I look for from the great route runners? I'll take a look at the best of the best and break down the quality that made them elite.
Jerry Rice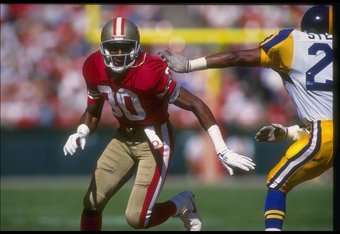 The master of planting and cutting, Rice changed direction better than any receiver, ever. A key to being a productive offensive player is the ability to accelerate in and out of cuts in your routes without losing speed. No one does this better than Rice did. His smooth running style and quickness in and out of his cuts are a big part of why Rice never looks covered in highlight films.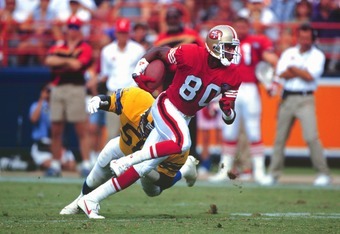 Marvin Harrison
 Great at reading the coverage and adjusting his route, Harrison is second only to Jerry Rice in terms of route-running ability.
Part of being a great route runner is being smart enough to make changes. Being able to see the open field is a key ingredient to being a productive player. Receivers must be able to see the defenders when running zone routes and when running with the ball. Knowing where the defender is will also aid in making the right adjustments when trying to catch the ball. Knowing the preferences of the quarterback and being on the same page as him is an attribute all young receivers should mimic.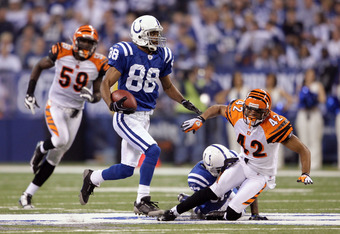 Andy Lyons/Getty Images
 Having the body control and lower body strength to get cornerbacks leaning and guessing wrong is an intricacy that most NFL receivers take years to learn. Not Fitzgerald.
This ability separates the track stars from the good receivers. Being able to run a crisp route depends not only on footwork and speed, but on balance. Being able to come off press coverage and remain in line on the route is all attributed to balance. Being a fluid player is very important to the wide receiver position.
This video of Fitzgerald's 2010 season shows a reel of amazing, crisp route running and helps Fitzgerald separate from double coverage and make plays.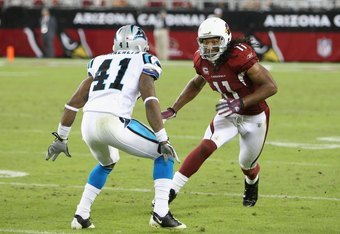 Reggie Wayne
 Wayne's greatness can be attributed to many things, but none more so than his rare acceleration and burst into the route to create separation.
A player should be able to beat press coverage, which is becoming very popular due to Cover 2 schemes. If the receiver cannot beat the jam, he will not get into his route on time. The player should also be able to explode off the line of scrimmage. Wide receivers should be a full speed within five to seven yards of the snap as getting a clean and explosive release sets up the entire route, as well as the timing of the pass. The receiver must run his routes the same way every time to develop chemistry with the quarterback.
Wayne isn't blessed with elite size or speed, but he is smart enough to use his quickness off the line to beat cornerbacks walking up on him in coverage. Wayne's ability to beat the jam is directly tied to his quickness, intelligence and the way he uses his hands to create separation. Watch as Wayne gets separation against press coverage by the New England Patriots to score a go-ahead touchdown.
 Textbook ability to run the fade route.
Moss' stride and burst off the line made his "go" route the best in NFL history.
Watch as Moss beats the coverage time and time again in his first season with the New England Patriots. In his first year with Tom Brady, Moss had the most dominant performance of any wide receiver in NFL history.
You'll see here how well Moss simply ran past the coverage to make play after play in deep coverage.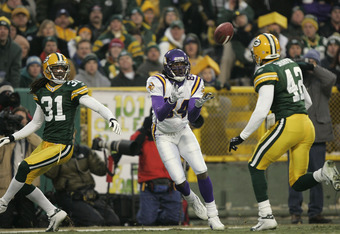 These are small aspects of what made these five receivers among the best of all time at their position.