Building the Jon "Bones" Jones Legacy in the UFC
October 6, 2011
The battle for future light heavyweight stardom between Ryan Bader and Jon Jones isn't that hard to remember as it just took place on February 5th, 2011. No one predicted that the future would come so quickly as Jon Jones was awarded a title fight as soon as his hand was raised in victory. Just a month later it was Jon Jones looking down from the mountaintop, when he won the UFC light heavyweight championship by knocking out Mauricio "Shogun" Rua.
After his win over Shogun Rua, the UFC gave him another legendary opponent in Quinton "Rampage" Jackson. Jackson wasn't the most deserving fighter but he did bring an impressive resume and notoriety to the table. Jon Jones would go on to dominate the former champion until he submitted Jackson in Round 4, not only defending his championship but adding to his fast-growing legacy.  
This of course brings me to Jon Jones' next opponent, which was just named as Lyoto Machida.
Machida who is only 1-2 in his last three fights has looked bad in recent outings. In any manner, Lyoto Machida is one of the most undeserving fighters to be considered for a title fight at this time. After coming off of two straight losses, earning a title fight with a win over a 47-year-old, regressing, and retiring Randy Couture wouldn't earn the typical fighter a title shot in the UFC.  
Machida himself is not a typical UFC fighter. Machida has a huge following of fans throughout MMA and that fanbase is made up of people who will likely jump on the Jon Jones' bandwagon; as they demonstrated when they were so quick to jump on Machida's, making this decision by the UFC a brilliant one.
The fight between Jones and Machida itself should be another EASY knockout win for Jones and even though I will watch, I am not excited at all to see it, as these styles make the outcome very predictable.
Machida's fighting style of standing just out of striking range and countering will be exposed when Jon Jones brings in his 10.5 inch reach advantage, forcing Machida away from what he has always done in every fight he has ever been in. Once he starts moving he is open to takedowns and more strikes culminating in another huge name being knocked off for Jon Jones.  
This of course leaves Rashad Evans without a title fight, yet again, but in all reality, Evans name isn't quite as known to the common spectator. There never was a Rashad Evans Era. It's viewed more like the Rashad Evans' transition.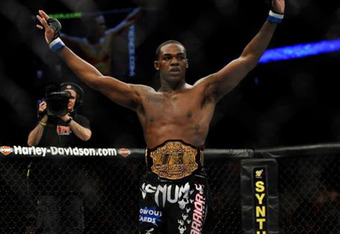 Rashad has been relevant and deserving of a title shot but the UFC is building Jon Jones' legacy and feeding him big name fighters even though they really don't deserve a title shot. That brings me to who I think the UFC will feed to Jon Jones after the Machida title fight, Dan Henderson.
Henderson is another legendary figure in mixed martial arts and is the only fighter who can say he deserves a title fight as much as Rashad Evans can.
Added to the fact of his legendary status, Henderson is on an impressive three fight win streak over stellar names such as Renato "Babalu" Sobral, Rafael Cavalcante and Fedor Emelianenko. If he adds Mauricio "Shogun" Rua as a fourth consecutive win, I firmly believe that Dan Henderson should be awarded the next title fight as the UFC will not want to miss out on that opportunity to make that fight.
During all of these possibilities, Rashad Evans will still be in line for a title fight but what hurts him is his "star power" as he just doesn't have the status as the before-mentioned fighters. Evans will get his chance but he should use his time well and study Jon Jones. Preparing himself for a fight that will come eventually.
The UFC is executing what fights with Jon Jones are in their best interest and they are doing an amazing job at it.  
Just think, by the end of next year you could be looking at Jon Jones with wins over Mauricio Rua, Rampage Jackson, Lyoto Machida, Dan Henderson and Rashad Evans. With a resume like that you could easily make a case for Jones being the best pound-for-pound fighter in the world. Take the "Best in the World" title away from Anderson Silva and maybe, just maybe, you have Anderson Silva wanting to prove who really is the better fighter.