NFL Picks Week 5: Green Bay Packers and 3 Biggest Locks to Win
October 6, 2011
Matt Ludtke/Getty Images
Even in a league that is as tough to predict as the NFL, there are certain games you can point to as locks to go one way or another.
Sometimes you come to that conclusion because one team is far superior to the other. Other times, it's because you feel like one team has a great matchup. And sometimes, you believe it for little reason other than that one team seems "due."
This week, there are three locks on the NFL schedule. They are as follows.
Green Bay over Atlanta
Atlanta, a presumed contender in not only the NFC South, but the NFC at large, has not looked quite right so far this season. Their powerful offense hasn't gotten going and as a result, the Falcons are sitting at 2-2.
The Packers are a perfect 4-0 and they seem to be getting better. The offense looks as good as ever and that has been largely without Ryan Grant. Getting Grant back this week will be a huge boon for the Packers' offense. The duo of Grant and James Starks has the potential to be a great running back tandem.
It will help the Falcons that they are at home for this game, as their offense loves to play on the fast turn in Atlanta, but that will also help the Packers' offense. The Packers will win with ease, as their offense is playing much too well to let them lose.
San Diego over Denver
This a lock because San Diego is just so much better than Denver. While they haven't looked too terribly impressive so far this season, the Chargers are 3-1. The scary thing for San Diego's future opponents is that the Chargers' offense hasn't played their best yet. They have injuries all over the field on that side of the ball, and Philip Rivers has looked merely good, rather than his usual great.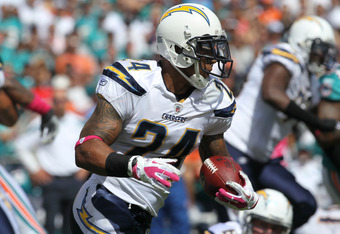 Stephen Dunn/Getty Images
Things haven't gone so well for Denver. They are 1-3 and the pressure on everyone around that team is mounting with each passing week. Kyle Orton is under pressure to play better, John Fox is under pressure to bench Orton and Tim Tebow is under pressure to say and do all the right things in this awkward situation.
A loss in this game won't make things easier in Denver. With the losses mounting, the pressure to play Tebow won't lessen any time soon. You can easily see a scenario where John Fox is simply stuck between sticking to his guns and playing Orton and giving in to public sentiment and playing Tebow instead of Orton. That scenario might have already started playing out.
New England over New York Jets
If you were to have looked at this game when the schedule first came out, I think you would have had to assume that this game would be a pivotal game between two teams ready to battle it out for AFC East supremacy. It's still a pivotal game but for a different reason. The Jets need this game to keep from falling well behind in the division race.
The Patriots have to be considered Super Bowl favorites already. Their offense, namely Tom Brady, is setting a record pace. Their defense has been bad so far, but I'm not sure that's necessarily a bad omen for their Super Bowl hopes. That unit can only improve.
Even with their defensive struggles, I'm not sure that the Jets have much of a chance to beat the Patriots. Their offense isn't good enough to take advantage of an unsettled Patriots offense and their defense, as good as it is, will not have what it takes to slow down Brady.