Big East Football: Is TCU's Departure the Final Death Blow?
October 6, 2011
Andy Lyons/Getty Images
CBSSports.com has reported that TCU will be joining the Big 12 next year.
Is this the death blow for Big East football?
It is certainly possible. It may be probable. Definitely? No, but the conference is running out of options fast.
TCU would have been an immediate contender for the Big East title and would have raised the conference's football profile, both in terms of media markets and in terms of quality teams.
Without TCU, Big East football is down to six teams and barely on life support.
The Big East must make a decision about its football future. There are several options available.
The Surrender Option: End Big East Football
With only six teams remaining, the conference must add a minimum of two in order to have any hope of maintaining its prized BCS AQ status. The basketball schools may decide that enough is enough, and additional expansion will not be tolerated.
If the Big East stated that there will be no Big East football league, it could allow its existing football teams to attempt to affiliate with other conferences for football.
There is no guarantee that this would prevent schools like West Virginia, Louisville, and South Florida from leaving the Big East entirely. Some or all of these schools may still try to join the Big 12. The Big East would still have uncertain times ahead.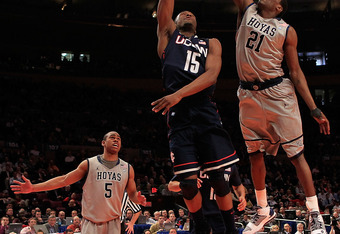 Chris Trotman/Getty Images
The Nuclear Option: The Football Schools Leave the Big East and Recruit Members From Another Conference
The six Big East football schools could leave the Big East to form an entirely new conference. It would mean a split away from some very good basketball schools, and the end of the Big East as we know it.
The remaining non-football schools would still have a very good basketball conference, but it would be without stars Louisville and Connecticut. They could easily stay together, possibly adding Xavier and one or two others to maintain status as an elite basketball league.
A potential new conference combines the ex-Big East football schools with Temple and the five best C-USA football schools to form a 12-team conference:
North: Connecticut, Rutgers, Temple, Louisville, Cincinnati, West Virginia,
South: East Carolina, South Florida, Central Florida, Tulsa, Houston, Southern Miss
Other options may exist, but this may be the best potential group of football schools.
There are two major potential problems with this plan:
(1) Several of the schools (notably West Virginia and Louisville) may get an invitation and go to the Big 12, regardless of what the others do.
(2) A new conference may not have the same status as a BCS AQ conference that the Big East has right now.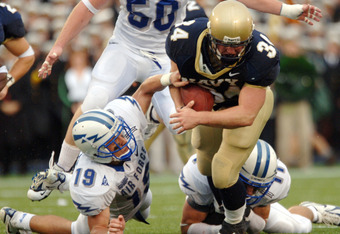 U.S. Navy/Getty Images
The Takeover Option: Invite all Football Teams From Another Conference to Join Big East Football (and only football)
In an earlier article, I gave details of a plan that the Big East could consider to save its football league. In short, the plan said that every member of Conference USA could be added as a football-only member to the Big East.
It would have the advantage of not adding any additional basketball (and other sports) teams to an already large league.
It would probably not provide great long-term stability, but it would prevent the death of Big East football in the short term.
The Incoherent Expansion Option: Add a Few Members to Keep Football Afloat and Irritate Basketball
East Carolina, Central Florida and Temple are still potential expansion targets. Whether or not they would accept a football-only membership or insist on full membership is unknown.
Navy, Army and Air Force are still potential football-only targets. Navy would prefer that the Big East be stable before it joins the conference, not because it joined the conference.
Adding more full members might irritate the non-football members enough that they finally give up and bail out of the league. Whether or not this is good or bad depends on one's perspective.
This is what appears to be the current plan. It could change tomorrow (or even today, for all we know).
The Big East has been reactive in their expansion efforts instead of proactive. With the leadership remaining the same for the conference, that seems unlikely to change anytime soon.
The future remains uncertain, and very bleak, for Big East football.