Peyton Hillis: Should the Cleveland Browns Give Him an Extension?
October 6, 2011
Mike Stobe/Getty Images
After sitting out of the Browns' week 3 win over the Miami Dolphins due to an apparent case of strep throat, the 2011 Madden cover boy lead many to believe he was unhappy about his current contract situation.
"That shouldn't even be an issue," Hillis told The Cleveland Plain Dealer on Sunday after the Browns' 31-13 loss to the Tennessee Titans. "That's not an issue in my brain. I'll go out there and I'll play. But if I know I'm not 100 percent and I can hurt my team, I'm not going to risk myself."
ESPN's Adam Shefter added fuel to the fire this week when he reported that there were "whispers" going around the Cleveland locker room that Hillis' contract situation did in fact play a part in his decision to sit against the Dolphins.
Browns head coach Pat Shurmur explained on Monday that he believes Hillis was actually sick and that his limited role against the Titans was not a punishment.
"The young man was sick and he didn't play," Shurmur told the Plain Dealer. "OK, that's the end of it. He played yesterday and I think that's what the important thing is. Two weeks ago he didn't play. We played the Miami Dolphins and won. Yesterday, he was a significant contributor and we didn't win."
Browns rookie receiver Greg Little also answered questions in Hillis' defense.
Explained Little, "I don't take those sources to be very credible. I just think that's coming from very thin air. I think Peyton is a big enough competitor that he wants to come out and play on every Sunday and wants to do well. I don't second guess his talent at all and I think Peyton is one of the best backs in this league."
Kennard McGuire, the agent for Peyton Hillis, added fuel to the fire yesterday when he told The Associated Press that he advised his client not to play.
"I would give him the same advice to him or any of my clients as if he were my son," McGuire told the AP in a phone interview. "The game is physical enough, and the way Peyton plays the game, he needs all the elements of his physical game. Him being sick, and the level of his sickness, is the equivalent of being injured.
"Not only could he have hurt himself, but he could have hurt his team. Nobody embodies Cleveland like Peyton Hillis. If anyone wants to point a finger, point it at me."
Now this is where is really starts to get interesting. After Shurmur and several players went on record to squash any rumors regarding Hillis' decision not to play two weeks ago, McGuire decided to open his mouth with an obvious motive to keep the spotlight on his client's contract situation.
"He's human, of course it's on his mind," said McGuire, adding he has been in "constant contact" with the Browns. "Would it affect him being a pro? No. Does he feel under-appreciated? Yes. He's human. We all in life have a perceived value of our worth now, and he doesn't take for granted what he's earning now.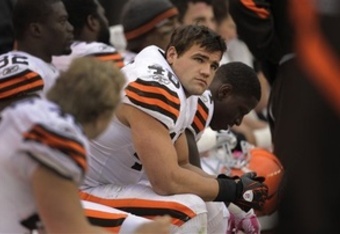 "But we do believe that he's deserving of something that mirrors his production of last year."
The decision of Hillis' agent to comment on this situation was absolutely a calculated move. We now know that the Browns have offered him a new contract, which he and his agent decided was not to their liking.
Was Peyton Hillis really sick two weeks ago against Miami? Probably, but it is now obvious that he is becoming increasingly frustrated with the Browns and their handling of his future in Cleveland.
I love what Peyton Hillis did a year ago. His agent is exactly correct when he said that Hillis embodies the city of Cleveland like nobody else. However, it still begs the question, should the Browns sign Peyton Hillis to an extension? And if so, for how long? Would it really be in their best interest, or is Montario Hardesty the smarter choice in Shurmur's West Coast offense?