Ohio State vs. Nebraska: Eye-Popping Predictions for the Legends Division Battle
October 6, 2011
Eric Francis/Getty Images
Will an angry and upset-minded Ohio State Buckeyes bunch be able to travel to Lincoln, Nebraska and escape with a win over a browbeaten Cornhuskers crew? Will the Huskers rebound from the Madison Mauling last prime-time Saturday night?
If the prime-time college football gods—there aren't any, by the way—have anything to say about it, then maybe, just maybe NU will rebound. Nebraska will be back on the prime-time Saturday stage this weekend at home against Bo Pelini's alma mater.
The gospel, or the good news, for his team's first Big Ten home game is the Huskers (4-1, 0-1 Big Ten) won't face a passing game this weekend like the one Russell Wilson hit them up with.
A Youngstown, Ohio native, Pelini is a former OSU football co-captain and will likely face a quarterback combination in the persons of Braxton Miller and Joe Bauserman. The two of them have been playing musical chairs all season.
Playing up and down football thus far, both lack significant experience. Miller made his first start two weeks ago and Bauserman, who walked on in 2007, started the season opener.
OSU's most experienced quarterback, former senior-to-be Terrelle Pryor, was drafted by the Oakland Raiders this year. He left school early while he was set to serve a five-game suspension handed down by the NCAA for receiving improper benefits surrounding allegations of a free tattoo in exchange for memorabilia deal.
Four other Buckeyes were tattooed with suspensions for the Nebraska game. One of them is mega-talented 6'3" receiver DeVier Posey—Megatron Junior. His absence will hamper the frosty passing game for the team from cozy Columbus.
Kirk Irwin/Getty Images
Christopher Columbus discovered America I'm told. I'm telling my readers that the Buckeyes must discover how to score against a Pelini brother's defense eager to regain respect after Wisconsin lake-cruised them. The destroyer ship SS Blackshirt is almost sure to be righted sooner than it goes further off course.  
Whether or not it will be right enough to win, I'm not sure. The Buckeyes still have a stifling defense and the pride of one of the best college football traditions in the New World Order.
Big Red Nation's world was knocked off its dolly and out of order after the offense put up 17 points and got stuffed at the goal line in the waning seconds in Madison.
If Dolley Madison existed today, then she'd console the Nation. Now, only a victory over the Ohio State University will work.
How in the world could the Huskers bounce back so fast? Good question. Big Red Nation will support, encourage and inspire them to do it…or else.
Nebraska's quarterbacks will obviously need to pass the ball much better than last weekend or else; Ohio State (3-2, 0 -1) has the No. 11-ranked FBS defense for points against. The Buckeyes only allow two touchdowns on average per game.
Being ranked No. 103 in the nation, to put it easy, the Cornhuskers passing game is just a bit below average. A team that passes for 168 yards per game, like Nebraska does this year, probably won't win a Big Ten championship.
In two weeks their foe will be Legends Division rival Michigan State. The Spartans sport a supreme defense and are tied with Wisconsin for No. 2 in points allowed per game.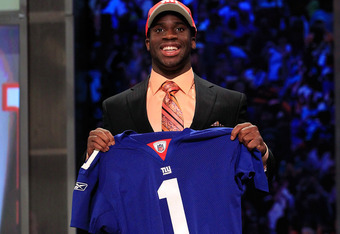 Chris Trotman/Getty Images
I'm shocked, along with the rest of the world, that Nebraska's defense is allowing some 27 points per game. I figured the unit formerly known as the Blackshirts would be one of the top 10 defenses in the nation. They lost Prince Amukamara, DeJon Gomes and Eric Hagg to the NFL but are still loaded with Lavonte David and Jared Crick leading the way.
The Huskers rely on their loaded running game to score an average of 37.6 points per contest. The vaunted I-formation veer and triple-options catalyze their No. 9-ranked rushing offense and set up the passing game.
I can't let this opportunity pass me by without giving you my projections for the OU-NU game. By the way, I haven't missed on a Huskers forecast so far this season.
Prediction
I guarantee you that teams going forward will look to pass the ball at all costs against the Huskers after seeing what Wisconsin did to the Blackshirts. The defensive line will meet the challenge and have their best game sacking the OSU quarterbacks.
Ohio State's offensive line struggled last week at home in the close loss to Michigan State. The offensive line won't hold up against Nebraska's redemption-seeking pass rush if they give Pelini's game plan proper looks. The Buckeyes gave up nine sacks to the Spartans and appeared to be confused by MSU's multiple defensive diagrams before snaps.
Both OSU and NU have to get their passing game plans together or else this will be a very low-scoring game. I believe Nebraska will bounce back in this game and post a very close 17-16 win.