With New Elbow Working Fine, Stephen Strasburg Now a Pitcher and Not a Thrower
October 5, 2011
Mike Ehrmann/Getty Images
In less than a full season of baseball, Stephen Strasburg has proven two very important things.
First, he showed last year that he has the potential to be one of the very best pitchers ever to don a baseball uniform.
Secondly, after returning from Tommy John Surgery, he's proven that not only is he as good as he was before the surgery, he could even be better.
Time, it seems, was the only thing that the San Diego native lost.
In a dozen 2010 starts, Strasburg crafted a sharp 2.91 ERA, allowing 7.4 hits and 2.3 walks per nine-innings while striking out 12.2 batters. Upon his return this season, five starts yielded a crisp 1.50 ERA as he gave up just 5.6 hits and less than a walk per nine-innings while striking out nine batters.
His superb 5:1 strikeout to walk ratio last year turned into a fantasy-like 12:1 in 2011. He allowed 1.071 runners per inning in 2010 and lowered that to 0.708 this year.
Most importantly, he's made the change from thrower to pitcher.
Strasburg's batting-average against dropped from .221 to .179 while his batting-average on balls in play went from .323 to .246. Opponent's on-base percentage dropped from .268 to a miniscule .195.
Last year, Strasburg tried to strikeout every batter—and almost did—fanning 33.6 percent of the batters he faced. In 2011, that number dropped to 27.3 percent. Correspondingly, his walks dropped too, from 6.2 percent of batters faced to just 2.3 percent.
And with more balls in play, Strasburg got more double plays. Just seven percent of batters faced grounded into a twin-killing in 2010 while that number jumped to an impressive 20 percent this year.
Most importantly, Strasburg was able to go deeper into games by throwing fewer pitches. In 2010, he averaged 4.0 pitches per at-bat. This year, however, it took just 3.7 pitches to get a batter out.
He also saw fewer batters per inning in 2011. Last year, Strasburg faced 4.1 batters per inning but that number dropped to just 3.6 this year.
When Stephen Strasburg arrived in Washington, we were all certain that he was going to be one of those "Strike three, yer out" kind of pitchers, allowing a couple of runs, two or three walks and striking out 13 per start.
But that pitcher seems to have gone the way of stirrup socks. He's learning to be efficient with his pitches, quite willing to trade 101mph strikeouts for weak pop ups to short. Oh, he'll still strike out eight or nine a game, and when he needs it, he'll rear back and hit triple-digits on the radar gun.
But Strasburg is an intelligent man, and he's learning and he's listening. He'll likely end up being that once-in-a-generation talent, but he'll do it in a way that we never anticipated.
How good will he be?
He's now started 17 games with the Nationals, and if we double that number, his corresponding statistics will approximate a full major league season.
For comparison, Justin Verlander's stats from his first 34 starts are listed next to Strasburg's in parenthesis. He was two years older at the same stage of their careers:
Starts: 34 (34)
Record: 12-8 (17-11)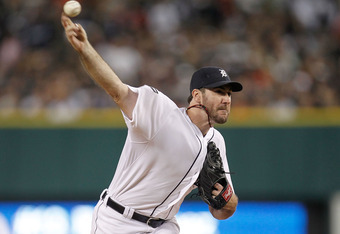 Gregory Shamus/Getty Images
ERA: 2.54 (3.83)
Innings Pitched: 184 (197)
Hits: 142 (202)
Walks: 38 (65)
Strikeouts: 232 (131)
WHIP (runners per inning): 0.978 (1.353)
Hits/Walks/Strikeouts per nine innings: 6.9/1.9/11.3 (9.2/3.0/6.0)
Batting Average/On-Base Percent/Slugging Percent Against: .211/.251/.297 (.266/.327/.414)
Verlander and Strasburg are similar pitchers to be sure.
They both have a fastball that has registered 101mph and both have knee-buckling off speed stuff. In his last three seasons, Verlander—now 28—has averaged a 20-8 record with a 3.06 ERA, allowing 7.3 hits and 2.4 walks per nine innings while striking out 9.3 and crafting a fine 4:1 strikeout to walk ratio.
But Strasburg's numbers at the beginning of his career are better than Verlander's at the pinnacle of his. Strasburg's ERA is a half-run lower as he gave up fewer hits and walks per nine innings while striking out more.
Stephen Strasburg can't unilaterally take the Washington Nationals into the World Series, but he most certainly can be the catalyst around which a championship team is built.
In a couple of years, a starting rotation of Strasburg, Jordan Zimmermann, Brad Peacock, Matt Purke and Sammy Solis could bring back memories of that 1971 Baltimore Orioles rotation that included Jim Palmer, Dave McNally, Pat Dobson and Mike Cuellar.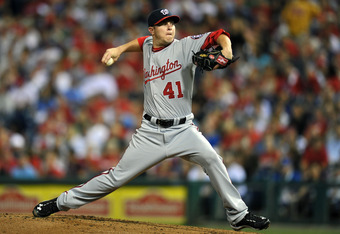 Drew Hallowell/Getty Images
Davey Johnson was there in 1971. Hopefully, it will be déjà vu all over again for the Nationals' manager in the coming years.
Add to that an offense led by Ryan Zimmerman, Michael Morse, Jayson Werth and Bryce Harper, and you have to feel that the Nationals' window of opportunity for the post season is about to open.
How long it remains open depends on whether Strasburg bypasses free agency following the 2015 season and stays with the team, highly unlikely for a Scott Boras client.
But as long as that window is open, Stephen Strasburg is good enough to almost will the team to the playoff promised land.