Success, Failure and the Sad Reality of the Tampa Bay Rays
October 5, 2011
J. Meric/Getty Images
Bud Selig won't read this article.
Neither will Stu Sternberg, Andrew Friedman or the annoying guy who always sits in the front row of the upper deck.
This is not a comedy piece. This is a tragedy of grand slam proportions.
This is the truth. This is not some fantasy.
This is the story of the little baseball team that could and its eventual, inevitable demise.
You see, in St. Petersburg, Florida, the team with baseball's best story resides. The Tampa Bay Rays, the team with the minuscule payroll and huge talent pool, has done what many would deem impossible in three of the last four years. Coming out of the American League's East division, the hellhole where the New York Yankees and Boston Red Sox call home, the Rays are a perennial contender.
But who cares?
The national media doesn't care much for this team. Scratch that—they hate this team. But why? Why and how can you hate the David to the AL East's Goliaths?
@hbryant42: Not sure how I feel about the fans' mock cheer when Gomes finally threw a strike. You only get to do that if you show up every night...

ESPN's Howard Bryant, everyone.

@DanLevyThinks: I know it has been said a million times, but the fact that there are empty seats at this Rays playoff game is an unbelievable embarrassment

Bleacher Report's own Dan Levy here.

@SI_JonHeyman: Tampa -- I am happy to report there are some fans here.

Don't worry, SI.com's Jon Heyman. We're too stupid to catch your sarcasm.
None of those three men will read this article, and understandably so. They are nationally recognized journalists. What they say goes. What I say goes unnoticed.
Or does it?
The Tampa Bay Rays don't need your pity. They don't need you to feel bad.
They need your respect.
What ever happened to respecting a baseball team before its fans?
Just for fun, just for a second, let's pretend the Tampa Bay Rays play before a sellout crowd every night in a beautiful, state-of-the-art stadium.
Let's pretend that the team doesn't play in an area with almost 20 percent unemployment, a healthy littering of transplant residents and a lack of corporate power.
Let's pretend that the team has been around long enough to cultivate a following. Let's say that my generation, the 20-somethings and the late teens, was rich enough to afford season tickets right now.
Let's pretend that the city of St. Petersburg doesn't have a stranglehold on the team, and let's pretend that there is cooperation between St. Petersburg, Clearwater and Tampa, the three major cities of the region.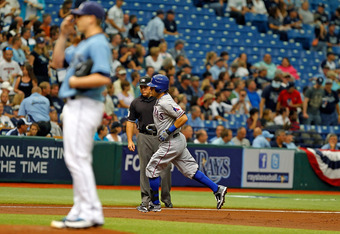 J. Meric/Getty Images
Let's pretend that all anyone ever talks about when they mention the Rays is what they should talk about—the team.
Take away all the problems and you are left with the best-run team in baseball, bar none. That is a true statement, and anyone who knows anything about baseball will agree that the job that Andrew Friedman, Matt Silverman and Joe Maddon have done with this team is nothing short of miraculous.
They lose the face of their franchise (Carl Crawford), their best power hitter (Carlos Peña), entire back end of their bullpen (Grant Balfour, Joaquin Benoit, Rafael Soriano) and their No. 3 starter (Matt Garza). Before the season, to say that this team would make the playoffs over the Red Sox would have been met with a referral to Alcoholics Anonymous.
But what do they do instead? They sign a journeyman first baseman to a minor league contract. They get sub-.250 seasons from two of their best hitters. They sign two veterans, one of whom lasts past the first week of the season.
They get a career year from the oldest pitcher in their starting rotation. They get a crappy year from their ace. They get an inconsistent lineup, shaky bullpen and this writer wrote them off in late July as being finished.
But they made the playoffs. They didn't do much once they got there, but they made the playoffs. They made the playoffs and the Red Sox, the team that everyone was picking to win the World Series, didn't.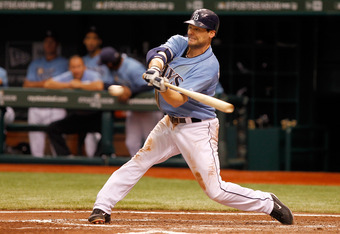 Mike Ehrmann/Getty Images
Take a deep breath. Read the last four paragraphs over again. Remember, we're pretending everything else with the team is just peachy.
This just wasn't supposed to happen. This was going to be a rebuilding year. They'd win 85 games at most, finish a few games out of the Wild Card and get ready for 2012. And when they started the season 0-6, the Tampa Bay Rays looked like a bunch of has-beens.
Let's be honest here. The 2012 Rays will be miles better than this team. They will undoubtedly acquire bullpen help, a power bat and a few other key pieces. They will have baseball's best starting rotation outside of Philadelphia. And they will make the playoffs.
But let's jump off the baseball train and go back to business.
Regional demographics and economic conditions aside, Tampa Bay just isn't much of a sports market. There are a lot of reasons for this.
One is that a great number of wealthy individuals and families aged 40 and above, hereafter referred to as the fanbase, are transplants. They aren't naturalized Tampa Bay citizens. They are Ohioans who got sick of Cleveland. They're New Yorkers who couldn't stand the big city. They are New Englanders who needed a change of scenery.
Do you ever wonder why there are so many Yankees and Red Sox fans that come to Rays games? Do you ever think that maybe, just maybe, people put their childhood team before their hometown team?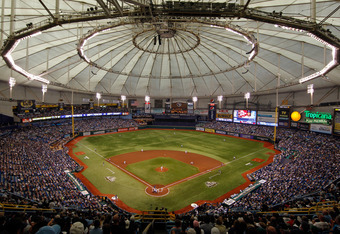 Mike Ehrmann/Getty Images
But surely, experts will write that off as an excuse.
What about the stadium? I live 10 minutes away from the stadium, and I will be up front in saying that I do have a sentimental attachment to Tropicana Field.
It is ugly, horribly located and makes Veterans Stadium look like paradise. No one in St. Petersburg wants to ante up the extra tax money to build a new stadium. And, judging from the Rays' financial situation, they aren't so crazy about paying for one anyways.
I wrote about this months ago, and it is still very much an issue.
Bill Foster won't read this article. Neither will Paul Tash or Evan Longoria.
This isn't good writing. This is a writer putting his thoughts in paragraphs.
What is the solution here? What is my proposal?
Here is my plan. This is the three-tiered request.
1) To the national media outlets: First off, do not compromise your journalistic integrity by saying the team plays in Tampa. Secondly, when you make wisecracks about the team's attendance, please inform the audience of all the factors affecting the poor attendance. And thirdly, please try and pay attention to the product on the field.
2) To Stu Sternberg and the Rays' ownership: Be patient. Keep the product on the field at its current quality. Andrew Friedman, don't leave for Chicago. Joe Maddon, don't leave, period. The fans will show up. But first, No. 3 has to happen.
3) To Bud Selig: Fire a warning shot to the Tampa Bay Rays and its fans. Say this: "If attendance at Tropicana Field does not improve by 25 percent over the next year, Major League Baseball will be forced to take action to ensure the long-term survival of the franchise. This may include relocation or contraction." The fans will listen, but only if you are stern and forward.
Something great will happen in St. Petersburg in the next year or two or five. The Tampa Bay Rays will finally get the support they deserve. The Rays will win the World Series. They will build a following of young fans that will grow into future season ticket holders. They will build a beautiful stadium within the Tampa Bay area that will draw respectably.
The season is now over for the Rays, but the battle for survival rages on. Baseball needs this team to succeed.
The fate of this team remains unknown, and probably will remain so for another few years. The success on the field will continue. What remains to be seen is whether the fans will ever come, and if they don't, what will happen?
For now, though, we can take a minute to revel in the success of the men who play the game.
There has been success in Tampa Bay.
There is failure in Tampa Bay.
Yet no matter how much of the former there is, there might always be the latter.
That is the sad reality of the Tampa Bay Rays.
Buster Olney won't read this article. Neither will Brian Cashman or the drunk college kids in the bleachers.
Perhaps this is only poetic justice.
The Tampa Bay Rays are a fun team to watch, and a fun team to root for. Yet until the situation surrounding the team turns around, the team itself will remain invisible.
More than anything, that is the sad reality of the Tampa Bay Rays.