Auburn vs. Arkansas: TV Schedule, Live Streaming, Radio, Game Time and More
October 5, 2011
Streeter Lecka/Getty Images
The Auburn Tigers hit the road in a crucial SEC West showdown against the Arkansas Razorbacks. Both teams are coming off great wins over ranked opponents, and with one loss already, they each desperately need a win on Saturday. 
The series between these two teams has gone back and forth over the past few years, but the Razorbacks are looking for revenge after a gut-wrenching loss in 2010. 
Considered just below the top in the SEC West behind Alabama and LSU, the Tigers and the Razorbacks can't afford to lose conference games if they want a shot at playing in Atlanta for the SEC Championship Game. 
With that said, let's dig into some specifics of this SEC West battle. 
When: Saturday, Oct. 8 at 7:00 p.m. ET 
Where: Razorback Stadium, Fayetteville, Ark.
Watch: ESPN, ESPN3.com
Listen: WMSP 740 AM in Alabama, KASR 92.7 FM Arkansas
Betting Line
The Razorbacks are favored at -10, which seems rather high. The odds-makers want you to take Auburn on this one, and I think you should because I have little faith the Razorbacks will win by 10 points.
This is typically a close matchup, and just because the Tigers' defense has struggled, it doesn't mean their offense won't keep them in the game.
Auburn Injury Report 
 Wide receiver Trovon Reed will be on the sidelines for the second straight while he lets his shoulder heal, and wide receiver Emory Blake is doubtful for the game with an ankle injury. Defense end Dee Ford is out for the season after undergoing back surgery.
Arkansas Injury Report
 Senior defensive end Jake Bequette sat out the last two games with a hamstring injury, and the Razorbacks are hopeful he will play on Saturday. Bequette will be evaluated throughout the week, and the staff will make a decision later in the week and possibly on game day. 
Cornerback's Isaac Madison (arm) and Darius Winston (knee) are questionable for Saturday's game, as well as defensive tackle Robert Thomas. All three players were banged up last week against Texas A&M.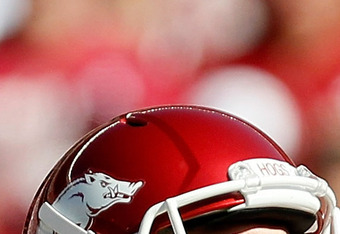 Kevin C. Cox/Getty Images
BCS/Top 25 Poll Implications 
The Tigers could jump in the top 10 with a win this weekend, and the Razorbacks can prove they deserve to be in the top 10 if they beat up on the Tigers like many expect them to do. 
Auburn needs to prove they're worthy of being in the top 15, and they can do just that by shocking everyone for the second straight week. 
What They're Saying 
Razorbacks' head coach Bobby Petrino told reporters that his team learned a lot from their comeback win over Texas A&M. Per FOX Sports:
I thought we learned a lot really. We could have come out after the halftime and not competed hard and not played physical. We did just the opposite. Instead of separating and pointing fingers, we came together as a team. 
Arkansas needed to win last week or else the season could have been in shambles. The Razorbacks showed they have heart, and that they never quit. That is certainly one of the reasons they are favored in this game, but nobody can forget that the Tigers have had some impressive comebacks of their own under Gene Chizik. 
Speaking of Chizik, he discussed with reporters how difficult hitting the road can be. Per FOX Sports:
We're going back on the road, and I feel like our team is getting a little bit better of an idea of playing on the road and the challenges of that that come with these tough SEC road games. That's good that we're starting to get a feel for that, but it's going to be a great challenge for us. 
Very few people believed the Tigers would win at South Carolina, especially how they played in their first road game against Clemson. Chizik had his team rebound strong, and now they know that they can win anywhere.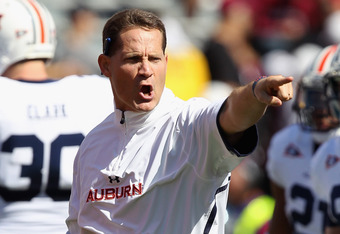 Streeter Lecka/Getty Images
Auburn Player to Watch 
Michael Dyer rushed for 141 yards on 41 carries against a very tough and physical South Carolina defense a week ago, and I expect him to get around 25-30 touches against the Razorbacks.
The running back is avoiding the sophomore slump, and he is a key reason why this team is 4-1 and not 1-4. 
Arkansas Player to Watch 
 Tyler Wilson threw the ball 51 times last Saturday, and he completed 30 of those passes for three touchdowns and a school record of 510 yards.
The junior quarterback has to continue to play well in order for the Razorbacks to win. He is the leader of this team now, and everyone knows he'll be throwing the ball quite a lot.
Arkansas needs him to deliver at home, so keep on eye on how he does Saturday. Remember that he stepped in cold a year ago at Auburn and did pretty well. He's grown a lot since then and is ready to take down the Tigers this year.
Key Matchup 
The Auburn secondary has been exposed numerous times before, and last season, Wilson burned them for 332 yards coming in off the bench. 
Wilson is in prime position to dominate this game, but the Tigers' defense is well aware they have to step their game up. If Auburn can bring the pressure on Wilson or have the defensive backs make plays, then they can escape Fayetteville with a victory.
Key Storyline
 The Razorbacks are 0-1 in SEC play, and if they lose another conference battle, their season is pretty much ruined. They'll have no shot at the SEC West, and at best, they'll be striving for the Cotton Bowl. 
Auburn wants to shut their doubters up by beating a team that nobody thinks they can for the second straight week. This SEC West matchup is bound to be close until the fourth quarter, which is why it's a must-see game. 
Prediction 
I give the Razorbacks the edge here because they're at home, but I wouldn't be surprised if this game comes down to whoever has the ball last. Arkansas will have a very hard time slowing Michael Dyer down, but Auburn will struggle to stop the Razorbacks' passing attack. 
Arkansas 38, Auburn 35