NY Yankees: 5 Reasons They'll Get Revenge on Rangers If They Advance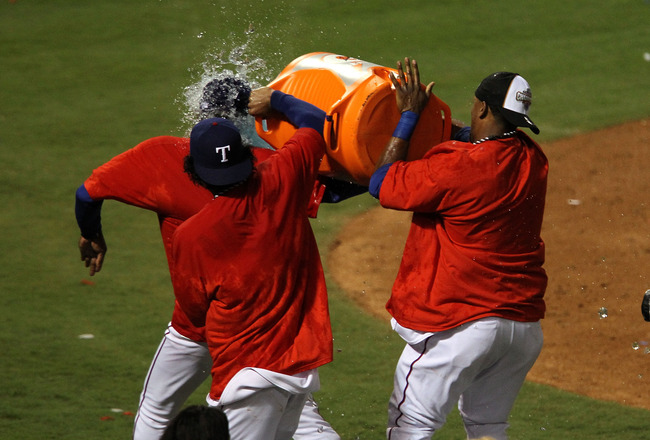 Rangers Celebrate 2010 Playoff Victory Over New York Yankees
Ronald Martinez/Getty Images
With Tuesday night's victory, the New York Yankees have positioned themselves very well to make a full comeback over the Detroit Tigers in their ALDS series. With home field for the Thursday finale, and with arguably their best starting pitcher of late in Ivan Nova on the mound, it's not preposterous to start considering their chances should they surpass Detroit to face the Texas Rangers for the American League crown.
As we all know, the Yankees were ousted by the 2010 version of the Rangers in a six-game series. Despite winning two games the Yankees were never really in any position to threaten for the American League title, and it felt more like a sweep or at best a five game set considering how handily the Rangers dealt with the Yankees.
As they say, though, that was then and this is now. The 2011 versions of each of these teams are considerably different than the 2010 versions, and the path that each team took to enter the playoffs was decidedly different as well. As such, if these two teams meet up with the ALCS trophy on the line, we should see a much different series than a year ago. So much different, in fact, that the outcome will actually be reversed.
Here then, are five reasons why the Yankees will beat the Texas Rangers should they advance past Detroit.
Reason One: No Cliff Lee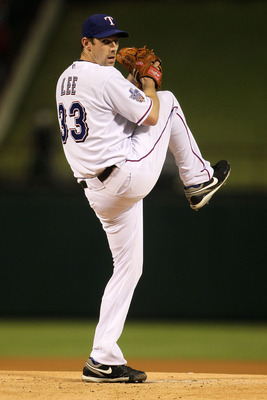 Former Ranger Cliff Lee
Doug Pensinger/Getty Images
Anyone who watched Cliff Lee vs. the Yankees in the 2010 ALCS would be hard pressed to remember a moment where Lee was even remotely threatened by the Yankee lineup. In fact, if you go back to the 2009 postseason, Lee has proven to be a stellar Yankee-killer.
Overall, Lee has pitched 24 postseason innings vs. New York since 2009, yielding just 15 hits while producing 26 K's. His ERA over those 24 innings was an almost invisible 1.87, and most Yankee fans would probably be shocked to hear it was that high.
Cliff Lee, though, pitches in Philly now, not Texas, and this is perhaps the single-most critical reason why the Yankees will overcome Texas if they do in fact meet. Texas has good pitching overall, and a truly dominant bullpen, but for the Yankees removing Cliff Lee from the equation is akin to removing the boogeyman from a child's closet.
With Texas unable to throw a truly dominant replacement in Lee's place, not by any measure, this gives the Yankees perhaps three more games where they'll be either the favorites or at least even odds to win.
Reason Two: Yankees vs. Lefties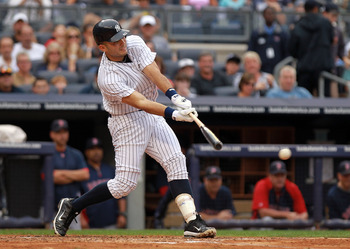 Rookie Sensation Jesus Montero
Nick Laham/Getty Images
It is no secret by now that the Yankees fare well versus lefties. Over and above the Yankees' righty hitters affinity for lefty pitching is the fact that their two primary lefty threats, Robinson Cano and Curtis Granderson, absolutely crush lefty pitchers as well. This does not bode well for Texas, not with them sporting three lefty starters in their rotation in C.J. Wilson, Derek Holland, and Matt Harrison.
During the regular season, in fact, Granderson actually hit the most HRs (16) off of lefties of any Major League hitter, lefty or righty. He also drove in 44 of his 119 RBI vs. lefties in just 191 official at bats, hitting .272 overall against southpaws in the process, which was higher than he hit against righties.
Cano, by comparison, also hit for better average (.314 versus .296) and drove in 45 of his 118 RBI (in 204 official AB's) when facing lefties. He also smacked eight HRs, clearly demonstrating that he is, as Granderson, not in the least bit neutralized by lefty throwers.
Add in the reality that switch-hitters Mark Teixeira and Nick Swisher are each far more effective from the right side of the plate, and that Derek Jeter hits like, well, Derek Jeter vs. lefties, and Texas has it's work cut out for them.
Additionally, the Yankees might be motivated to start rookie Jesus Montero in the DH role. Montero had a wonderful start to his Yankee career, hitting four HRs and driving in 12 runs after his September 1st call-up, and he is known to truly thrive against southpaws.
Reason Three: Yankee Pitchers Handle Adrian Beltre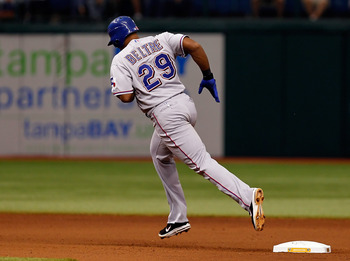 Beltre Rounds Bases After Second of Three HR's vs. Tampa on Tuesday
J. Meric/Getty Images
Adrian Beltre is hot. He is uber-hot, really, and not simply because he went yard three times vs. Tampa in the clinching game of Texas' first-round series.
Beltre has been hot since September started, hitting .374 with 12 HRs and 29 RBI for the month and into October to close out the year. Those are ridiculous numbers, and kudos to Beltre for continuing that trend into the playoffs.
With that said, though, Yankee pitchers have fared very well vs. Beltre on the whole, dating as far back as 2006. Combined, Beltre is hitting just .242 with an OPS of .698 in that span vs. Yankee pitchers currently on the roster.
Versus C.C. Sabathia, the likely Game 1 starter if the teams meet, Beltre is hitting just .233 across 30 ABs. Included in those hits are three doubles and one HR. Games 2 and 3, however, likely to be started by Freddy Garcia and Ivan Nova respectively, see Beltre facing pitchers he struggles against.
Versus Garcia, Beltre has hit .304 since 2005, the year Beltre came to the American League. However, he is just three for fourteen (.215) since 2006. Its a decent enough sample size considering that Garcia has been the same kind of pitcher the entire time, that is to say not the fireballer he was when he first came up. Its also important to note that Beltre has no extra base hits vs. Garcia across 23 official ABs.
There is a smaller sample size for Nova, just nine official AB's, but Beltre has managed just one hit over those nine ABs and it follows logically that he does not necessarily feel that he has Nova figured out.
Additionally, Beltre does not produce against Phil Hughes (1 for 14), lefty Boone Logan (0 for 3), or Mariano Rivera (1 for 7). These are pitchers he may very well be facing in critical situations if the teams face off. This is all good news for the Yankees.
Reason Four: The Yankees' Bullpen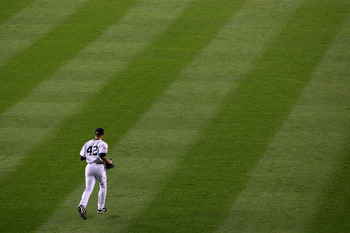 Mariano Rivera enters to Sandman
Jim McIsaac/Getty Images
The Yankees were projected to struggle in 2011, primarily due to a starting pitching staff that was primed to make a kite in a tornado appear stable. While miracle performances from starters Freddy Garcia and Bartolo Colon helped the team avoid that fate, along with the emergence of Ivan Nova, it was the bullpen that kept the team grounded through all the ups and downs of the 2011 season.
Though the cast was different than it was projected to be due to injuries to Joba Chamberlain, Pedro Feliciano and Rafael Soriano, with the former two still being out, the pen was in fact the strength that most observers felt it would be heading into the season. So much so, in fact, that the Yankees sported the best bullpen ERA in the American League for the season.
This is still the case today, with Yankee manager Joe Girardi now in a position to feel even more secure knowing that he has a three-headed monster to unleash every night if need be. That monster, comprised of not so equal parts Rafael Soriano, David Robertson and Mariano Rivera, is as much of a shut down threesome as any team can boast. They are all rested as well, even if they are each called upon to pitch in the ALDS finale with Detroit.
Texas, of course, also has a brilliant bullpen. Late-season acquisitions Mike Adams and Yoshinori Tateyama have eased the way to Neftali Feliz, without question one of the top three or four closers in the game today. They can expect steady production from Arthur Rhodes as well.
With this said, though, the Yankee bullpen is at this point a shade better than Texas'. This could prove huge over the course of a longer series as the Yankees typically do well once they've gotten past a team's starter.
Time will tell, of course, but the Yankees have to feel good about their chances if the games come down to bullpens.
Reason Five: Ivan Nova in Game Three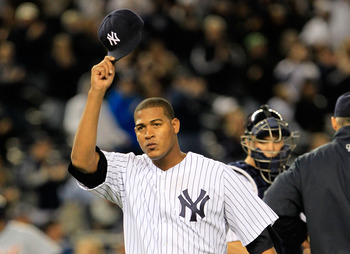 Yankees Rookie Hurler Ivan Nova
Chris Trotman/Getty Images
If the Yankees get past Detroit, and that's a huge if, it will more than likely be as the result of another stellar start by rookie SP Ivan Nova. Nova was brilliant in Game 1.5 vs. Detroit this past Saturday, his first postseason "start" of many to come, going six-plus innings and holding Detroit without a run until the game was essentially out of reach.
His start tomorrow night vs. Detroit will likely keep him from starting vs. Texas until Game 3, again, if and only if he can put Detroit away. If we say, for the sake of discussion, that this is in fact what transpires, the Yankees will have a huge advantage with Nova on the mound vs. either Matt Harrison or Colby Lewis.
Nova fared only moderately well vs. Texas in three games this season, all starts. He posted an ERA of 4.67 over 17-plus innings, not horrible but not great either. Over those 17 innings, though, Nova yielded just 13 hits and a .210 BA against. It was walks that killed him, nine over those same 17-plus innings, however wildness has not been an issue for Nova for quite some time now.
Additionally, Nova pitched brilliantly in his only start in Texas, giving up just two hits over 7.1 innings. Game 3 will be in Texas, and so having a history of success there, albeit limited, should give Nova an extra sense of comfort.
Keep Reading

New York Yankees: Like this team?