Calvin Johnson: NFL's Most Valuable Player?
October 5, 2011
Hannah Foslien/Getty Images
Since 1957, the Associated Press has given the NFL MVP award to the player that is considered the most valuable in the league. The MVP represents a player who has the talent and leadership to be a game changer, someone the opposing team spends all week preparing for, someone who can take a team from good to great. In the 58 years that the MVP has been awarded, a wide receiver has never won this prestigious award. However, the NFL has never seen a wide receiver like Calvin Johnson.
Through the first four weeks of the NFL season, the Detroit Lions are currently one of two undefeated teams. No one is more responsible for this success than wide receiver Calvin Johnson. Johnson has caught two touchdowns in each of his first four games, tying Chris Carter's record for most consecutive games with two touchdown catches.
His eight touchdowns are not only the most among NFL wide receivers this season, but the most among any non-quarterback player. Calvin Johnson has more touchdowns this season than 24 NFL quarterbacks, and eight NFL teams. 
Johnson's eight touchdowns put him on pace for 32 touchdown receptions this season, a mark which would shatter the previous record for touchdown receptions in a single season held by Randy Moss (23) and would also be more than LaDainian Tomlinson's record for most touchdowns in a season (31).
Calvin Johnson posses a physical ability that is unmatched in the NFL. Johnson stands 6'5", has a 40-yard dash time of 4.35 seconds and has a vertical jump of 44 inches. With the rare combination of size, hands, speed, strength, leaping ability and strength, Calvin Johnson can do it all. 
Although impressive, Calvin Johnson is more than just these numbers. He is a player with the ability to make a huge play every time the ball is in his hands. Johnson has become the go to player in the red zone for Detroit, and has been unstoppable in this role.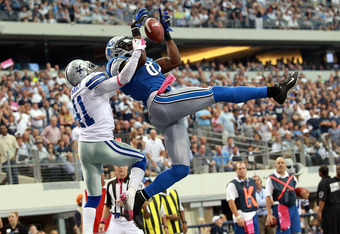 Ronald Martinez/Getty Images
Quarterback Matt Stafford needs only to throw the ball in the air to a place where no NFL player in the league can get to the ball except Calvin Johnson. These unbelievable catches appear effortless to the player whose physical ability is so great that he is called "Megatron" by his fans.
Johnson has become such a dominating player that he now demands double or triple coverage every play. This extra attention has allowed wide open looks to other Detroit Lions targets such as Nate Burleson, Brandon Pettigrew, Tony Scheffler and Jahvid Best. He doesn't even need to be a part of the play to make a huge difference.
Even with the extra coverage, Johnson still refuses to be stopped, making plays over three defenders like the one that took place in the Week 4 game against the Dallas Cowboys during a highly improbable Detroit Lions comeback.
Because of the nature of the quarterback position in the NFL as the offensive leader and commander, quarterbacks such as Tom Brady, Aaron Rodgers and Drew Brees are often looked at as the obvious choice for the MVP award. These players are all game-changing players having potentially record breaking seasons. It is hard to argue with the value of these quarterbacks to their respective teams' performances this season. 
However, through the first quarter of the season, Calvin Johnson deserves to be placed in consideration with these star quarterbacks. Johnson has played an invaluable role in bringing the Detroit Lions from the joke of the NFL to potential Super Bowl contenders. He has dominated defenses this season and has come through with a big play every time his team has needed him.
He is one of those rare players that defenses will spend all week preparing for and still manages to shine. Although his performance so far has been extraordinary, Calvin Johnson has the potential to be even better. The Detroit Lions are just beginning to realize what Megatron is capable of and I believe he will play an even bigger role in the Lions offense as the season continues. Calvin Johnson shows no signs of slowing down
If he continues to play at this high of a level, Johnson deserves to be considered as not only one of the best wide receivers in the NFL, but one of the best players, regardless of position.
Calvin Johnson has the potential to make history several times this season. It is not unlikely that one of these accomplishments will be in the form of an MVP.