MLB Playoffs: The Tale of Two AJ Burnetts for the New York Yankees
October 5, 2011
Gregory Shamus/Getty Images
Wart of Toad
Eye of Newt
Lizard's Tongue
One Goat's Foot
Mix It All
With Gatorade
This is How
Old AJ Played
There were two AJ Burnett's in last night's critical Game 4 of the American League Division Series.
There was the Evil AJ who sent every Yankee fan to the medicine cabinet for dramimine and valium in the first inning.
Then there was the glorious AJ who saved the season for the Yankees and sent the ALDS back to the Bronx for the deciding Game 5.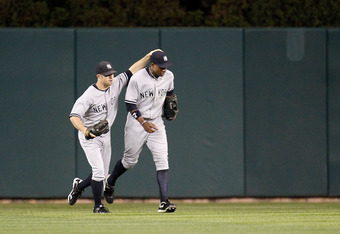 Gregory Shamus/Getty Images
In the first inning, Burnett walked three hitters. The first was leadoff man Austin Jackson.
Ramon Santiago popped up a bunt attempt trying to get Jackson to second base.
With Delmon Young at the plate, Jackson stole second.  Then Young grounded out to Alex Rodriguez as Jackson advanced to third.
Then Burnett issued successive walks to Miguel Cabrera and Victor Martinez to load the bases with two outs.
Don Kelly walked to the plate. He laced a line drive to centerfield that Curtis Granderson at first misplayed by taking a step in on the ball.
But Granderson recovered, raced back and made a game saving catch. Granderson's play saved at least three runs in the first inning.
When Granderson landed on the outfield grass after catching Kelly's lazer shot, Corey Wade watched from a spot on the bullpen mound where he had been warming to replace the AJ Burnett who has caused Yankee fans so much angst over the last three seasons.
When the innervating first inning was over, cameras showed Burnett going to the visitors' clubhouse wearing Yankee pitching coach Larry Rothschild as a second skin.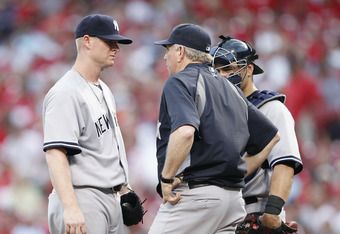 Joe Robbins/Getty Images
We will probably never know what magic potion Rothschild conjured in the clubhouse. But we know for certain that the AJ Burnett who came to the mound in the bottom of the second inning was a different pitcher.
He threw a three up – three down inning, which included two infield groundouts and an inning ending strikeout of Wilson Betemit.
Burnett issued his fourth walk in the bottom of the third, but it was harmless as he induced the Tigers into three more infield grounders.
AJ gave up a leadoff homer to Martinez in the fourth and a one out double to Jhonny Peralta after Kelly had grounded out.
But Burnett would stop it all right there by striking out Alex Avila and Betemit again.
In the fifth inning, Jackson led off with a single.  But AJ induced Santiago to hit into an easy double play. The third out was a grounder by Young back to Burnett.
By the time Burnett came out for his half of the sixth his teammates had staked him to a 4-1 lead. 
But Miggy Cabrera led off with a screaming line drive that would have killed Derek Jeter if the Yankee Captain had not caught it.
Victor Martinez grounded out to Jeter for the second out.  Then Kelly hit a line drive single to right.
At that point Burnett had thrown 81 pitches in five and two-thirds innings.  His night was over when Joe Girardi called Rafael Soriano from the bullpen.
But with his night over, Burnett had insured the Yankee season was not.
As TBS analysts Ron Darling and John Smoltz pointed out during the game, few pitchers have stuff as nasty as Burnett's.
No pitcher causes more frustration for his team and his team's fans than Burnett.
If Larry Rothschild can bottle the potion he mixed for Burnett between the first and second innings of last night's game, Rothschild can retire from baseball a rich man and Burnett might finally find the consistency he has never had as a Yankee